Hurricane Maria: US postmen emerge as heroes of Puerto Rico's recovery effort
With only 15 per cent of island's power grid restored following battering by tropical storm in September, local mailmen are stepping in to bridge communication gap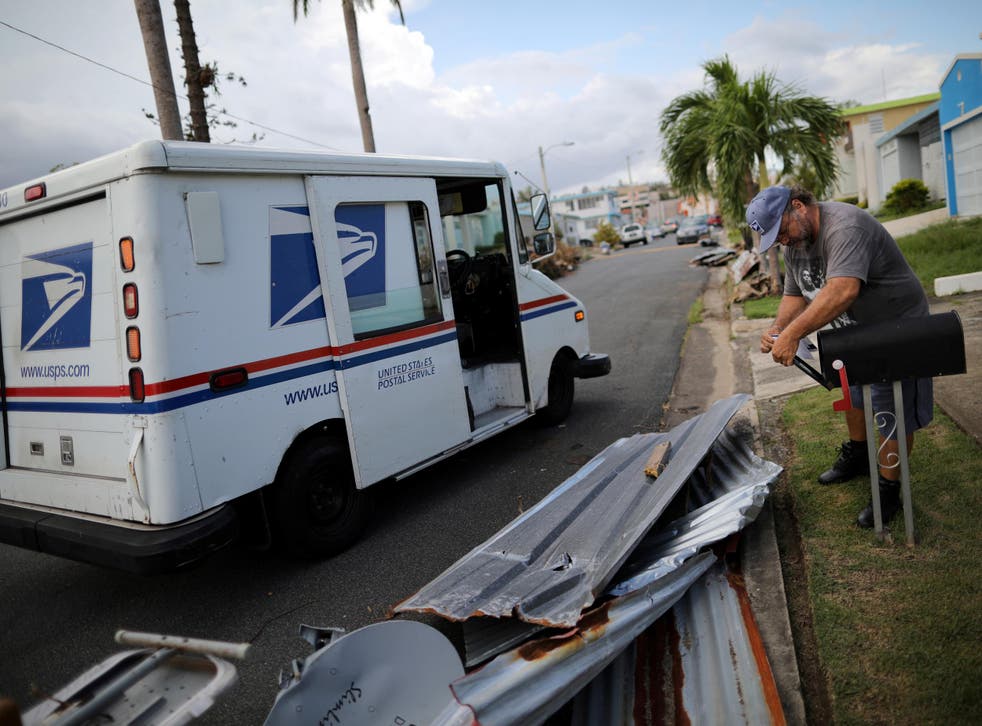 With the Puerto Rico power grid shredded by Hurricane Maria, the US Postal Service has taken the place of mobile phone service at the forefront of island communications.
Only 15 percent of electrical power has been restored since the storm bludgeoned the US territory on 20 September, but 99 of Puerto Rico's 128 post offices are delivering mail. Tents have taken the place of post offices wrecked by Maria.
Mail carriers gather information on sick and elderly residents in far-flung parts where hospitals have closed. Data is fed into the Federal Emergency Management Agency (FEMA) disaster relief office in San Juan so medical attention can be provided.
Restoration of the power grid is months away and many rural roads are blocked by mudslides, sink holes and downed trees and telephone poles. Since the start of the month the Postal Service has nonetheless been delivering letters and care packages to family members desperate for news.
"It's been a clutch situation, and you guys have totally come through," a FEMA worker was heard telling Postal Service Caribbean customer service manager Martin Caballero on Sunday.
"We might know the general area where people need help, but the mail carriers are the only ones who really have the exact addresses," the FEMA worker told Reuters, asking not to be named because he was not authorised to speak to news media.
​Caballero regularly goes on AM radio, which can be heard by listeners lucky enough to have diesel to run generators, to tell people in inaccessible parts of the island where their mail is being held. He invites them to pick it up, but only when travel conditions become safe.
Even for urban middle-class customers in the San Juan suburb of Guaynabo, whose concrete homes were not smashed by the storm, it was a chore to recover their blown-away mailboxes or build new ones. Hurricane or not, the Postal Service will not drop off mail without a designated box.
"The wind took them all," said resident Jenny Amador, a 42-year-old teachers' assistant.
"I found mine in those trees," she said, pointing to a gnarl of branches and trunks on the road. She re-attached her mailbox in a cockeyed position in front of her house, using a clothes hanger.
One plucky woman, having heard the postman was on the way, stood stoically with her mailbox tucked under her arm. No one minded when mail carrier Alfredo Martinez showed up out of uniform, unable to do laundry for lack of clean water.
World news in pictures

Show all 50
One resident said the return of the mail service was comforting, a sign of a return to normalcy. But another greeted Martinez with a warning.
"If you are bringing me any utility bills, go away," she said.
Reuters
Join our new commenting forum
Join thought-provoking conversations, follow other Independent readers and see their replies