'Don't play in floodwaters!': Alligators and 'islands of fire ants' spotted in Hurricane Sally flooding
Advice remains to shelter in place as you never know what's hidden or floating in floodwaters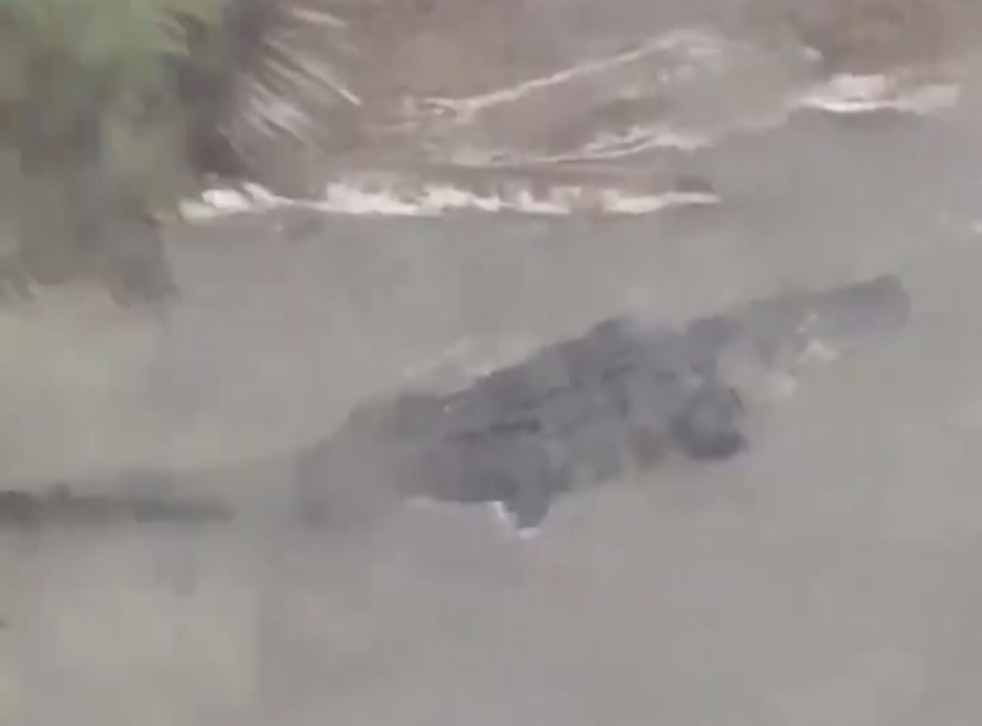 Hurricane Sally brought devastating floods to the coasts of Alabama and the Florida Panhandle on Wednesday, with depths of five feet in some low lying areas.
As the storm system moved inland to the northeast, it not only left a trail of damage and dangerous downed power lines, it also left a few natural dangers of which people should beware.
WKRG meteorologist Thomas Geboy tweeted out footage of a 10-12 foot long alligator in the floodwaters outside a house in Gulf Shores, Alabama.
The video was taken on Wednesday morning by Tina Bennett, who was understandably alarmed at seeing the reptile calmly moving through the water.
Tweeted Mr Geboy: "Another reason to SHELTER IN PLACE until flood waters recede. Not only are there downed power lines, but there's also displaced wildlife. This 10-12 ALLIGATOR was just outside of a house in Gulf Shores on Plash Island earlier this morning."
A repost from the Mobile office of the National Weather Service further warned people not to play in the floodwaters: "You never know what's hidden or floating in the floodwaters — debris, gators, snakes, nutria, floating fire ants."
Indeed a floating island of fire ants was spotted in a flooded park in Pensacola, Florida by a local news photographer.
Fire ant bites are painful, causing large puss-filled sting marks, which can even cause entire limbs to swell up.
They are extremely resilient and in floods cling together forming what is known as "rafts" on the surface of the water until dry ground is found. There can be up to 100,000 ants in a raft.
Rafts of fire ants were spotted in the floodwaters that swamped Houston in 2017 after Hurricane Harvey hit Texas.
Join our new commenting forum
Join thought-provoking conversations, follow other Independent readers and see their replies