Immigration agents arrest man while he is driving his pregnant wife to hospital
The husband is in the US illegally but had simply forgotten his identification at home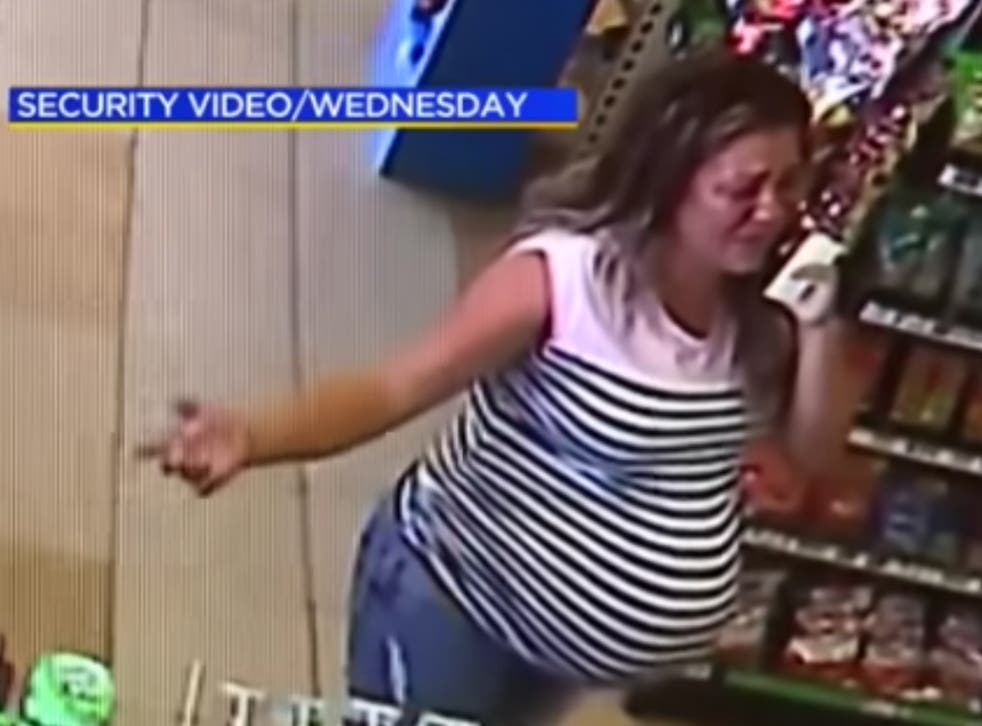 A pregnant woman in California said she had to drive herself to hospital to give birth because immigration authorities had taken her husband on the way there.
Maria del Carmen Venegas said her husband Joel Arrona Lara was driving her to the delivery room in San Bernardino, California, a city east of Los Angeles.
The couple had stopped at a petrol station when surveillance footage showed two vehicles with US Immigration and Customs Enforcement (ICE) agents question the couple about identification documents.
Ms Venegas handed hers over but her husband had left his ID card at home while rushing to get her to hospital for a scheduled cesarean section. She later gave birth to the couple's fifth child, a son.
She said her husband had offered to go to the couple's home, which was close to the gas station, to retrieve his identification card. However, ICE agents did not allow that to happen.
The video showed agents asked Mr Arrona to step out of the vehicle, searched the van for weapons, and then handcuffed Mr Arrona before taking him away and leaving a bereft Ms Venegas alone in the gas station.
Ms Venegas told the local CBS News station: "My husband needs to be here. He had to wait for his son for so long, and someone just took him away."
George W. Bush 'disturbed' by current US immigration debate
Mr Arrona is originally from Mexico and has been in the US for 12 years without legal authorisation, Ms Venegas confirmed.
She noted he has never been in trouble with the police before and is the sole provider for the family.
ICE confirmed in a statement Fugitive Operations agents had detained Mr Arrona on 15 August and said he would remain in custody pending deportation proceedings.
The agency said it "will no longer exempt classes or categories of removable aliens from potential enforcement."
"All of those in violation of the immigration laws may be subject to immigration arrest, detention and, if found removable by final order, removal from the US," the statement said.
Undocumented immigration across the US-Mexico border

Show all 14
The agency did not immediately respond to a request for comment on why they had chosen the couple's vehicle at the gas station to ask for identification nor why they had not allowed Mr Arrona to go to their home nearby to retrieve his ID card.
Ms Venegas told the news station she had not even been able to tell her husband about their newborn son as yet. It is unclear why ICE was not allowing her to communicate with him.
"The last thing he knew was that I was here in the hospital. I'm sure he's worried," she said.
ICE has come under harsh criticism after its role in separating more than 2,000 children from their families at the US-Mexico border and placing them in detention facilities, often causing psychological trauma to them according to medical experts.
Several politicians and candidates running for office this year have called for the abolishment of the agency, which had been established in the wake of the September 11th attacks as fears of national security abounded.
Register for free to continue reading
Registration is a free and easy way to support our truly independent journalism
By registering, you will also enjoy limited access to Premium articles, exclusive newsletters, commenting, and virtual events with our leading journalists
Already have an account? sign in
Register for free to continue reading
Registration is a free and easy way to support our truly independent journalism
By registering, you will also enjoy limited access to Premium articles, exclusive newsletters, commenting, and virtual events with our leading journalists
Already have an account? sign in
Join our new commenting forum
Join thought-provoking conversations, follow other Independent readers and see their replies