'Daddy, I'm scared': Police smash car window, drag man out while baby sits in back then hand him over to ICE
Mexican national Florencio Millan-Vazquez was driving seven-month-old daughter to doctor's appointment when agents swooped
Colin Drury
Thursday 25 July 2019 13:30 Comments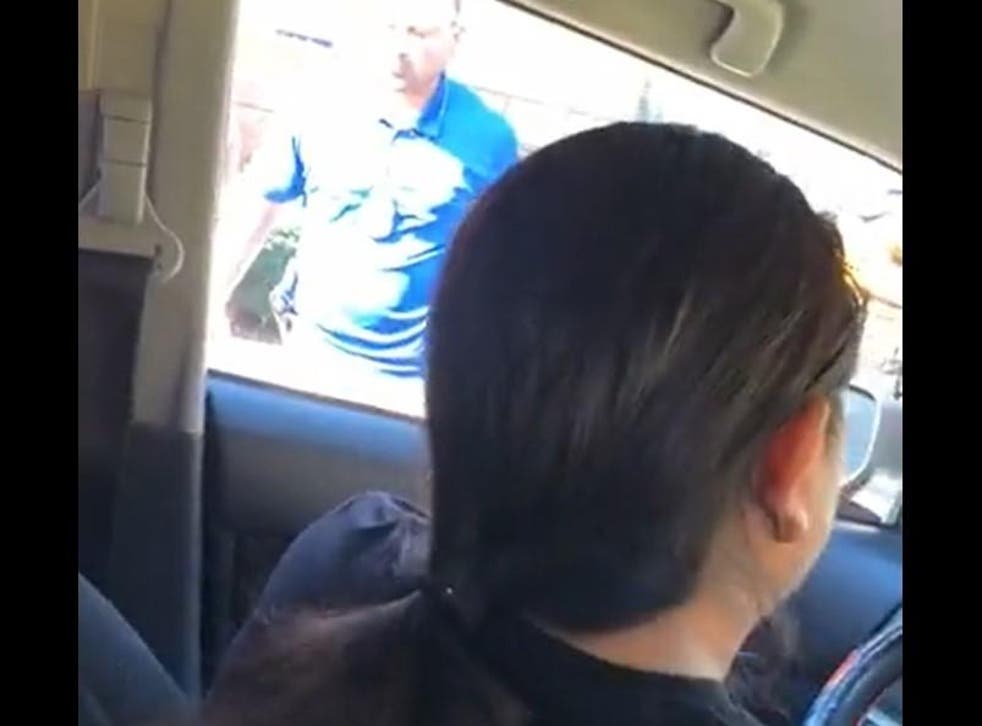 A video showing police officers smashing a man's car window before dragging him from his vehicle in front of his terrified children has sparked outrage in the US.
The footage of Florencio Millan-Vazquez being hauled from his car and dumped onto the pavement in Kansas City, Missouri, was live streamed on Facebook.
In it, his11-year-old son and seven-month-old daughter can be heard crying in the back as officers wrestle the unresisting chef from the vehicle and onto the pavement.
"Daddy," the boy says at one point. "I'm scared."
The incident happened as Mr Millan-Vazquez, aMexican national, and his girlfriend Cheyenne Hoyt were preparing to take the baby, who is disabled, to a doctor's appointment.
Trump shuts down US government over Mexico border wall – in pictures

Show all 15
Immigration agents, apparently acting on intelligence, swooped on the family as they were set to drive out of their apartment complex.
The officials ask to see proof that Mr Millan-Vazquez is in the country legally. When he and Ms Hoyt reply by asking to see a warrant for his arrest, the agents tell the couple they do not need one.
After 25 minutes of Mr Millan-Vazquez refusing to leave his vehicle, city police officers arrive, smash the window and drag him out.
Mr Millan-Vazquez can later be heard asking to say goodbye to his son – a request that is denied.
"I'm still in shock," Ms Hoyt said following the incident on Monday. "You think that it's not going to happen to my family, like I never thought this was going to happen.
"You hear the things Trump says, but [Mr Millan-Vazquez] is not a rapist, he's not a murderer, or a drug dealer. And the way they did it in front of the kids – they didn't care."
Ms Hoyt, who shot and posted the video, added: "It was like something you saw on a movie."
Emanuel Cleaver, US congressman for Missouri, called the video "very concerning as to the traumatization of children and the reasonable use of force".
He said it was "heart-breaking and gut-wrenching".
US Immigration and Customs Enforcement officials later defended their actions saying that Mr Millan-Vazquez has twice re-entered the US illegally since being voluntarily deported in 2011 and that he had misdemeanours on his record.
Support free-thinking journalism and attend Independent events
Shawn Neudauer, ICE spokesman, said: "Millan-Vazquez was uncooperative and refused to exit his vehicle or follow lawfully issued commands issued by ICE and local police.
"After attempting to negotiate with Millan-Vazquez for about 25 minutes, the ICE officers were left with no other choice than make the arrest by physically removing him from the vehicle."
The arrest occurred on the same day Donald Trump's administration announced it was to allow immigrants to be deported without going before a judge if they had been in the US for less than two years. Previously that time span was just two weeks.
Register for free to continue reading
Registration is a free and easy way to support our truly independent journalism
By registering, you will also enjoy limited access to Premium articles, exclusive newsletters, commenting, and virtual events with our leading journalists
Already have an account? sign in
Join our new commenting forum
Join thought-provoking conversations, follow other Independent readers and see their replies