Activists stage demonstrations across US as Trump's immigration raids spread fear among families
Concerns rise couples could be split up, and other people in the building at the time could end up being deported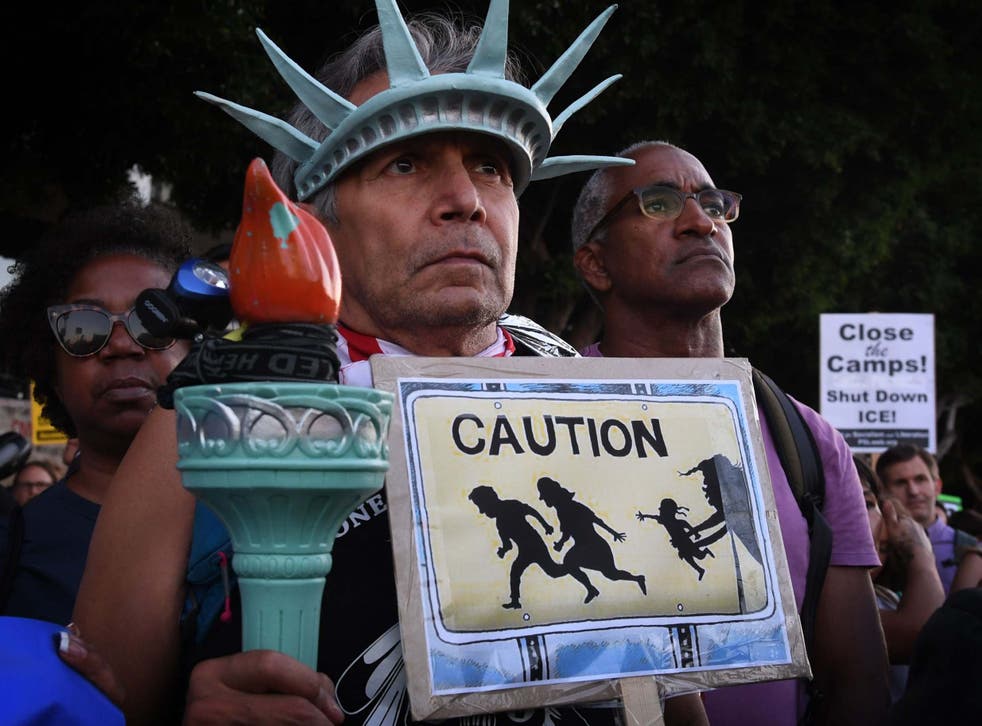 Protesters have turned out in cities across America against planned mass raids on the homes of illegal immigrants in a crackdown by Donald Trump on people in the country illegally.
Starting tomorrow, Immigration and Customs Enforcement (ICE) officials are being sent to arrest thousands of people who do not have documentation to remain.
Families who could be affected are living in fear, saying they are afraid to leave their homes, and staying off work in case they are split up from their loved ones.
Many are worried they could be separated from their children if they are deported.
The raids will take place over multiple days and include "collateral" deportations, The New York Times reported – so agents might detain people not being targeted but who happen to be there during the raids.
Migrant caravan reaches Tijuana on US border

Show all 30
Immigration lawyers and opposition Democrats are up in arms, and activists have circulated know-your-rights pocket guides, information on what to do if agents arrive at the door and hotline numbers.
Tens of thousands of people joined demonstrations in cities from Denver to Los Angeles, Miami, Chicago and New York, following vigils outside detention centres yesterday.
At least 2,000 immigrant families are expected to be targeted – many of them central Americans who recently crossed the US southern border – which would yield about 200 arrests, based on previous crackdowns. Mr Trump has said on Twitter that agents planned to arrest millions of illegal immigrants.
The president said authorities were "focused on criminals as much as we can before we do anything else".
"It starts on Sunday and they're going to take people out and they're going to bring them back to their countries or they're going to take criminals out, put them in prison, or put them in prison in the countries they came from," he said.
The 10 cities where raids may be expected are Atlanta, Baltimore, Chicago, Denver, Houston, Los Angeles, Miami, New York, San Francisco and New Orleans.
In Denver, where about 50,000 people live illegally, about 2,000 protesters rallied at a detention centre, calling for the closure of all such facilities in the country, which they dubbed "human concentration camps".
Patty Lampman, of organising group Lights for Liberty, told crowds the protest would not be stopped "until all these camps are closed and every child is free". The crowd roared in approval.
The crackdown is inflaming the political debate over immigration as Mr Trump appeals to his core supporters and Democrats cast his administration as inhumane.
Similar operations occurred in 2016 under Barack Obama and in 2017 under Mr Trump but it is highly unusual to announce an enforcement sting in advance. The president had postponed it two weeks ago.
Matthew Albence, the head of Immigration and Customs Enforcement, said the family operation was nothing new, and that families may be temporarily housed in hotels until they can be moved to a detention centre or deported.
If ICE runs out of space, it may be forced to separate some families, Mr Albence said.
Support free-thinking journalism and attend Independent events
Register for free to continue reading
Registration is a free and easy way to support our truly independent journalism
By registering, you will also enjoy limited access to Premium articles, exclusive newsletters, commenting, and virtual events with our leading journalists
Already have an account? sign in
Register for free to continue reading
Registration is a free and easy way to support our truly independent journalism
By registering, you will also enjoy limited access to Premium articles, exclusive newsletters, commenting, and virtual events with our leading journalists
Already have an account? sign in
Join our new commenting forum
Join thought-provoking conversations, follow other Independent readers and see their replies