ICE deports husband of solider killed in Afghanistan, leaving couple's 12-year-old daughter
Widower returned to US after media highlights plight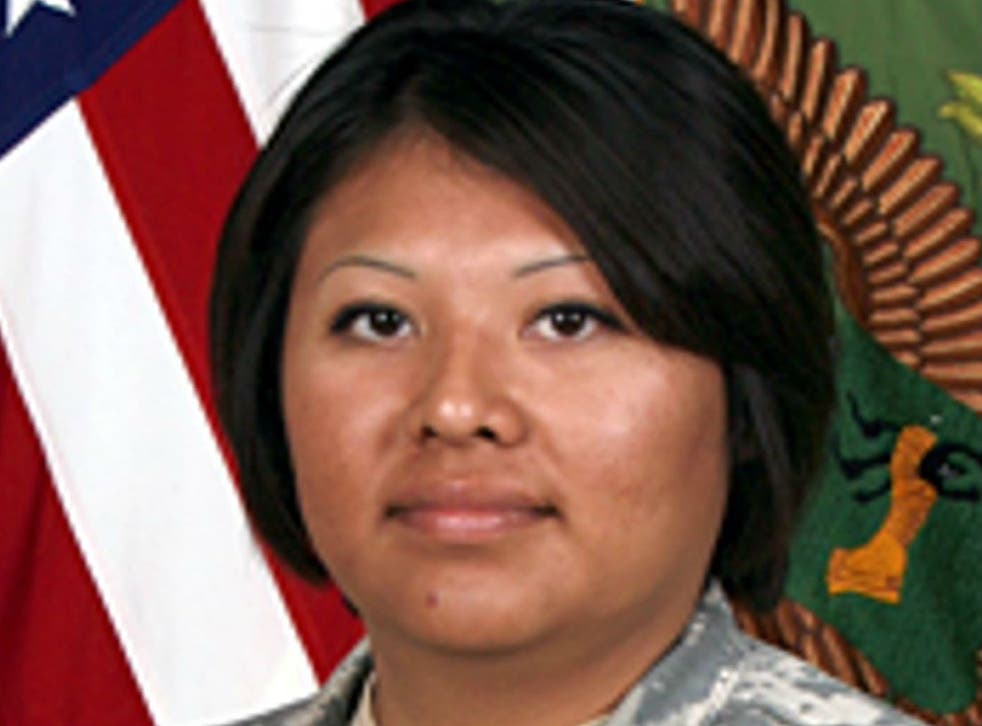 US immigration authorities deported the husband of a woman solider killed in Afghanistan, forcing him to leave the couple's 12-year-old daughter.
Jose Gonzalez Carranza was arrested at his home in Phoenix, Arizona, by agents from the immigration and customs enforcement agency, commonly as ICE, and taken to Nogales, Mexico.
The agents deported the 30-year-old, despite him having permission to live in the country after his wife, Barbara Vieyra, was killed in 2010 by a rocket propelled grenade in Afghanistan's Kunar Province, according to Mr Carranza's lawyer.
After ICE's actions were highlighted by The Arizona Republic, Mr Carranza was permitted to return to Phoenix.
"I feel so bad," Mr Carranza told the newspaper about his daughter, who lives with her grandparents. "I'm thinking about, I might never see her again."
'Families belong together' protests over Trump immigration policy

Show all 8
Mr Carranza said said he came to the US illegally from Veracruz, Mexico, in 2004, when he was a teenager. He said he and his late wife married in 2007. His lawyer, Ezequiel Hernandez, said Mr Carranza had been granted so-called parole-in-place, which allows immigrants in the country illegally to remain in the US without the threat of deportation, after his wife was killed.
"There are plenty of people you can go after but not a guy whose wife died in Afghanistan," said Mr Hernandez.
Department of defence records confirm Ms Vieyra, 22, died after suffering injuries following an attack on her unit in September 2010, involving a rocket-propelled grenade and a improvised explosive device.
"She was assigned to the 720th Military Police Battalion, 89th Military Police Brigade, Fort Hood, Texas," the records say.
CNN said ICE refiled a deportation case against Mr Carranza last year despite the parole-in-place designation. However, a notice for Mr Carranza to appear in court was sent to an old address, Mr Hernandez said
As a result, Mr Carranza did not show up to court and a judge ordered him to be deported.
Donald Trump declares national emergency to release funds for border wall
"The government never revoked the parole," Mr Hernandez said. "They detained him because of the order of removal done due to the court hearing my client did not go to because he did not know. As of today, we do not know why the client was removed."
On Monday, Mr Hernandez wrote on his law firm's Facebook page: "Our client is back in Phoenix!! Thank you all!"
ICE did not respond to specific questions on Tuesday. In a statement, it said an immigration judge "will determine if proceedings should be reopened, and whether Gonzalez-Carranza has legal basis to remain in the United States".
Donald Trump has vowed to crack down on immigration to the US and has repeatedly positioned himself as a hardliner on the issue.
He has claimed the US faces an "invasion" of migrants, despite figures showing the number of illegal immigrants in the country is falling, and has declared a national emergency in order to try and get funding for a border wall.
He has also claimed to be a champion for military veterans.
Join our new commenting forum
Join thought-provoking conversations, follow other Independent readers and see their replies