Elderly volunteer cuddles premature babies when their parents can't be at hospital
'Some people just don't understand the kind of reward you would get from holding a baby like this'
Chris Baynes
Tuesday 10 October 2017 18:16 Comments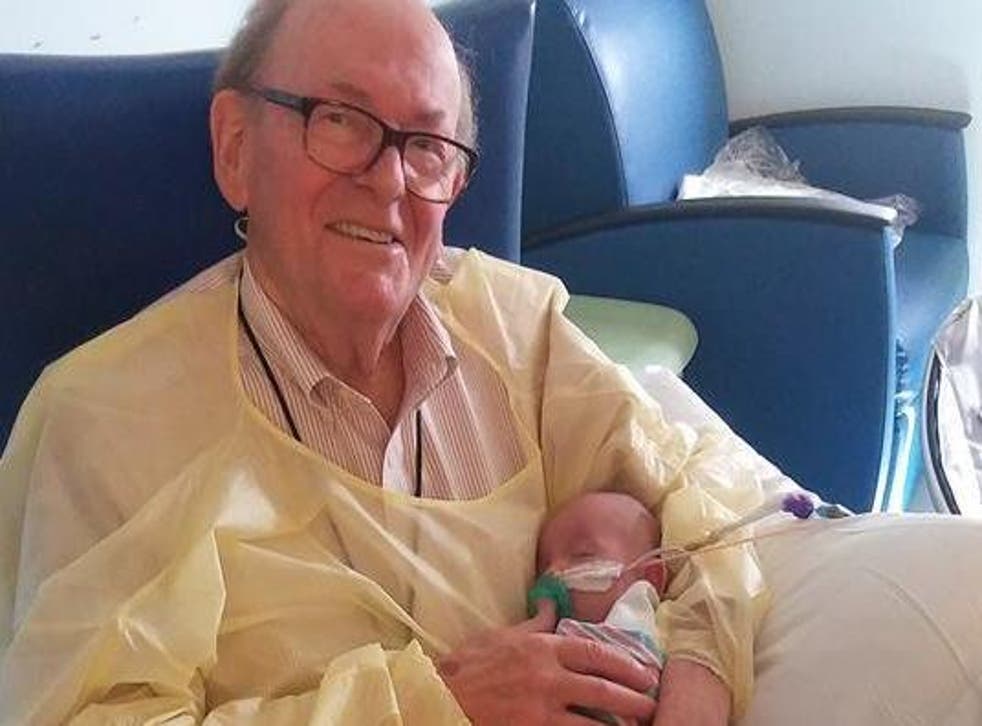 A man has been praised for spending 12 years cradling ill and premature babies when their parents are unable to.
Nicknamed "ICU Grandpa" for his volunteer work at Children's Healthcare of Atlanta hospitals in Georgia, David Deutchman had been visiting hospital regularly for rehabilitation after a running injury when he decided he wanted to help
The 82-year-old who worked in international business marketing before his retirement, now volunteers as a "baby buddy" at the hospital's paediatric and neonatal intensive care units on Tuesdays and Thursdays.
Mr Deutchman's role allows parents to take a break. Cradling fragile infants has also been shown to improve their health.
"It's been wonderful because it gives me something to do that has meaning to it," he told ABC News. "Every day I drive in here, I don't know which kids and parents I'm going to meet and what the issues will be and how can I help. It's been wonderful for me."
He added: "Some of my guy friends, they ask me what I do here. And I say, 'Well, I hold babies. I get puked on, I get peed on. And they say, 'Why would you do that?' Some people just don't understand the kind of reward you would get from holding a baby like this."
Mr Deutchman was hailed as a "legend" after the hospital posted a picture of him cradling premature six-week-old baby Logan on Facebook.
"This photo was taken by baby Logan's mom as she fought back happy tears," the hospital wrote. "Logan has been in our hospital for six weeks. Every night, his mom goes home to be with his big sister. Every morning, she drives back... feeling 'anxious that he's been missing his mommy.'
"On this particular morning, she walked into the PICU to find Logan - a preemie born at just 25 weeks - in the arms of David, who smiled and introduced himself as the ICU Grandpa. This photo captures just one precious moment with a legend of a hospital volunteer who's been holding patients, and their parents' hands, for 12 years."
The post has been liked more than 247,000 times and shared more than 66,000 times. Some Facebook users described Mr Deutchman as "epitome of caring".
World news in pictures

Show all 50
Among those who posted comments were parents of babies who have been looked after by Mr Deutchman.
Elizabeth Dodson wrote: "David rocked my son every Wednesday morning during our four month stay. He will always hold a special place in our heart. We love him."
Register for free to continue reading
Registration is a free and easy way to support our truly independent journalism
By registering, you will also enjoy limited access to Premium articles, exclusive newsletters, commenting, and virtual events with our leading journalists
Already have an account? sign in
Join our new commenting forum
Join thought-provoking conversations, follow other Independent readers and see their replies