Homeless Idaho man paralysed after being shot by police trying to evict him from living in public forest
Family was living on public lands after suffering from disabilities and homelessness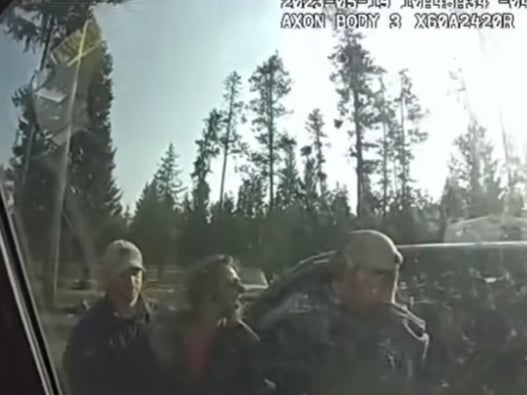 "I'm sorry," the man said, lying shirtless and bloodied in the Idaho mud near his empty wheelchair. "I did what he said, put the gun down... he just took his shot. I didn't know you guys were cops."
On 19 May, a multi-agency police raid in Idaho to evict a homeless family for misdemeanour charges of overstaying on public forest land took a disastrous turn, with police shooting Brooks Roberts over 10 times, leaving him paralyzed from the waist down.
The raid in Payette National Forest began when plainclothes officers approached the trailer where Roberts and his family lived, posing as motorists who needed help jump-starting their car.
When Robert's brother came out to assist the men, they put him in handcuffs and informed him he was under arrest, prompting him to scream for help. As Roberts wheeled out to check on the commotion while holding his pistol, police sirens went off, but officers didn't identify themselves directly before they showered him in bullets.
The 39-year-old is now seeking a $50m tort claim against the government for lost future earnings because of the injuries. Federal officials have declined to comment on the case, citing the pending litigation.
"Federal police officers planned in secret to arrest this homeless family on minor misdemeanor offenses by preying on their good graces. Officers knew that the family would help two people that they thought were stranded motorists," Craig Durham, one of Brooks's attorneys, told The Intercept. "It's a shame that in the wealthiest nation on earth, our federal government will expend so many resources to hassle a homeless family, botch an arrest so badly, and permanently injure someone, rather than just help them find a place to live."
The operation was the culmination of the Roberts family's multi-year struggle with homelessness and disability, and what police describe as a lengthy period of staying too long and making aggressive threats to fellow members of the public on US federal forest land.
The Roberts family, made up of Brooks, his brother Timber, and their mother, Judy, had been struggling for years, eventually living in vehicles on federal lands in Idaho once they ran out of alternatives.
In 2020, the family was evicted, and Judy lost her long-time long-time manufacturing job after a car-accident. Meanwhile, Brooks was injured working during a shift at Walmart, requiring him to use a wheelchair.
The following year, Judy got frostbite living in an old school bus and underwent a double amputation.
Covid furth complicated the family's efforts to find stable shelter, according to the Roberts, prompting them to live on public lands.
Throughout this period, according to law enforcement, the family was warned they were camping on federal land longer than the US code allowed, and public officials began to fear they were a threat.
Timber allegedly threatened law enforcement officers he would booby trap his family's encampment if they continued to be told to leave.
Randy Hickman, of McCall, Idaho, alleged that Timber threatened him with a knife at the trailhead where the raid took place.
"I see a guy standing outside my vehicle. He wants something, I don't know what it is. So, I open the door, get out and say what do you need?" he told KTVB.
"He walked back over to a Chevy pickup [...] and picked up a knife off the tailgate," he added. "He shook the knife and started back toward me. That made it pretty easy for me to see I needed not to be here."
Timber has since been jailed on misdeamenour charges.
By May, the family had been hit with multiple misdeameanour charges for their time on public land, though the Roberts argued their situation left them stuck with few options, pointing to instances like Judy's social security disability benefits being garnished for camping tickets as evidence of the negative feedback loop that led them to decamp to Payette National Forest.
Eric Tars, legal director of the National Homelessness Law Center, said the use of force was unprecendented for a series of charges normally met with fines and tickets.
"This is the message from the top," he told USA Today. "I've been doing this work for almost two decades, and I've never heard of federal law enforcement using all these resources from multiple agencies just to target a single family for arrest for unsanctioned camping."
Idaho has around 2,000 unhoused people, a figure that has risen 14.2 per cent in the last 15 years, according to the US Department of Housing and Urban Development.
The state has one of the highest rates in the nation of unsheltered homeless people living in vehicles or outside.
Join our commenting forum
Join thought-provoking conversations, follow other Independent readers and see their replies