Ikea monkey Darwin is 'a little person' insists owner embroiled in custody battle
Darwin, who some have dubbed the 'Toronto One', was taken in by Animal Services after being found in the furniture store dressed in a sheepskin coat
Rob Williams
Thursday 20 December 2012 13:25 Comments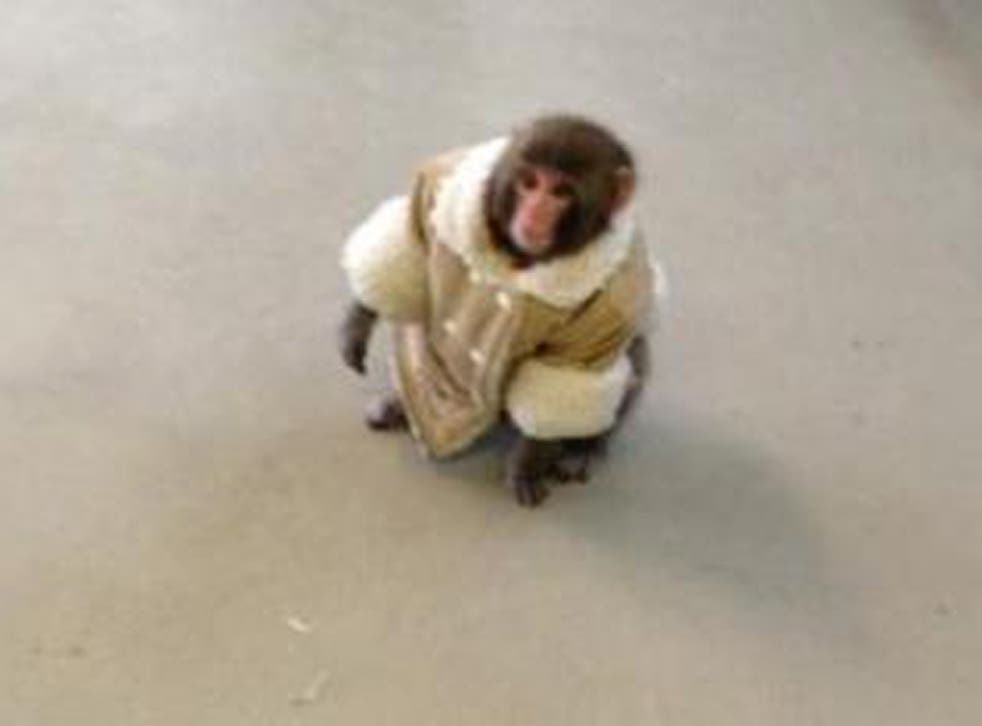 A monkey, who became a global internet sensation after he was found wandering around Ikea in an oversized coat, is now at the centre of a custody battle.
Darwin, who some have dubbed the 'Toronto One', was taken in by Toronto Animal Services after being found in the furniture store dressed in a sheepskin coat.
The monkey's owner, Yasmin Nakhuda, a property lawyer, protested outside the animal services offices with 15 other people yesterday, ahead of today's court hearing.
The protesters chanted and held placards saying 'Free Darwin Now!' and 'Give Darwin back we miss him'.
Yasmin Nakhuda, who described the monkey as a 'little person', has said the public does not understand the close relationship she and her family had with the animal.
"Unless you have owned a primate, you can't really understand my relationship with Darwin," Nakhuda said during the rally.
"He was not a dog, he was not a cat, he was a little person."
Yasmin Nakhuda said the animal was more like a child than a pet, continuing: "Japanese macaques, they have 93 per cent human DNA. So, he would act like a little child, and therefore when I call him my son, I'm not mental," she said. "I don't think that's the situation here."
She also revealed how she had bought the monkey a Santa Claus outfit, a christmas dress and a bow-tie for New Year.
Nakhuda, who will appear in court today, is expected to argue the monkey was "unlawfully" taken from her.
She has already been fined C$240 (£151) for illegally keeping the animal but did not face criminal charges.
Register for free to continue reading
Registration is a free and easy way to support our truly independent journalism
By registering, you will also enjoy limited access to Premium articles, exclusive newsletters, commenting, and virtual events with our leading journalists
Already have an account? sign in
Join our new commenting forum
Join thought-provoking conversations, follow other Independent readers and see their replies