Darren Vann: Indiana man arrested for murdering teenage prostitute confesses to six other murders - and police fear more
Darren Vann was arrested for the murder of a sex worker in an Indiana motel on Friday before leading officers to six other bodies. They now suspect there are more victims, dating back 20 years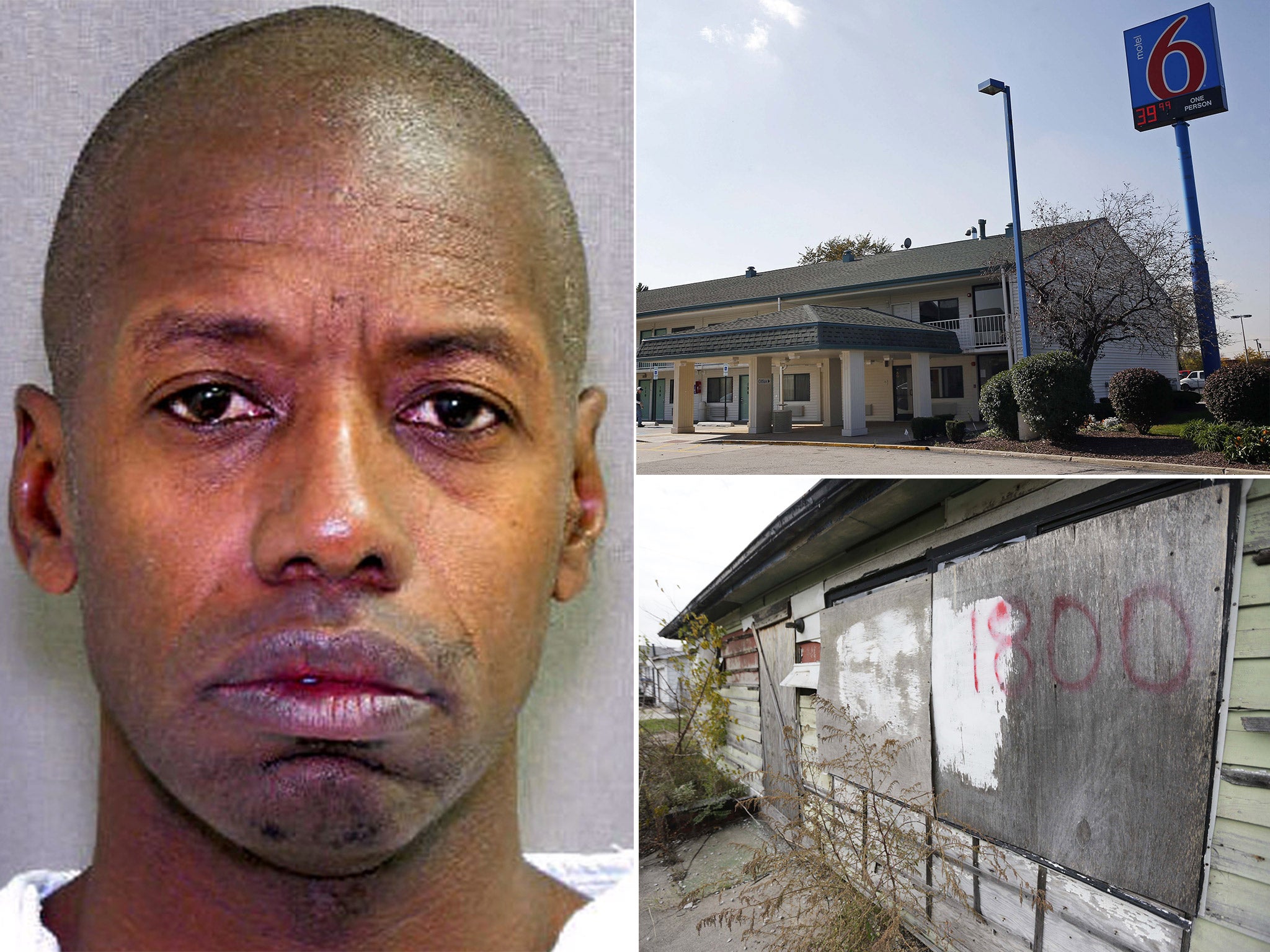 A man charged with the killing of a prostitute in Gary, Indiana, has led police to the decomposing bodies of six other women in assorted abandoned homes in the city spurring speculation that he may be America's latest serial killer with perhaps yet more murders to his name stretching back over decades.
So far Darren Deon Vann has been charged only with the murder of 19-year-old Afrika Hardy, a sex worker whose body was found at the weekend in a motel room in Hammond, just west of Gary and south of Chicago in neighbouring Illinois. He led police to the bodies of the six other women after being taken into custody.
"It could go back as far as 20 years based on some statements we have and that's yet to be corroborated," noted Hammond Police Chief John Doughty. "It is possible other victims could surface." Of the other victims, three have been identified as Anith Jones, 35, Teiarra Batey, 28, and Christine Williams, 36, all from the surrounding area.
Investigators are combing through missing persons cases locally and in Texas in search of anything that could tie them to Mr Vann. He served five years in prison in Texas after being convicted of sexually assaulting and trying to strangle an Austin woman. He returned to Gary, where he had previously lived, after being released one year ago.
The capture of Mr Vann, 43, has gripped residents of Gary, a once-vibrant city on the southern end of Lake Michigan that over decades has become synonymous with rust-belt blight and violent crime. Residents expressed horror that its huge collection of abandoned structures had become a dumping ground for a suspected serial killer.
"It makes me very uncomfortable," said Latonya Ramson, 36, whose own home is close to the house where Mr Vann had been living with a brother. "There's abandoned houses everywhere you look. If we didn't have all these abandoned houses, he wouldn't have been able to leave people in them – that's part of the problem.
Also going through people's minds are memories of one of the region's most infamous serial killers, John Wayne Gacy, a child entertainer from Chicago who was executed in 1994 after being arrested in 1978 and implicated in the killing of 33 men and boys. He had begun his killing spree after serving time for sexual crimes before being freed.
The first spark on the fuse that led police to Mr Vann came on Friday when Ms Hardy, a sex worker for an escort service called "Big Boy Appetite", texted a co-worker to say she was meeting a "john" in the Hammond motel. When she failed to send a follow-up text, the co-worker tried to contact her. Suspicious that a return text had not in fact been written by Ms Hardy she went to the motel where she found Ms Hardy's body in the bathroom.
Police said they were able to connect the murder to Mr Vann in part by tracing communications with the escort agency to his phone. He and his car were also captured by a motel surveillance camera.
Officials said that upon his arrest he confessed to killing Ms Hardy and then quickly told them of the six other bodies and where they were. Mr Doughty indicated that Mr Vann was co-operating with police in hopes of making a deal with prosecutors.
"The initial murder investigation led to the confession of six other murders committed by Vann with those bodies being recovered in the city of Gary in abandoned structures," the city of Gary said in a brief statement. Gary Police Chief Larry McKinley agreed the news had alarmed residents.
"It's put the community of Gary on heightened alert," he said. "Any time you have this type of crime that happens in the city, in any city, there is some fear." Ms Hardy had returned to the area recently from the Denver area in Colorado where her mother, Lori Townsend, continues to live.
"I can't tell her I love her anymore. I can't give her hugs. I can't give her kisses," Ms Townsend told local television station, adding she had expected her daughter home for Thanksgiving next month.
In another interview she said: "She was my best friend. When I didn't have anything, she was all I had."
A brother of Anith Jones, one of the other victims found at the weekend, aired on Facebook his grief at having to identify her body.
"The images I seen when I had to identify my sister's body, the last words we had together, the many pictures I see with her smiling, and imagine what she went through during last moments, the thoughts of whether she called me for help during her final moments, and WHY this way!!??" he wrote. "Help me Lord!!! Help!!!"
A known survivor of the menace of Mr Vann is the woman cited in the criminal complaint that led to his conviction and incarceration in Texas.
She was said at the time to have been in his apartment in Austin after receiving a "service call from her employer. What happened there was described by a police report submitted to the court.
"Vann yelled at her that he could kill her," it said. "Vann then told her to perform oral sex on him. She told him no. Vann hit her several times about the face."
When the woman escaped she was treated for injuries that were consistent with attempted strangulation.
Join our commenting forum
Join thought-provoking conversations, follow other Independent readers and see their replies