Man driven to suicide by girlfriend's abusive texts, prosecutors claim
Defendant Inyoung You had 'complete and total control' over deceased, court hears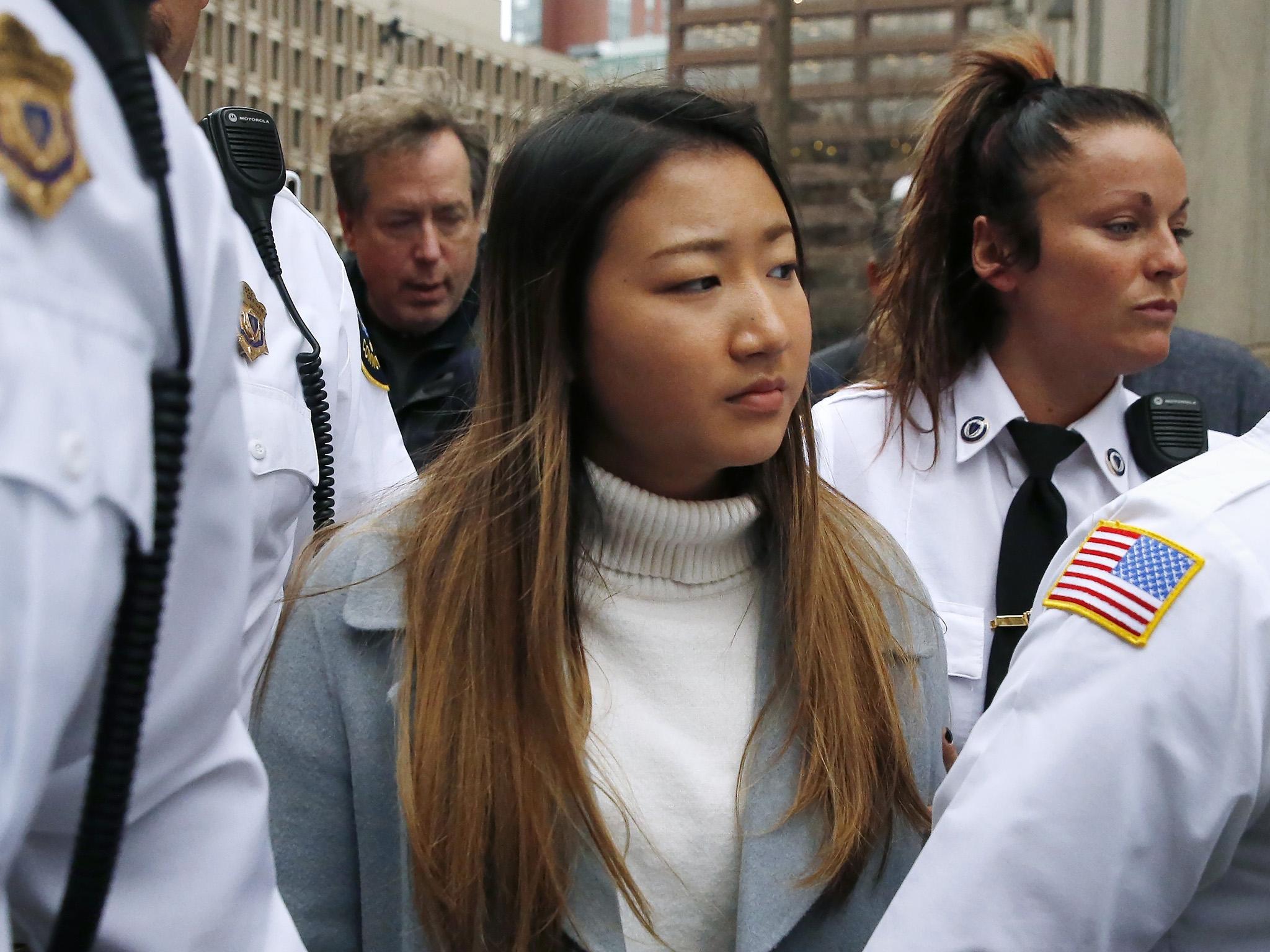 The texts pinged back and forth at a dizzying rate, with the young couple exchanging tens of thousands of messages during their 18-month relationship.
But on 20 May, a few hours before he was set to graduate from Boston College, Alexander Urtula stopped responding. The texts Inyoung You sent to her boyfriend became increasingly desperate. She swore at him, she pleaded, she typed in all caps. No reply. She tracked his location to a tall parking structure in Boston's Roxbury neighborhood. She was there when he leapt to his death from the top floor and she did nothing to stop him, authorities said.
In the months that followed, investigators would accuse the 21-year-old Ms You, a former Boston College student, of driving Mr Urtula to suicide, and they'd use the couple's massive cache of text messages as proof, alleging the conversations revealed Ms You's near-constant physical, verbal and psychological abuse.
This week, as Ms You pleaded not guilty to involuntary manslaughter, both the prosecution and the defence released texts from the trove, claiming each set of messages bolstered their respective case. It marked the first time the public was able to see how the couple interacted in private, and the messages revealed the final moments of what both sides agree was a toxic, tumultuous relationship.
Ms You, prosecutors said, had "complete and total control" over Mr Urtula, who was 22. The power dynamic played out over more than 75,000 text messages, at least 47,000 of which came from Ms You – a stream of unrelenting abuse, they said.
World news in pictures
Show all 50
On Tuesday, the public relations firm representing Ms You released to the Boston Globe dozens of texts the couple exchanged in the hours leading up to Mr Urtula's death. In them, she repeatedly and urgently implored him not to hurt himself.
"IF U EVER LOVED ME STOP," she wrote in one message. "IF YOU WANNA SHOW ME U LOVE ME STOP."
In another, she told him she was on her way to the parking garage, writing, "Please baby please stop i love you."
But in a second batch of texts, released by prosecutors in court Friday, Ms You apparently told Mr Urtula he should "DIE IN HELL" and threatened to take her own life if he didn't – a tactic she repeatedly used to manipulate him during the 18 months they dated, alleged the Suffolk County district attorney's office.
She isolated him from family and friends, prosecutors said, demanding that he cut off all communications with his Boston College acquaintances and threatening self harm if he wavered.
Two days before Mr Urtula's death, Ms You wrote to him with a familiar threat: "u wanna make me livid again? u want me to slash my throat? is that what u want?"
In that same message, she told him she would "TAKE A VIDEO SAYING IT WAS BECAUSE OF YOU" that she killed herself.
"Alex felt trapped, like he had no option but to stay with her because her life was literally in his hands," Caitlin Grasso, an assistant district attorney, told the court, quoting a witness, according to CNN.
In his responses to her, prosecutors said, Mr Urtula "ceded his autonomy" to Ms You "as a condition of their relationship." They discussed how Mr Urtula was Ms You's "slave." In one message, he told her, "you own me...all of me...only you...you have complete control of me emotionally and physically...and you dictate my happiness."
Her messages were often filled with brutal, explicit and specific violence.
In one, she told him, "do everyone a favour and go f***ing kill yourself," calling him "WORTHLESS." In another, she wrote, "I WANT TO BASH YOUR HEAD AGAINST THE WALL" and told him to go smash his "HEAD ON THE SINK REPEATEDLY."
In his personal journal, two months before his death, Mr Urtula wrote that Ms You "attacks my self-worth."
In court on Friday, the clerk sought an end to the back-and-forth disclosures of texts, barring Ms You's attorney, Steven Kim, from making public any more messages, the Globe reported. Mr Kim argued that the releases were necessary because prosecutors were "cherry-picking" texts favourable to their arguments.
"Never in my career have I seen more unjust and callous behaviour from a DA in what I can only conclude is the cheap pursuit of headlines," Mr Kim said in a statement to The Washington Post, accusing prosecutors of branding "an emotionally fragile young woman a monster to the entire world."
"When the facts come out it will be clear," Mr Kim continued, "these were two emotionally needy young adults whose relationship had become a toxic blend of need, anger, fear and love."
He said Ms You is innocent and that "no one can ever know to a moral certainty why someone decides to take their own life."
"We should be looking for better ways to support young people in these situations instead of prosecuting them," Mr Kim said.
The case of Ms You echoes the highly publicised 2017 trial of Michelle Carter, who was convicted of involuntary manslaughter after encouraging her boyfriend to kill himself.
In the Carter case, she was 17 when Conrad Roy III killed himself in 2014. In text messages, she urged him to go through with it. Carter was sentenced to 15 months in jail, and in July her lawyers asked the Supreme Court to vacate her conviction, arguing her messages were protected under her First Amendment right to free speech.
Indeed, said Suffolk County District Attorney Rachael Rollins, the two cases have similar basic facts – they also both occurred in Massachusetts – but there are some important distinctions.
Carter and Mr Roy had limited physical contact, Ms Rollins said at a news conference last month.
"We have, quite frankly I would say, the opposite of that," she said. "We have a barrage, a complete and utter attack on this man's very will and conscience and psyche by an individual to the tune of 47,000 messages."
If Ms You is convicted, she could face up to 20 years in prison.
The Washington Post
Join our commenting forum
Join thought-provoking conversations, follow other Independent readers and see their replies