Iran nuclear deal: John Kerry remains hopeful of agreement as deadline draws near
Diplomats from seven countries are locked in negotiations in Vienna
Tim Walker
Saturday 27 June 2015 22:41 Comments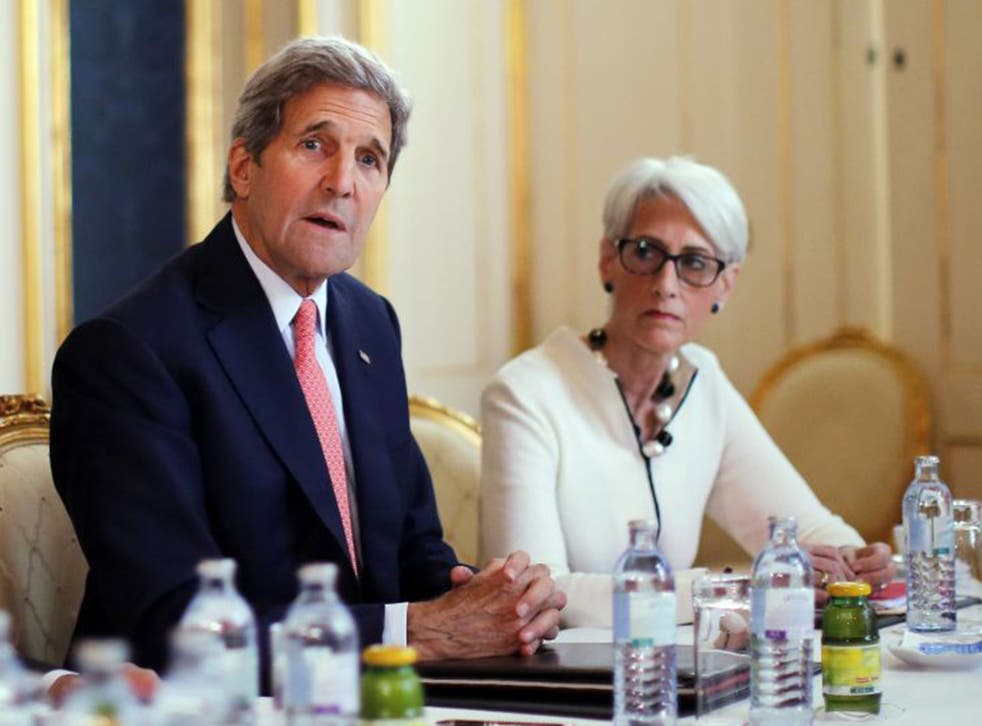 The US Secretary of State, John Kerry, has said he remains hopeful of an agreement to curtail Iran's nuclear programme, despite warnings from other diplomats that the talks under way in Vienna face several major sticking points.
With the 30 June deadline for a deal drawing near and diplomats from seven countries locked in negotiations in the Austrian capital, France's Foreign Minister, Laurent Fabius, said that disagreements remained over some of the conditions being demanded for "a robust deal that recognises Iran's right to civil nuclear power, but guarantees that Iran gives up definitively the nuclear weapon".
During a 90-minute meeting with Iranian Foreign Minister Mohammad Javad Zarif Mr Kerry admitted that there was "a lot of hard work to do" and "very tough issues" to overcome. "I agree," Mr Zarif replied, according to a draft transcript of the exchange by the US State Department. "Maybe not on the issues. But on the fact that we need to work really hard in order to be able to make progress and move forward."
Mr Zarif said earlier that Iran will reach a nuclear deal with world powers as long as the other side does not make excessive demands. "If the other side ... takes positive steps and does not make excessive demands, we will certainly reach a deal that benefits everyone," Mr Zarif was quoted as saying by state news agency IRNA.
The talks are designed to end more than a decade of diplomatic conflict over Iran's nuclear programme, which Tehran insists is peaceful, but which the US, Israel and other Western countries worry is aimed at developing nuclear weapons. The six nations at the negotiating table with Iran – the US, France, Germany, China, Russia and Britain – hope to reach a deal limiting the Islamic Republic's nuclear activities for the next 10 years, in return for the lifting of US and UN sanctions. EU foreign policy chief Federica Mogherini will travel to Vienna on Sunday to hold talks with all the parties involved.
As Mr Fabius arrived in Vienna he said, however, that Iran had not "completely" accepted France's three fundamental conditions for a deal: long-term restrictions on Iran's research and development capacity, regular IAEA inspections of its nuclear sites, and the reimposition of sanctions if Iran reneges on the deal. "These three conditions respect Iran's sovereignty," Mr Fabius said. "They have still not been accepted by everybody, yet they form the key base of the triangle that forms the robust agreement that we want."
The negotiators originally agreed on the framework of a deal on 2 April, and gave themselves until 30 June to work out the fine details of a comprehensive accord, but it now seems likely that the talks will spill into July. Diplomats told Reuters that the absolute deadline for an agreement is 9 July, by which time the American delegation must present an agreement to the US Congress. If that deadline is missed, then a mandatory congressional review period before President Barack Obama can start to suspend sanctions on Iran will increase from 30 to 60 days. Diplomats reportedly fear that such a delay would allow time for any deal to fall apart before being implemented.
In a speech earlier last week, Iran's Supreme Leader, Ayatollah Ali Khamenei, rejected several of the conditions being demanded by other nations, saying Tehran would sign an accord only if sanctions were lifted first, and refusing to halt his country's nuclear research. He also claimed UN investigators would be denied access to military sites to monitor Iran's compliance.
Mr Kerry downplayed the significance of the speech, saying that Ayatollah Khamenei was simply playing to his domestic audience.
Register for free to continue reading
Registration is a free and easy way to support our truly independent journalism
By registering, you will also enjoy limited access to Premium articles, exclusive newsletters, commenting, and virtual events with our leading journalists
Already have an account? sign in
Join our new commenting forum
Join thought-provoking conversations, follow other Independent readers and see their replies