Iraq crisis: US moves closer to airstrikes on Isis fighters and aid drops to trapped minority groups
Three cargo aircraft are believed to be on their way to the area escorted by fighter jets
David Usborne
Friday 08 August 2014 10:13 Comments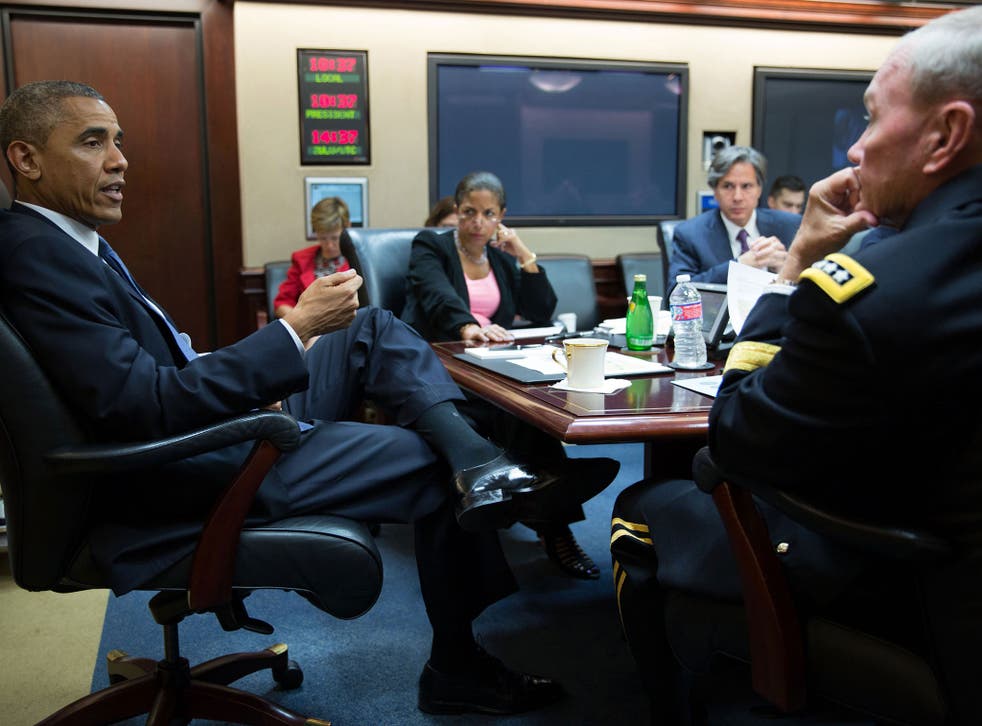 The United States signaled tonight that it is edging closer to ordering military strikes in Iraq to combat the advance of militant fighters of the Islamic State in Iraq and the Levant (Isis) while plans were finalised to send Air Force cargo planes to begin humanitarian airdrops of food and other supplies in a bid to save the lives of religious minority Iraqis trapped on a mountain top.
"The US is ready to strike," a senior US official told ABC News noting that President Barack Obama had met with members of his national security team to discuss the growing threat to the Kurdish city of Erbil where a number of American personnel are based. Protecting American lives was the president's first concern, sources said.
At the same meeting, President Obama approved the start of the airdrops which will deliver food, water and medical supplies to some 40,000 Iraqis of the religious minority Yazidi sect who have fled into a mountainous area of northern Iraq for fear of being slaughtered by the Sunni Isis forces.
Any order to carry out air strikes would mark the first time the US has engaged in combat in Iraq since 2011 when President Obama ordered all American troops out of the country. Since the start of the Isis advance across parts of Iraq he has consistently said that airstrikes were on the table as an option. Several hundred special forces advisors are meanwhile already in Iraq helping the Iraqi military and identifying possibly targets for strikes.
If strikes do come the main targets may in fact by Isis forces at the base of the mountain where most of the trapped Yazidi now are. They may also be designed to blunt the advance of Isis fighters towards Erbil, where some of the US advisors are stationed. Isis, which also captured Iraq's largest dam on Thursday, has declared its intention of creating a sovereign caliphate stretching across Iraqi and Syrian territory.
Earlier reports that the US had already begun airstrikes in the Kurdish region of Iraq were denied by officials at the Pentagon who added that nothing "imminent" was planned. However, it appeared that airstrikes by Iraqi fighter jets were perhaps already under way.
The flight of so many Iraqi's from the Isis advance prompted a new statement of condemnation from the UN Security Council. "The members of the Security Council call on the international community to support the government and people of Iraq and to do all it can to help alleviate the suffering of the population affected by the current conflict in Iraq," said UK ambassador to the UN, Sir Mark Lyall Grant.
Register for free to continue reading
Registration is a free and easy way to support our truly independent journalism
By registering, you will also enjoy limited access to Premium articles, exclusive newsletters, commenting, and virtual events with our leading journalists
Already have an account? sign in
Join our new commenting forum
Join thought-provoking conversations, follow other Independent readers and see their replies