Irma: Flamingoes, cheetahs and porcupines take shelter from deadly hurricane
The animals will ride out the storm in a hurricane resistant building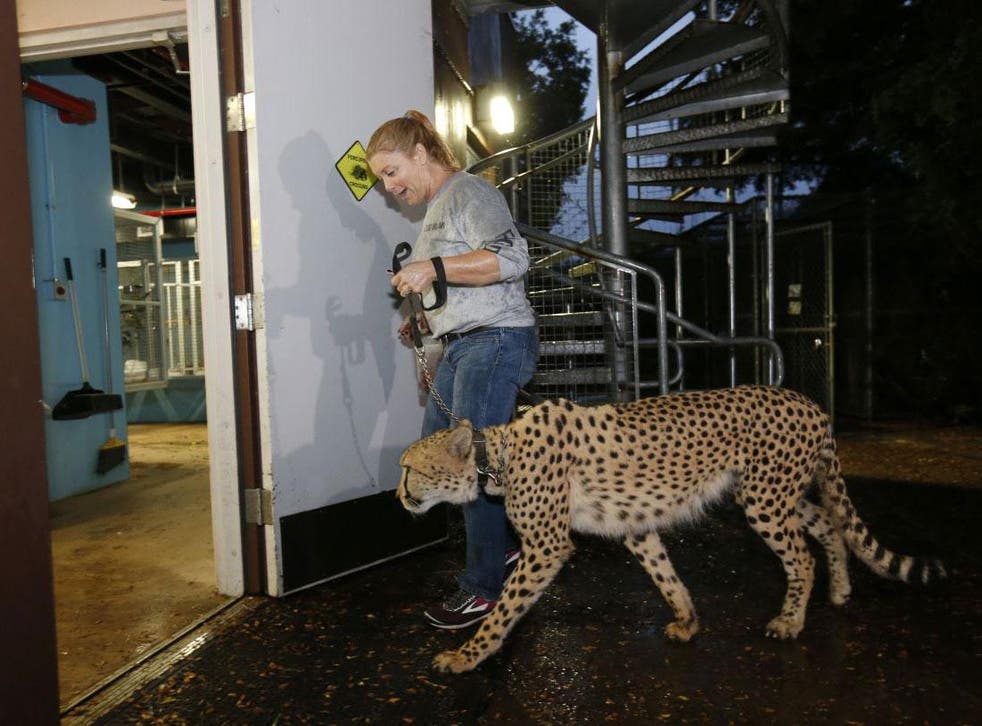 Humans aren't the only ones needing to take shelter from Hurricane Irma the residents of Zoo Miami being also led to safety as the city braces for the impact of Hurricane Irma.
Leopards, flamingos, porcupines and parrots were among the animals taken by zoo staff to a hurricane resistant building on the site.
The creatures will remain there to ride out the storm.
For humans, there are mandatory evacuation orders in place across Florida.
In one of the biggest evacuations ever ordered in the US, about 6.3 million Floridians — more than one-quarter of the state's population — were warned to leave.
Animals take shelter from Hurricane Irma at Zoo Miami

Show all 8
Authorities opened hundreds of shelters for people who did not leave. Hotels as far away as Atlanta, Georgia, filled up with evacuees.
The brunt of the hurricane, one of the fiercest Atlantic storms in a century, is due to arrive in Florida early on Sunday.
Irma could inflict major damage on the fourth-largest US state by population, which is braced for winds well in excess of 100 miles per hour and a huge storm surge that could trigger coastal flooding.
"This is a deadly storm and our state has never seen anything like it," Governor Rich Scott said at a Saturday morning news conference.
Irma, located about 225 miles (365 km) south of Miami on Saturday morning, still ranked as a Category 5 storm when it crashed into Cuba in the early hours of Saturday.
It weakened to a Category 3 as it tore along the island's northern coastline, downing power lines, bending palm trees and sending huge waves crashing over sea walls.
Register for free to continue reading
Registration is a free and easy way to support our truly independent journalism
By registering, you will also enjoy limited access to Premium articles, exclusive newsletters, commenting, and virtual events with our leading journalists
Already have an account? sign in
Register for free to continue reading
Registration is a free and easy way to support our truly independent journalism
By registering, you will also enjoy limited access to Premium articles, exclusive newsletters, commenting, and virtual events with our leading journalists
Already have an account? sign in
Join our new commenting forum
Join thought-provoking conversations, follow other Independent readers and see their replies