Irma: Four million Florida residents left without power as hurricane wreaks havoc
Damage already caused will cost as much as $50bn to put right
Will Worley
Monday 11 September 2017 15:58 Comments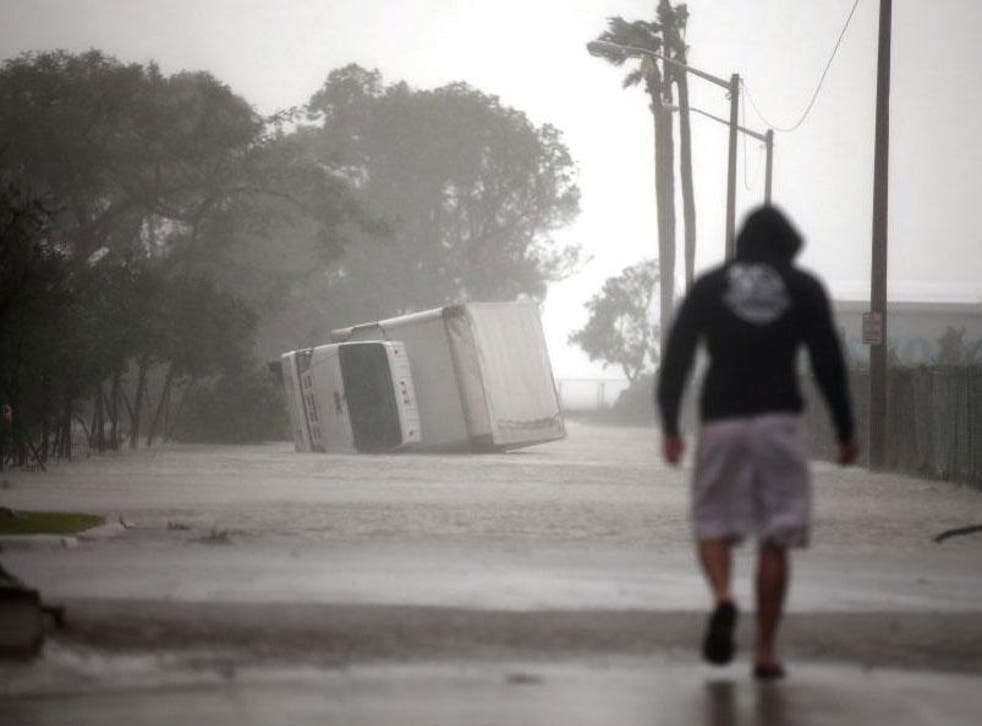 Millions were left without power and white-capped floodwaters ran through downtown Miami after Hurricane Irma tore into Florida, wreaking havoc across the state.
At least three people in the US have died during the 400-mile-wide hurricane, now a Category One, including two police officers.
The hurricane took at least 24 lives as it blew through the Caribbean as a much more powerful Category Five hurricane several days ago.
Irma blew into the west of Florida at a speed of 115mph on Sunday, tearing off roofs, uprooting trees and blowing over cars.
Florida suffers coast-to-coast battering from 130mph Irma
Across the state, high winds snapped power lines, cutting off about 4.5 million homes and businesses.
Miami, the most populous city in Florida, was spared a direct hit when the hurricane changed direction at the last minute.
But there was severe flooding throughout the city's busiest streets from Irma's storm surge, which was churned by the wind into waves and fast currents.
It had mostly subsided by Monday and a city-wide clean-up was imminent. A number of arrests were also made for looting.
Irma instead battered head-first into Naples, a city on the Gulf coast about 125 miles to the north-west of Miami.
As gusts of over 131mph were reported, TV footage from the city showed buildings ripped apart and flooded streets.
However, storm surges stayed lower than feared at up to six feet, avoiding catastrophic flooding.
The water was reported to be receding in the early hours of Monday.
While some areas were inundated, in other parts of the coast water disappeared – sucked out of shallow coastal bays by the force of pressure in a rare phenomenon.
The hurricane is yet to end but already the cost of the damage caused by Irma was placed at between $15bn (£11bn) and $50bn by catastrophe risk modellers AIR Worldwide, CNN reported.
Hurricane Irma – devastation caused in pictures

Show all 45
Irma was forecast to continue moving north along Florida's Gulf Coast on Monday morning, with maximum sustained winds of 85mph.
It is expected to further weaken along the way before diminishing into a tropical storm over far northern Florida or southern Georgia later in the day.
The National Hurricane Centre said it could dump as much as 63.5cm of rain in parts of Florida and as much as 40cm in parts of Georgia, prompting flash flood and mudslide warnings.
Additional reporting by agencies
Register for free to continue reading
Registration is a free and easy way to support our truly independent journalism
By registering, you will also enjoy limited access to Premium articles, exclusive newsletters, commenting, and virtual events with our leading journalists
Already have an account? sign in
Join our new commenting forum
Join thought-provoking conversations, follow other Independent readers and see their replies