Is this the worst first day in history? Rookie news anchor A.J. Clemente sacked after first words on air are 'f****** s***'
Despite a concerted social media campaign, employing the hashtag #saveAJ, Mr Clemente took to Twitter this afternoon to announce he had been fired by KFYR-TV
Rob Williams
Monday 22 April 2013 17:46 Comments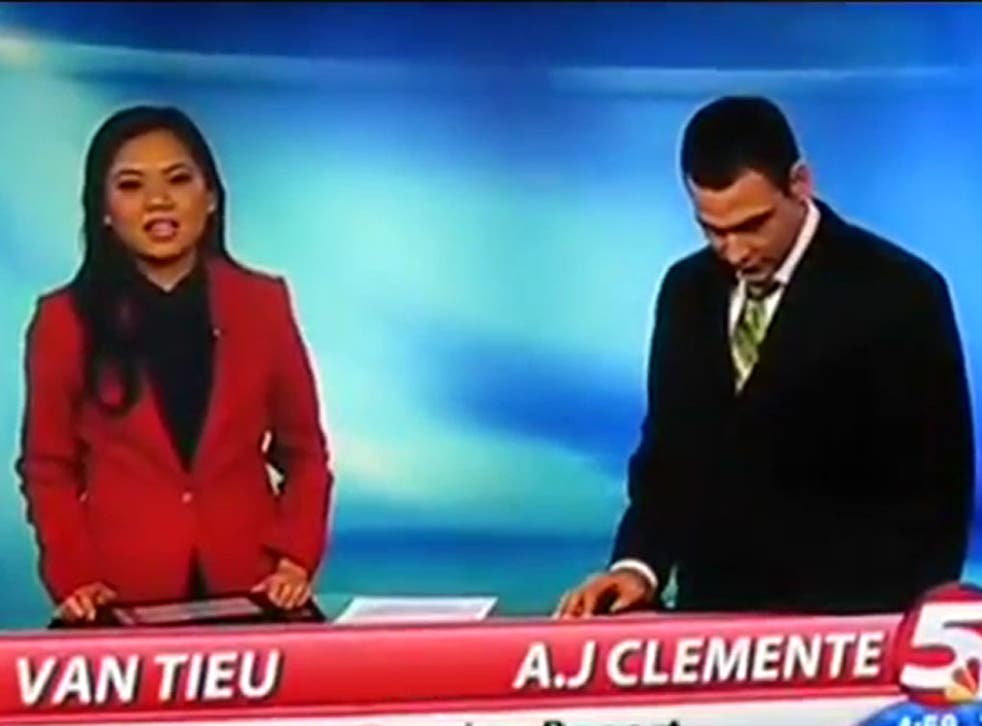 In the Worst Case Scenario section entitled 'first day in my new broadcasting job' the name A.J. Clemente will forever be present.
Mr Clemente, a rookie KFYR news anchor, opened his first - and indeed last - broadcast for his new station by saying 'f****** s***' into a live microphone, leaving his co-anchor, and no doubt his producers, dumbfounded by his sweary outburst.
Video footage of the incident, which has now gone viral, shows Mr Clemente's colleague Van Tieu, who was clearly thrown by his colourful language, stumble mid-introduction.
Clemente then thanks Tieu for the introduction and begins talking about his history, saying he is a graduate of West Virginia University and: 'I'm used to, you know, from being from the East Coast.'
He goes on to read a news story about a fatal crash that happened earlier that day. Following complaints about the broadcast KFYR-TV responded with a post on Facebook.
Monica Hannan, KFYR-TV News Director wrote: "I want to apologize for an incident that occurred prior to our early newscast this evening, when one of our employees used profanity on air", adding: "He did not realize his microphone was on, but still, that's no excuse."
For his part, the hapless newsreader tweeted following the incident: 'That couldn't have gone any worse'.
Hannan also informed viewers that the news reader had been suspended following the incident.
Despite a concerted social media campaign, employing the hashtag #saveAJ, Mr Clemente took to Twitter this afternoon to announce he had been fired by KFYR-TV and was now a free-agent, writing: "Rookie mistake. I'm a free agent. Cant help but laugh at myself and stay positive. Wish i didnt trip over my "Freaking Shoes" out of the gate."
Register for free to continue reading
Registration is a free and easy way to support our truly independent journalism
By registering, you will also enjoy limited access to Premium articles, exclusive newsletters, commenting, and virtual events with our leading journalists
Already have an account? sign in
Join our new commenting forum
Join thought-provoking conversations, follow other Independent readers and see their replies