Isaiah Owens: Harlem undertaker on how death still divides Manhattan by race
Homicides have fallen in the last 20 years, but for most black families living north of 110th Street, open-coffin funerals and interment remain a must, while white Manhattanites prefer direct-to-cremation affairs with minimum fuss
David Usborne
New York
Tuesday 05 January 2016 20:23 Comments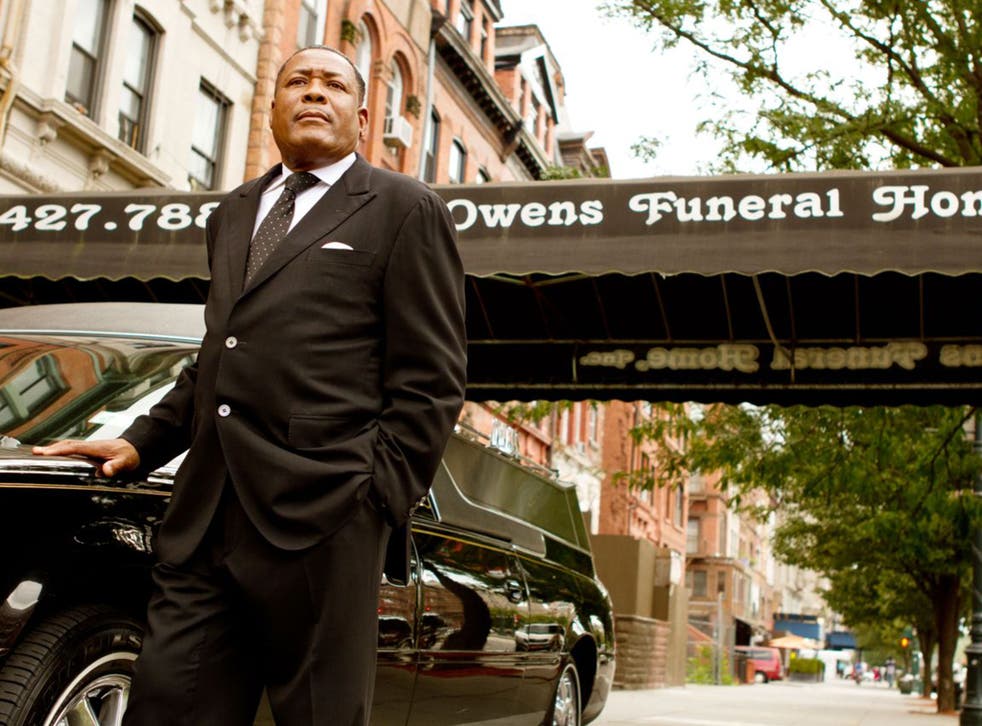 Isaiah Owens does not discriminate when accepting business at his funeral home in the heart of Harlem, in New York City.
"Catholic, Pentecostal, different religions, some Muslims, anyone," he says.
It happens, though, that of the more than 400 funerals which he's arranged this year, barely a dozen were for white families.
A few things have changed since Mr Owens, the son of South Carolina sharecroppers, first opened shop in the city in 1971, though not at his current location on a bustling stretch of Lenox Avenue.
Far fewer men are being taken by Aids too early in their lives. Or, indeed, by bullets.
"Homicides I see very seldom. Thirty – no, 20 – years ago, it would be 10 homicides every three weeks," he said.
Other things are much the same. Death still largely divides Manhattan by race, he says. For most black families living north of 110th Street, open-coffin funerals and interment remain a must. White Manhattanites, he reports, prefer direct-to-cremation affairs with minimum fuss.
He recalls a colleague at Campbell's, a funeral parlour on Madison Avenue and 81st Street, joking that buildings in that part of the Upper East Side, where ladies do lunch and cleaning maids don't, more or less require prospective buyers "to sign a pledge they are going to have a direct cremation" before they'll let you in. "All these rich people" Mr Owens almost sighs, "and they all have direct cremations."
Sitting in the chapel pews, Mr Owens explains. "Open casket viewing is, I guess, a black experience," he said. "Pretty much when you pass away, the family and their friends are going to want to visit you and say goodbye."
It is his job to make the dead look presentable; almost alive, for the hour or hours that the viewings generally last.
Beside him is a big envelope labelled "Extreme Photos" containing before and after pictures of people whose suffering in death made them especially hard to repair.
During the Great Recession, he admits, fewer Harlem families had the wherewithal to spend the $7,000 or above that a typical Owens package – cosmetics and dressing, viewing, funeral service and burial – will cost. Throw in a horse and coffin-bearing carriage – he was the first in Harlem to offer that as an optional frill – with 10 limousines, and the bill can run to $200,000.
When families couldn't muster the cash, the city buried their loved ones in a pauper's graveyard on an island off the Bronx, in a pine box.
Today things are better again for the death profession. Mr Owens hopes to top 500 funerals this year. Later, he shows off his vintage hearse during a downpour on the avenue outside. With its flying silver lady on the bonnet – he says, cryptically, that the make is "Rolls Royce-Cadillac" – and white-walled tyres, it wouldn't be out of place on the set of The Great Gatsby.
The parlour's waiting room for families, one flight down from the chapel, is a startling onslaught of mirrored walls and chandeliers.
Where clients are not taken to is downstairs to the basement – or backstage – area of Mr Owens' operation.
Straight ahead and behind a plastic curtain is the mortuary itself, with tiled floor and walls and an odour of chemicals. Two bodies lie under sheets, freshly embalmed.
Turn right and you are in Mr Owen's workshop. Here one body, also covered, is awaiting his attention.
A wooden work bench is piled high with the tools and concoctions he commonly needs. They include a gallon container of "Liquid Tissue", which he generally injects with a hypodermic needle into those places where flesh and muscle have fallen away in the final days and weeks of life. There are combs, half used lipsticks, bottles of hair gel, latex gloves and, mysteriously, one bottle of paint thinner. As the images in the envelope attest, some customers take considerably more time than others.
While he has helpers – the parlour employs 25 people – Mr Owens prefers whenever possible to tend to the bodies downstairs himself. He knows that in the neighbourhood, kids call him "Fix 'Em" behind his back. It is a nickname he is happy to have, even though his is a job not everyone would covet. Because that is precisely what so many families in Harlem entrust the bodies of their loves to him to do – fix 'em.
Shown some images of Mr Owens work, one of Manhattan's most prominent plastic surgeons, Douglas Steinbrech, whose business, like Campbells, is anchored in the Upper East Side of Manhattan, declared himself impressed. "I can see he does better work on the dead than a lot of the work I see on a daily basis being done on the living in New York," he commented admiringly.
Among the famous of Harlem to have received the Owens treatment has been Sylvia Woods, whose soul-food restaurant, Sylvia's, also on Lenox Avenue, was for years a Harlem landmark. Her funeral in 2012 at the Baptist Abyssinian Church, arranged by Owens' Funeral Parlor, drew luminaries from former President Bill Clinton to then Mayor Michael Bloomberg.
"I am good at what I do," Mr Owens professes.
Among the hardest cases have been car accident and cancer victims. His signature is to give each of the deceased a slight smile of contentment. Shielding the living from the reality of death is how he builds his business.
"Once I do this funeral for someone and do the body nice, you'll come back. If I can lay this body out and make it really beautiful for you, then you kind of get married to me and your friends get married to me," he said.
It's time for Mr Owens to return to his duties. The lady upstairs, he decides, is looking a little desiccated and her viewing is set for first thing in the morning. But it's nothing he can't fix, he declares.
Register for free to continue reading
Registration is a free and easy way to support our truly independent journalism
By registering, you will also enjoy limited access to Premium articles, exclusive newsletters, commenting, and virtual events with our leading journalists
Already have an account? sign in
Register for free to continue reading
Registration is a free and easy way to support our truly independent journalism
By registering, you will also enjoy limited access to Premium articles, exclusive newsletters, commenting, and virtual events with our leading journalists
Already have an account? sign in
Join our new commenting forum
Join thought-provoking conversations, follow other Independent readers and see their replies