Isis calls for more couples to carry out terror attacks in US and Europe after praising San Bernardino shooters
The group used its propaganda magazine to praise the California shooters as 'martyrs'
Lizzie Dearden
Wednesday 20 January 2016 12:34 Comments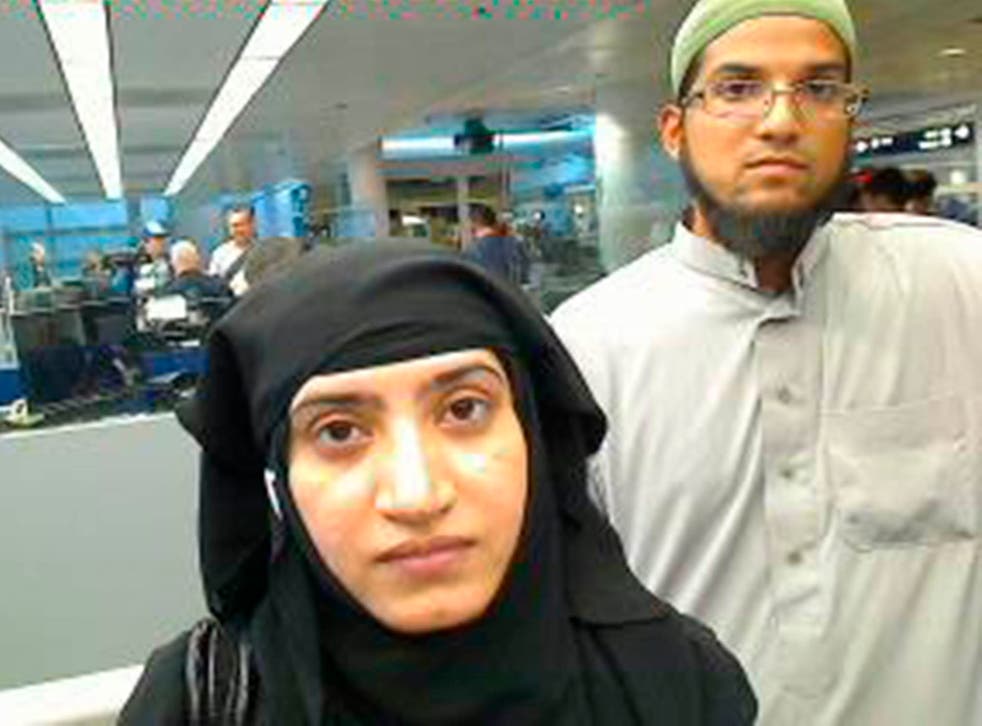 Isis has encouraged more couples to carry out terror attacks in America, Europe, and Australia after praising the San Bernardino shooters as "righteous" martyrs.
Syed Rizwan Farook and Tashfeen Malik massacred 14 people at a conference centre in California on 2 December after apparently being motivated by the terrorist group's propaganda.
They killed in a shoot-out with police, who found 5,000 rounds of ammunition, 12 pipe bombs and equipment to make more at the home they shared with their baby daughter.
USA: San Bernardino shooting "an act of terrorism" - Obama
In the latest issue of its propaganda magazine, Dabiq, Isis praised Farook and Malik for attacking the "American-led crusaders" waging war against its "caliphate".
Calling the husband-and-wife attack "unique", the group claimed it had answered leader Abu Bakr al-Baghdadi's calls for supporters to commit massacres in the West.
"How much more deserving of Allah's blessing are a husband and wife who march out together to fight the crusaders in defence of the (Caliph)," an article said.
"The brother's blessed wife accompanied him despite the fact that combat is not even obligatory upon her, but she did not want to lose the opportunity for shahadah (martyrdom) at a time when many "men" of the Ummah (Islamic community) have turned away from the obligation of jihad."
In pictures: San Bernardino shooting

Show all 15
Isis claimed that more militants were joining its ranks in Syria and Iraq, while others were planning to "defiantly terrorise the crusaders in their very strongholds".
"The believers who do trade with Allah will never lose, rather, they only stand to profit," the group said. "May Allah accept the sacrifices of our noble brother Syed Rizwan Farook and his blessed wife, accept them among the shuhada (martyrs), and use their deeds as a means to awaken more Muslims in America, Europe, and Australia."
The article claimed that Malik had pledged allegiance to al-Baghdadi and Isis online as the attack was carried out, although the American investigators previously cast doubt on the claim.
FBI director James Comey said last month that the couple talked about their goal of "jihad and martyrdom" in private emails and messages but did not write about the issue publicly on social media.
The FBI has found no evidence the couple were part of an organised cell or had any contact with overseas terror groups.
Register for free to continue reading
Registration is a free and easy way to support our truly independent journalism
By registering, you will also enjoy limited access to Premium articles, exclusive newsletters, commenting, and virtual events with our leading journalists
Already have an account? sign in
Join our new commenting forum
Join thought-provoking conversations, follow other Independent readers and see their replies