Isis claims it has captured US weapons, ammunition and soldier ID cards in Afghanistan
The Pentagon is investigating how the equipment was lost
Andrew Buncombe
New York
Monday 08 August 2016 16:40 Comments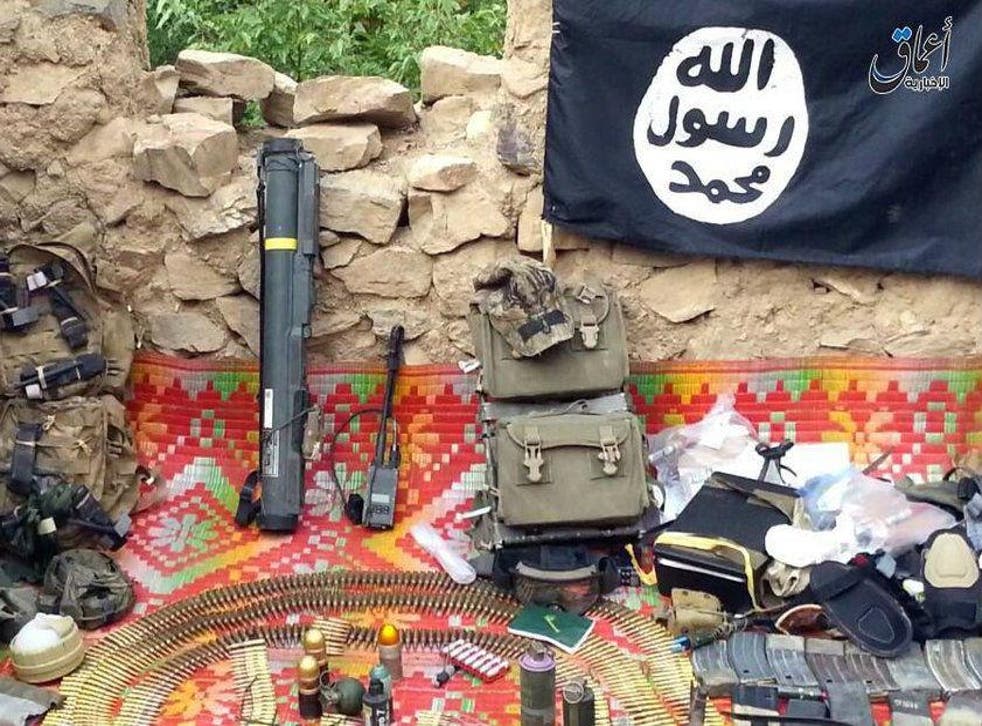 The Pentagon is investigating how a US solider's identification cards and sensitive military equipment fell into the hands of Isis fighters in Afghanistan.
Isis is circulating images of weapons, ammunition and communications gear it claimed were obtained after clashes on the battlefield. The images were shared on social media over the weekend by the SITE Intelligence Group, which monitors ISIS and other such groups.
The organiation said the images were originally published by Amaq, Isis's own news agency, after ISIS fighters confiscated the equipment and documents in Afghanistan's Nangarhar province.
The identification cards bear the name of Specialist Ryan Jay Larson. A Pentagon spokesman on Monday told The Independent that Mr Larson was currently with his unit in Afghanistan, and had not been captured by Isis.
Spokesman Robert Stump said that some equipment had been lost and an investigation was underway to determine how this had happened.
"He is not captured. He is with his unit," he said.
Syrian women burn burkas to celebrate liberation from Isis
The Military Times said US special forces troops were operating in Nangarhar province, which borders Pakistan. The region has become a stronghold for the estimated 1,000 to 1,500 Isis militants in Afghanistan, most of whom are believed to be disaffected Taliban who were forced out of Pakistan.
In late July, five American troops were wounded there during separate engagements with Isis fighters, the top US commander in Afghanistan, Army Gen John Nicholson, said recently.
The Americans were accompanying a group of Afghan troops on what Mr Nicholson described as a clearing mission intended to help the Afghans reclaim territory lost to Isis.
Among the items contained in the photographs is a M72 single-shot rocket launcher and a spare barrel for an M240 machine gun. There are 40mm grenades, a hand grenade and smoke grenades, and 5.56mm rifle rounds and bigger 7.62mm rounds, which are fired from M240s and sniper rifles.
Also in the images are a backpack, body armour, knee pads, eye goggles, gauze, tourniquets and other medical supplies, a radio and flex cuffs used to detain prisoners.
Register for free to continue reading
Registration is a free and easy way to support our truly independent journalism
By registering, you will also enjoy limited access to Premium articles, exclusive newsletters, commenting, and virtual events with our leading journalists
Already have an account? sign in
Join our new commenting forum
Join thought-provoking conversations, follow other Independent readers and see their replies