It's bordering on a bonanza: Lucrative security industry shows off gadgetry at an Expo where even the humble cactus is more than it appears
Among the usual array of gadgets, the main focus in Arizona last week were products designed to detect and prevent people creeping illegally across a national frontier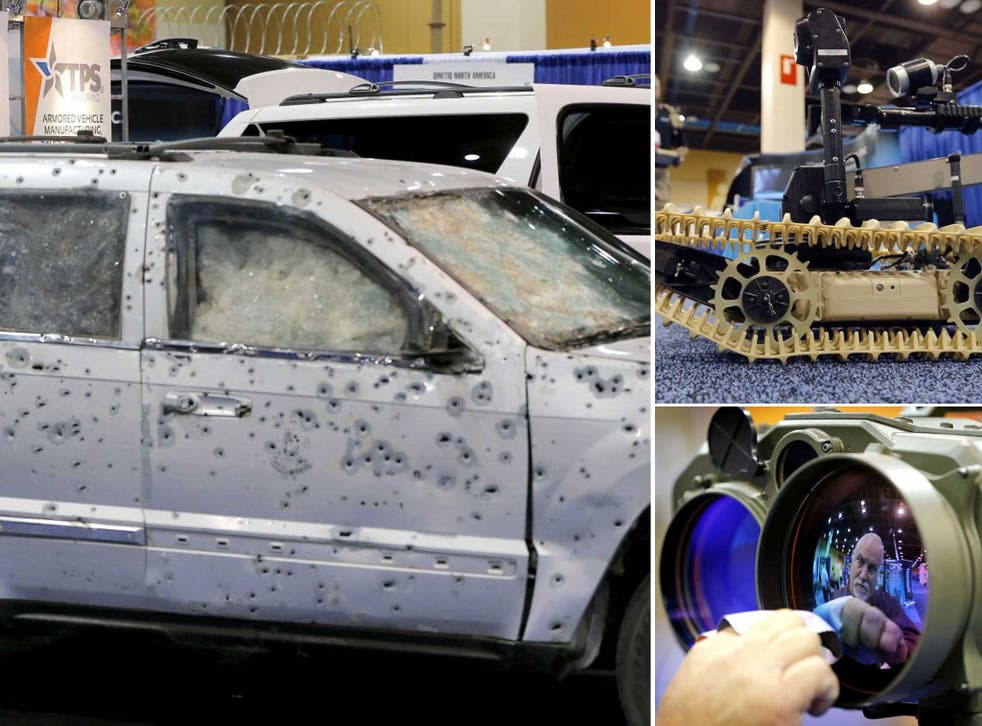 It is where the countries of the world come together to find new ways to keep themselves apart. And as the US ends its military engagements in Iraq and Afghanistan, a security industry grown fat on the wars of the past decade is looking elsewhere for sustenance.
At last week's eighth annual Border Security Expo in Phoenix, Arizona, representatives from 14 countries were treated to an array of technological gadgets from almost 100 firms.
Among the items on show at the two-day event, which was aimed squarely at law enforcement agencies and professionals, were unmanned drones small enough to be carried in a rucksack, robots that can crawl into smuggling tunnels and defuse booby traps, and a camera hidden inside a fake cactus. One Arizona firm has created a fabric that can short-circuit a Taser hit. Its stun-proof shirts cost between $110 (£67) and $130 each.
Many of the Expo stalls were assigned to traditional firearms manufacturers such as Beretta, Glock and Heckler & Koch. Perhaps the most spectacular exhibit was the Jeep Grand Cherokee that once belonged to the security minister of Michoacan, a Mexican state riven by drug wars. In 2010, the jeep, which was armoured by the American firm TPS Global, was attacked by drug cartel members armed with guns and grenades. A TPS representative told the Los Angeles Times the vehicle sustained 14 minutes of continuous fire, yet the minister came away all but unscathed.
In pictures: The latest gadgets keeping worlds apart

Show all 9
However, the main focus here were products designed to detect and prevent people creeping illegally across a national frontier. Border security is a lucrative market. According to a study by the Migration Policy Institute, in 2012 the budget for America's immigration enforcement agencies was substantially bigger than the budgets of all other federal criminal law enforcement agencies combined.
Last year, US Customs and Border Protection spent more than $300m. Congress has discussed spending up to $46bn on a "border surge" to accompany new immigration laws.
The beefing up of the US-Mexico border began in earnest from 2007, when the Bush administration decided to double the ranks of the US border patrol.
Within five years the force, which comes under the Department of Homeland Security, had its staffing increased from 11,000 to more than 21,000 agents. However, not all the money funnelled into border security has been well spent. The Secure Border Initiative Network, a $1bn system of cameras, radar and vibration sensors which was introduced in 2006, proved unreliable, and ended up covering just 53 miles of the 1,992-mile border. It was scrapped in 2011.
The Expo's keynote speaker was Michael Fisher, the head of the US Border Patrol, which has been criticised for its lack of transparency and use of excessive force. Immigrant rights groups claim Border Patrol agents are too quick to open fire when people throw rocks at them from the Mexican side of the border. However, Fisher said that in the 1,700 such "rockings" since 2010, shots were fired only 43 times, but 10 people were killed.
Fisher explained, his agency plans to police about 900 miles of the border – its most heavily-trafficked sections – and to monitor the remaining 1,092 miles with surveillance drones such as those on show in Phoenix. The strategy, he said, would "shrink the border" and allow his agents to focus on its trouble spots, where the smuggling of drugs and migrants is most rife.
Register for free to continue reading
Registration is a free and easy way to support our truly independent journalism
By registering, you will also enjoy limited access to Premium articles, exclusive newsletters, commenting, and virtual events with our leading journalists
Already have an account? sign in
Register for free to continue reading
Registration is a free and easy way to support our truly independent journalism
By registering, you will also enjoy limited access to Premium articles, exclusive newsletters, commenting, and virtual events with our leading journalists
Already have an account? sign in
Join our new commenting forum
Join thought-provoking conversations, follow other Independent readers and see their replies