Ivan the Terrible (or just plain John Demjanjuk?)
Efforts to hold the Ukrainian to account for the terror he allegedly inflicted in a Nazi concentration camp have been frustrated yet again. David Usborne reports
Thursday 16 April 2009 00:00 BST
Comments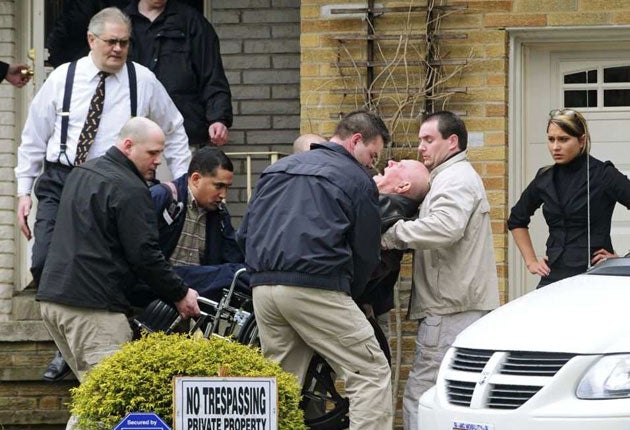 He is stateless, bedridden and, so his family says, in constant pain. He also has the dubious distinction of having been labelled by the rest of the world – not once but twice – as one of the last living monsters of the Nazi concentration camps. But, for now, John Demjanjuk has reason to be grateful: he is not in Germany but at home in Cleveland, Ohio.
Voicing pity in any degree for the 89-year-old former car plant worker takes you into perilous waters. There is no one at the Los Angeles-based Simon Wiesenthal Centre, the Jewish human rights group which leads the hunt for Nazi war criminals, who has the slightest doubt that he is guilty of genocide against Jews. Twenty years ago, he was identified by Israel as "Ivan the Terrible", the sadist of Treblinka, and tried and sentenced to hang. Famously, that conviction was overturned.
Now it is Germany's turn to pursue Ukrainian-born Mr Demjanjuk, who after the debacle of his Israeli conviction, was allowed to return to the US. Late last year, the German office responsible for charging Holocaust killers – or the guiltiest among them – declared itself ready to prosecute him on German soil on charges not related to Treblinka but to the labour camp at Sobibor in Nazi-occupied south-east Poland. At the heart of the case against him is the allegation that he helped to murder 29,000 people during the Second World War.
Few humans were ever as reviled as Mr Demjanjuk while he was on trial in Israel in 1988. Survivors of Treblinka recalled watching him slice the breasts off Jewish women and ordering a male inmate to rape a 12-year-old girl. When Israel's Supreme Court admitted to problems in his case in 1993 and let him go – without formally acquitting him – he may or may or not have expected to live out the rest of his life unbothered by the past. But if he did, he was mistaken.
The grim chronicles of Mr Demjanjuk, who originally fled to the US during the confusion of the post-war years, resumed in early 2002 when a US judge revoked his American citizenship for a second time. In 2005, another judge ruled that he could be extradited to face trial in Germany, Poland or even Ukraine. After the Central Office for the Investigation of Nazi Crimes, based in Ludwigsburg, near Stuttgart, said last October that it was ready to go to trial with new charges against him, an official request was made by prosecutors in Munich to have him extradited from America.
That the US would comply never seemed in doubt. While Mr Demjanjuk's large and loyal family worked hard to persuade the courts that he was too frail to be deported and that the journey to Munich would constitute torture – because he suffers from a variety of ailments including kidney disease, anaemia and a bone marrow disorder – US officials were disinclined to listen. On Tuesday, they finally came to get him.
There may have been some family theatre involved, but the scenes outside Mr Demjanjuk's home in Seven Hills, just outside Cleveland, did not inspire confidence that he would make it to Germany alive, let alone to the end of what is sure to be a lengthy trial in Munich.
Television cameras whirred as sweating immigration marshals heaved the still-hulking man through his front door in a wheelchair to whisk him away in a white van, first to a federal building downtown and in the evening – or so they thought – to a plane bound for Germany.
As his white-haired wife, Vera, sobbed into the shoulder of a granddaughter on the front lawn, Mr Demjanjuk looked corpse-like in the hoisted wheel chair, his jaw dropped wide open in shock or pain or both. Two priests were inside the house when the old man was removed from his bed, reportedly mouthing just three words to relatives at his side: "I love you".
Among the family members present was his grand-daughter Olivia Nishnic, 20, for whom the Second World War and the concentration camps are nothing more than pages in history books. "It was horrendous," she said of his removal. "He was in such pain. I wouldn't want to see anyone go through something like that."
But if America was happy to be getting rid of him one more time, it was to be disappointed. At the 11th hour on Tuesday, a federal appeals court finally responded to his family's pleadings about his health and issued a stay on Mr Demjanjuk's deportation. Before sundown, he was once again in the care of his loved ones and on his way back in a Ford pick-up to his home, where he remained yesterday.
Among those celebrating was his former son-in-law and the family spokesman, Ed Nishnic. "We are delighted," he said. "It is just a shame that Mr Demjanjuk had to go through the hell that he went through once again this morning."
The US Immigration Service said that although Mr Demjanjuk was allowed to return home, his movements would be monitored electronically, in case he tried to flee. Officials at the Justice Department promised to fight to complete his deportation to Germany as promised.
Whether this is a reprieve that will last days or last indefinitely remains unclear. Mr Demjanjuk's lawyer in Germany said yesterday that his client had a kidney tumour, needed chemotherapy and was entirely unfit to travel. His son, John Junior, complained that he was misled by US government officials about the circumstances of the deportation. "He can't stand up and walk out of the house," he said. "We weren't anticipating anything like this. I was told that a family member could accompany him. We also were told that we would have three to five days' notice before anything happened."
For those anxious to see Mr Demjanjuk face justice, the delay, or worse, is intensely frustrating. "We remain confident that John Demjanjuk will be deported and finally face the bar of justice for the unspeakable crimes he committed during the Second World War," said Rabbi Marvin Hier, of the Wiesenthal Centre. "His work at the Sobibor death camp was to push men, women and children into the gas chamber. He had no mercy, no pity and no remorse for the families whose lives he was destroying forever." Mr Demjanjuk has always maintained that, far from being a guard, he was a prisoner of war at the hands of the Germans.
The delay will also test the patience of the Nazi Crimes Office in Ludswigsburg. "It is now possible to give the precise names and birth dates of the victims," Kurt Schrimm, the head of the unit, said last year when the case was first announced. He said the oldest of Mr Demjanjuk's victims was a 99-year-old Dutch Jew, while the youngest were babies born on the trains that transported Jews to concentration camps and their awaiting gas chambers. "This is a great chance for us to call Demjanjuk to book and make him face up to the responsibility for his crimes."
Assuming it ever gets under way, his trial in Munich promises also to be a seminal moment for Germany as a whole. The scenes in the Bavarian courtroom would be as gruelling and upsetting as anything depicted in recent Holocaust-inspired fiction, including the Oscar-winning film The Reader, but will be rooted in distant but nonetheless terrible reality. The last big show trial of a Nazi war criminal was in 1992, when SS officer Josef Schwammberger was jailed for life for murder and for being an accomplice to murder. He died in prison in 2004.
And, it could also turn out to be the last such trial, a final reckoning for all Germans for the things that happened under Hitler. There is no statute of limitations on trying those accused of genocide, but no one at risk of prosecution for actions taken during the Second World War can be less than 80 years old today.
That is not to say that Mr Demjanjuk is the last person that the Nazi Crimes Office in Ludwigsburg is pursuing. It reportedly has its sights on four other men who now live in the US after allegedly attempting to flee their pasts as concentration camp butchers. But those cases are mostly in their preliminary stages, which means that for now it is the Demjanjuk trial that Germany and much of the world is waiting for.
Some in Germany would rather it was not Mr Demjanjuk providing what may be the final dénouement to their ancestors' Nazi allegiances and the national repentance that followed it. He was not, after all, even a German national but one of a large cast of east Europeans – so-called Volksdeutsche – hired by their new German masters to carry out some of their worst, most unspeakable work.
Some argue that a German law passed in 1968 actually let scores of nationals off the hook who had murdered, but not too egregiously. The law said: "In the absence of personal characteristics, conditions or circumstances establishing the culpability of the offender, the offender's sentence shall be mitigated."
As Der Spiegel, the German magazine, reported this week, German courts have investigated more than 100,000 cases covering the war years, but only 6,500 of the accused were sentenced. Christiaan F Rüter, a criminal law professor in Amsterdam, told the magazine: "While senior government officials, officers and commanders enjoyed their retirements in peace. This old man is now expected to pay for everything."
He means John Demjanjuk, of course. However, it may be that old age, and the frailty that comes with it, ensures that his moment in the Munich courtroom never comes – and he pays for nothing.
Join our commenting forum
Join thought-provoking conversations, follow other Independent readers and see their replies