Ivanka Trump has not fully split from family business empire despite promise
The protracted disentanglement from the family business has raised concerns over conflict of interest issues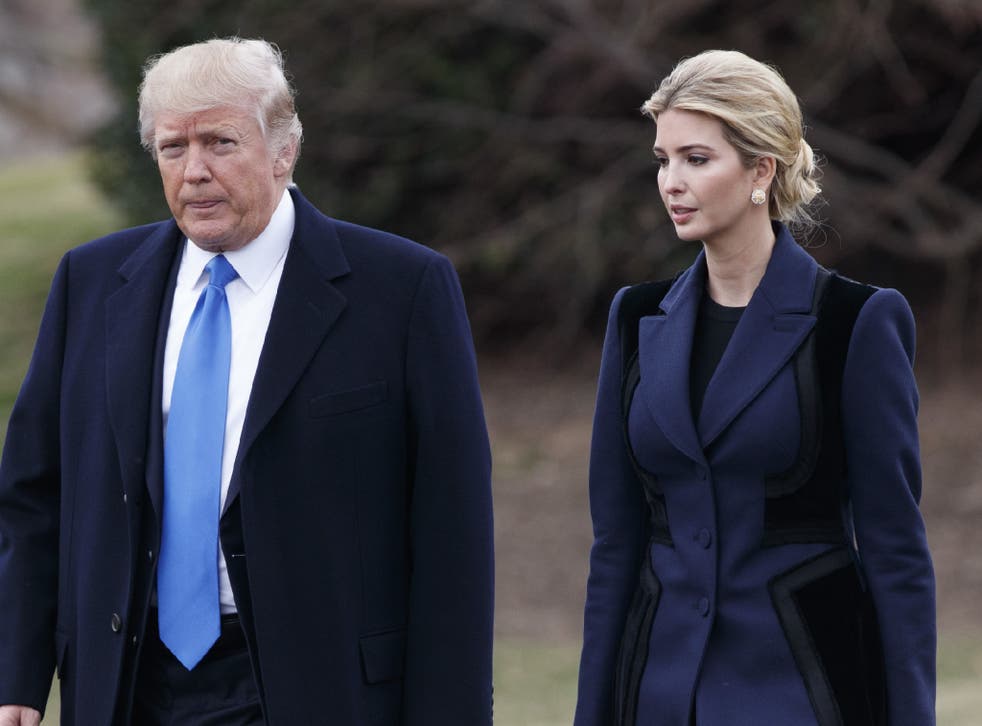 Donald Trump's daughter Ivanka has not fully ended her formal relationship with some of her business interests, despite promising to do so after her father became President.
Her pledge followed her father's promise in early January to hand over control of his business empire to prevent conflicts of interest while in public office.
Writing on Facebook at the time, she said: "I will take a formal leave of absence from The Trump Organization and my eponymous apparel and accessories brand. I will no longer be involved with the management or operations of either company."
However, Ms Trump is still listed as running several Trump businesses on several active state liquor licenses.
According to research by ProPublica, which obtained documents through open-records requests, Ms Trump is still the named manager on various hotels owned by the Trump Organisation.
These include the Trump SoHo hotel, which lists both the President and his eldest daughter, and they are also still listed as officers on the Illinois liquor license for the Trump International Hotel and Tower in Chicago.
This is despite the Trump Organisation's chief legal officer, Alan Garten, saying Ms Trump had signed all necessary documents and will have resigned from all her business interests by February 3.
ProPublica also notes that due to the opaque structure of the Trump Organisation, which is made up of privately held companies and living trusts, there is much that remains out of public view, as private companies ownership structures are not a matter of public record.
The protracted disentanglement from the family business has raised concerns over the Trumps' ability to separate their business interests and the responsibility of the President's office.
This week Mr Trump inadvertently sent the stock of high-end US retailer Nordstrom soaring, after mounting an attack on the company on Twitter.
"My daughter Ivanka has been treated so unfairly by Nordstrom," the President tweeted. "She is a great person – always pushing me to do the right thing! Terrible!"
Mr Trump's attack came after the shop announced it was dropping Ms Trump's line of clothing due to dwindling sales.
But the White House deemed it a "direct attack" on the President's policies and Mr Trump clearly thought it appropriate to attack back.
White House advisor Kellyanne Conway later appeared on Fox news, where she endorsed Ivanka Trump's clothing, saying: "Go buy Ivanka's stuff, is what I would say. It's a wonderful line, I own some of it. I'm going to give a free commercial here, go buy it today."
Ms Conway may have broken the law by using her position to endorse the President's daughter's clothing line.
While Nordstrom shareholders benefitted from the unpopular President's attack with an uplift in support, thought to come from anti-Trump consumers, not all businesses have been lucky.
His attacks against companies saw a single comment wipe $25bn off the value of the top nine pharmaceutical companies in just 20 minutes after he accused them of "getting away with murder".
Mr Trump owns, or has a position in more than 500 companies. About 150 of them have done business in at least 25 foreign countries, according to analysis by CNN.
Upon his election, Mr Trump originally said he would turn the Trump Organisation over to his sons, and announced a "major news conference" to discuss how the handover would pan out.
During the conference Mr Trump handed over to his attorney Sheri Dillon to discuss the finer details, but before doing so claimed he could run his businesses and the government at the same time.
New York City bodegas strike to protest Trump's travel ban

Show all 27
He said: "I could actually run my business, I could actually run my business and run government at the same time.
"I don't like the way that looks, but I would be able to do that if I wanted to. I would be the only one to be able to do that. You can't do that in any other capacity. But as president, I could run the Trump organization, great, great company, and I could run the company — the country. I'd do a very good job, but I don't want to do that."
Join our new commenting forum
Join thought-provoking conversations, follow other Independent readers and see their replies