Ivanka Trump says her father's 2005 comments about sexually assaulting women are 'inappropriate and offensive'
The nominee's eldest daughter has finally spoken out, 10 days after the video of her father bragging about sexual assault was leaked
Rachael Revesz
New York
Tuesday 18 October 2016 20:04 Comments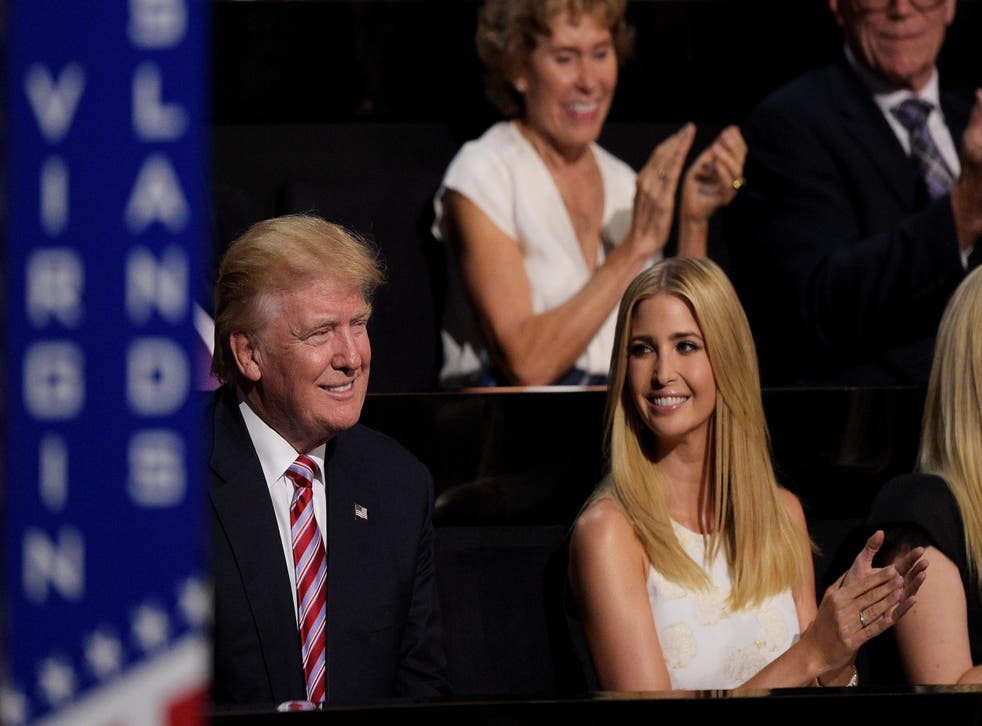 Ivanka Trump said that her father's comments about women and sexual assault, from a leaked video in 2005, were "clearly inappropriate and offensive".
The Access Hollywood video from a decade ago showed Mr Trump bragging that he "got away with" grabbing women's genitals and not waiting for consent before he kissed them.
His eldest daughter, Ivanka Trump, said in a statement to Fast Company: "My father's comments were clearly inappropriate and offensive and I'm glad that he acknowledged this fact with an immediate apology to my family and the American people."
She sent the statement to the magazine after it published a profile of the 34-year-old - before the video was leaked - where she said she drew comfort from the fact that she knew her father and could "shrug off" the negative things she read about him.
Her statement comes the same day that Melania Trump, the Republican nominee's third wife, told CNN that Mr Trump's remarks were "boy talk".
"I was surpsied, because that is not the man I know," she admitted.
Ivanka Trump Introduces Father as 'Fighter' for Women's Issues at RNC
She added that she believed the women accusing her husband and the media were conspiring and working together to raise doubts over his candidacy.
More than 12 women have accused the nominee of sexual assault, groping and kissing without consent over the last few decades, including former Apprentice contestant Summer Zervos and People magazine writer Natasha Stoynoff.
Mr Trump has strongly denied all the claims and called the accusers "sick".
His daughter, Ms Trump, also told Fast Company maagzine that the media often referred to her as Mr Trump's "surrogate wife", which she said was a "deeply offensive" and "very sexist" thing to say.
She also said she did not intend to be part of a possible Trump administration.
She insisted that she was a "daughter and an executive who has worked alongside him".
Register for free to continue reading
Registration is a free and easy way to support our truly independent journalism
By registering, you will also enjoy limited access to Premium articles, exclusive newsletters, commenting, and virtual events with our leading journalists
Already have an account? sign in
Join our new commenting forum
Join thought-provoking conversations, follow other Independent readers and see their replies