Ivanka Trump addresses incredibly awkward failed hug with Marco Rubio after it goes viral
'Anonymous sources say Marco Rubio planned the alleged failed hug. I have no comment,' says Ms Trump
Maya Oppenheim
Thursday 22 June 2017 16:43 Comments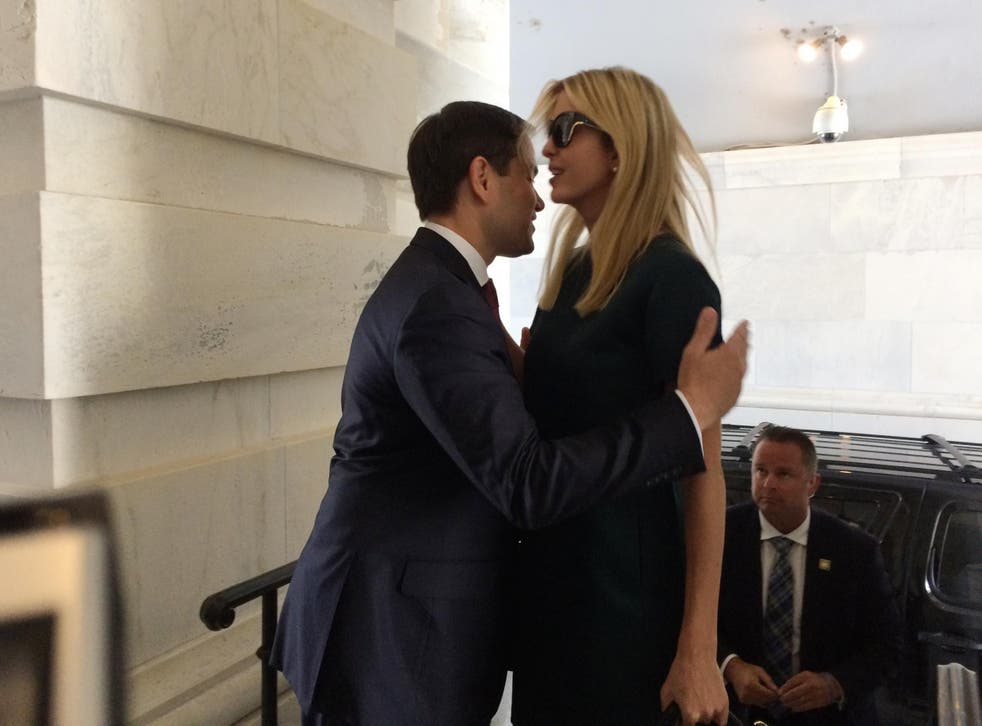 Marco Rubio and Ivanka Trump's spectacularly calamitous hug is testimony of the old adage it takes two to tango.
The Florida senator, who ran against Donald Trump to become the Republican presidential candidate, was pictured attempting to embrace the President's daughter during a government meeting about paid family leave.
While he appeared awkwardly, stiffly eager as he leant in, Ms Trump looked obstinately unreceptive with her arms glued to her side. The image quickly went viral and overshadowed coverage of the actual contents of the meeting with Republican senators and representatives to discuss tax reform and parental leave.
Mr Rubio and Ms Trump have now responded to the infamously stilted hug and desperately attempted to brush off suggestions it was awkward.
Ms Trump, who is an unpaid White House advisor to her father, jumped in on the joke, saying: "Anonymous sources say Marco Rubio planned the alleged failed hug. I have no comment (but I would have hugged him anyway!)"
The former White House hopeful, who is of Cuban descent, quipped he would be opening "an investigation" to unearth the truth about the "alleged failed hug".
"Just left Intel comm and informed meeting today with Ivanka Trump blowing up Twitter over alleged failed hug! Investigating. Will respond soon," Mr Rubio said on Twitter.
Thousands march against Donald Trump in LGBT rights parade

Show all 8
"We believe we have our own unclassified photographic evidence that will shed greater details on this incident," he continued. "We are also attempting to acquire multi-angle video which we believe will provide greater insight into this important matter".
He then shared a new photo of the pair although it wasn't exactly clear what it was supposed to show.
The image immediately whipped up a frenzy on Twitter with people delighting in dissecting the moment. One person captioned the image with alternative lyrics from TLC's iconic song "No Scrubs".
"I'm cringing just looking at this," chipped in another.
The photo dominated coverage of the meeting which followed about paid family leave. The US is the only industrialised country that does not guarantee some type of paid maternity time off for workers. This is partly due to Republican opposition to forking about federal funding for it.
Register for free to continue reading
Registration is a free and easy way to support our truly independent journalism
By registering, you will also enjoy limited access to Premium articles, exclusive newsletters, commenting, and virtual events with our leading journalists
Already have an account? sign in
Join our new commenting forum
Join thought-provoking conversations, follow other Independent readers and see their replies