Ivanka Trump's neighbours voice anger area has been taken over by secret service agents
'It has been a three-ring circus from the day that they've moved in,' says resident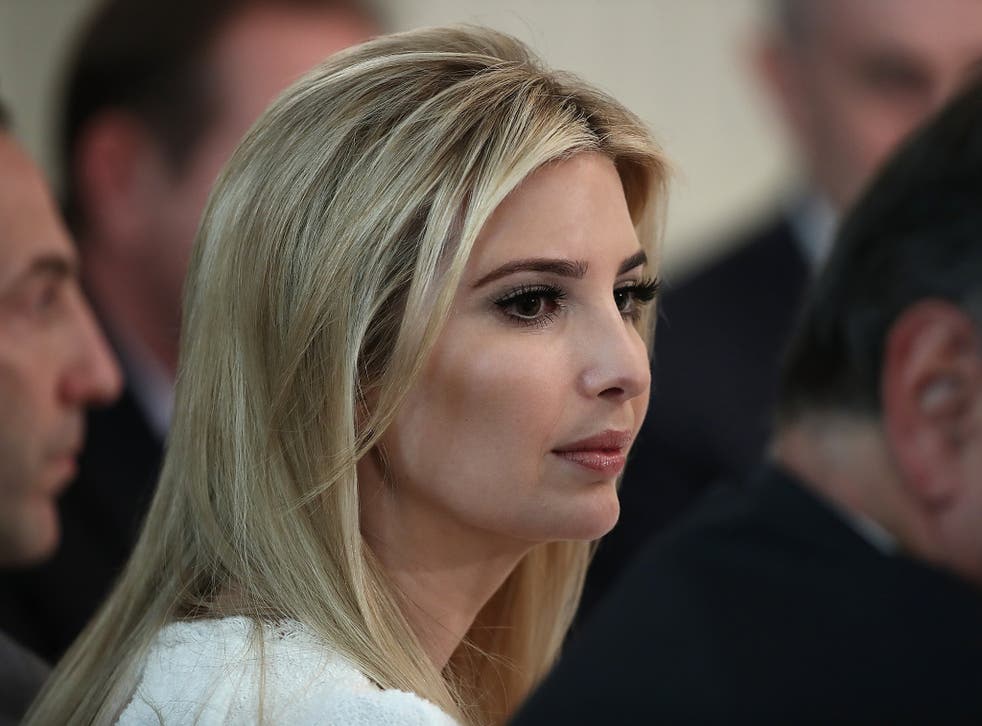 Ivanka Trump has sparked fury among her Washington neighbours for disturbing the area with heavy security.
Local residents in the affluent Washington DC neighbourhood of Kalorama expressed anger the first daughter's family take up much of the parking space on an already overcrowded street and leave garbage bags on the side of the road for days.
Ms Trump, President Donald Trump's second child, and her husband Jared Kushner, a senior Trump aide, are said to require three vans of security staff just to make a trip to the playground.
Neighbours expressed anger the family's arrival has seen footpaths closed and public parking invaded by secret service agents.
"It has been a three-ring circus from the day that they've moved in," Marietta Robinson, who lives across the street, said.
Fellow residents claimed the security presence for the couple, who have three children, was oddly large and even aggressive. Ms Robinson said Ms Trump, who is said to the president's "favourite" child, arrives and leaves the $5.5 million house in a four-vehicle motorcade.
"There are more of them than I have ever seen," Ms Robinson wrote in a letter to Democratic Mayor Muriel Bowser and other city officials. "Frequently several of them are milling outside of the house at all hours having conversations and staring meanly at anyone in view."
Fellow residents in the upmarket area of lavish four-and five-storey townhouses, which is also home to Barack Obama, Amazon CEO Jeff Bezos, and Secretary of State Rex Tillerson, voiced their frustrations about the Trumps at a neighbourhood meeting. Fox News anchor Chris Wallace was among those who turned up to complain about parking problems.
The controversial orders Donald Trump has already issued

Show all 9
"Maybe some of the upset has to do with politics a little. I couldn't say for sure, but I know that people don't seem to be upset about Tillerson's situation. It's much less intrusive," said Ellen Goldstein, an elected neighbourhood commissioner.
The city government said the Trump-Kushners have not applied for parking exemptions or pavement closures on the street since moving from New York just after Mr Trump's inauguration. Another neighbour Rhona Wolfe Friedman said their cars had been in the restricted areas for hours at a time.
Ms Trump, who has recently come under fire for receiving security clearance and a West Wing office, did not appear aware of the complaints or chose to ignore them in a statement. "We love the neighbourhood and our family has received an incredibly gracious welcome from our neighbours," she said on Friday.
Their home in the Kalorama neighbourhood was bought by a company with ties to a Chilean billionaire in December. The company is renting it to the couple.
The exclusive neighbourhood, which is home to the embassies of nations such as China, Oman and Serbia, is well used to high-profile residents. The Obamas moved to the area after leaving the White House so their daughter, Sasha, could finish school, and live just a few hundred yards from the Trumps.
Ms Trump recently found herself at the centre of controversy, sparking outrage for the cost of her family's spring break ski holiday in Colorado.
The first daugher and Mr Kushner, a former property developer, their children and the President's other son Eric reportedly required 100 Secret Service agents to travel with the group for the trip last week. The US Secret Service, funded by the US taxpayer, is reported to have spent $12,208 on rental ski equipment and clothing at the Aspen Valley Ski and Snowboard Club.
Additional reporting by Associated Press
Register for free to continue reading
Registration is a free and easy way to support our truly independent journalism
By registering, you will also enjoy limited access to Premium articles, exclusive newsletters, commenting, and virtual events with our leading journalists
Already have an account? sign in
Register for free to continue reading
Registration is a free and easy way to support our truly independent journalism
By registering, you will also enjoy limited access to Premium articles, exclusive newsletters, commenting, and virtual events with our leading journalists
Already have an account? sign in
Join our new commenting forum
Join thought-provoking conversations, follow other Independent readers and see their replies