Ivanka Trump 'rebuked Kellyanne Conway for promoting her fashion brand on live TV'
Senior Trump adviser was accused of violating ethics laws after she made an on air plug for the brand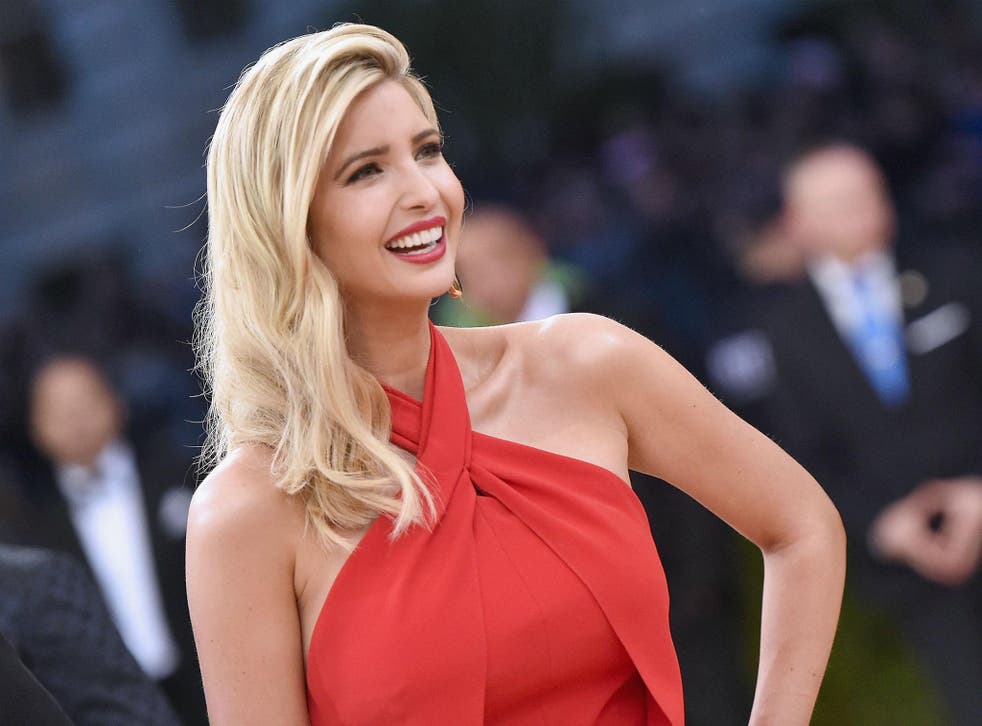 Kellyanne Conway upset a fair few people when she made a sales pitch for Ivanka Trump's line of products on live television. Not only did the White House rebuke its senior adviser, she was also accused of violating federal ethics law.
However, according to a report, the damage of Ms Conway's saga hit closer to home than anyone realised and she inadvertently enraged the very person she sought to protect – Ms Trump herself.
Ms Trump, the President's second child who is said to be his "favourite", is reported to have reproached Ms Conway for endorsing her brand on air.
A source close to the President told Politico the First Daughter "scolded" Ms Conway for "dragging her brand into an ethics mess and told her not to mention it again on TV".
According to the unnamed source, this was linked to a conversation that Ms Trump reportedly had with her father weeks before the saga about keeping her business out of the politics – a chat Ms Conway is said to have been unaware of.
Ms Conway, Mr Trump's former campaign manager, sparked controversy after she weighed in on Nordstrom department store's decision to stop selling Ivanka-Trump branded products.
"Go buy Ivanka's stuff, is what I would say," she told interviewers on the Fox & Friends TV programme last week. "It's a wonderful line."
The controversial orders Donald Trump has already issued

Show all 9
She claimed Ms Trump was being targeted by people who disliked her father, saying: "They're using her to get to him."
Mr Trump also attacked the decision by the retailer, rushing to the defence of his daughter on Twitter. White House press secretary Sean Spicer called the department store's decision to stop selling some of her merchandise a "direct attack" on the President.
Nevertheless, Ms Conway was seen to have overstepped the mark after her on-air plug. Chris Lu, the former US Deputy Secretary of Labour, highlighted a section of statute in a screenshot on Twitter.
"This is the federal ethics law that @KellyannePolls just violated". He tagged Congressman Jason Chaffetz, chairman of the Congress oversight committee.
Norm Eisen, who served as Special Counsel for Ethics and Government Reform in the White House, before going on to become the US ambassador to the Czech Republic, backed him up.
The law, 5 CFR 2635.702, which Mr Lu cited, states: "An employee shall not use his public office for his own private gain, for the endorsement of any product, service or enterprise, or for the private gain of friends, relatives, or persons with whom the employee is affiliated in a nongovernmental capacity".
The White House also made it clear they were not best pleased with Ms Conway's remarks. After being probed about the blunder, Spicer appeared to change his tune, saying: "She has been counselled on that subject, and that's it".
Ms Trump's brand, which she has stepped down from, has taken a hit since increasing numbers of Trump critics have boycotted her clothing and accessories line. A recent report by The Wall Street Journal said her brand's sales fell by nearly a third in the past financial year, with a sharp decline in the weeks running up to Mr Trump's win.
The Grab Your Wallet boycott campaign (a reference to the President's leaked sexually aggressive 2005 "pussy-grabbing" comments) emerged last autumn and urges consumers to boycott shops which sell products affiliated with Mr Trump's family businesses.
A representative for the White House did not immediately respond to request for comment.
Register for free to continue reading
Registration is a free and easy way to support our truly independent journalism
By registering, you will also enjoy limited access to Premium articles, exclusive newsletters, commenting, and virtual events with our leading journalists
Already have an account? sign in
Register for free to continue reading
Registration is a free and easy way to support our truly independent journalism
By registering, you will also enjoy limited access to Premium articles, exclusive newsletters, commenting, and virtual events with our leading journalists
Already have an account? sign in
Join our new commenting forum
Join thought-provoking conversations, follow other Independent readers and see their replies