Ivanka Trump's new self-help book cites numerous Hillary Clinton supporters as inspiration
Animal behaviour expert Jane Goodall is quoted despite saying last year: 'In many ways the performances of Donald Trump remind me of male chimpanzees and their dominance rituals'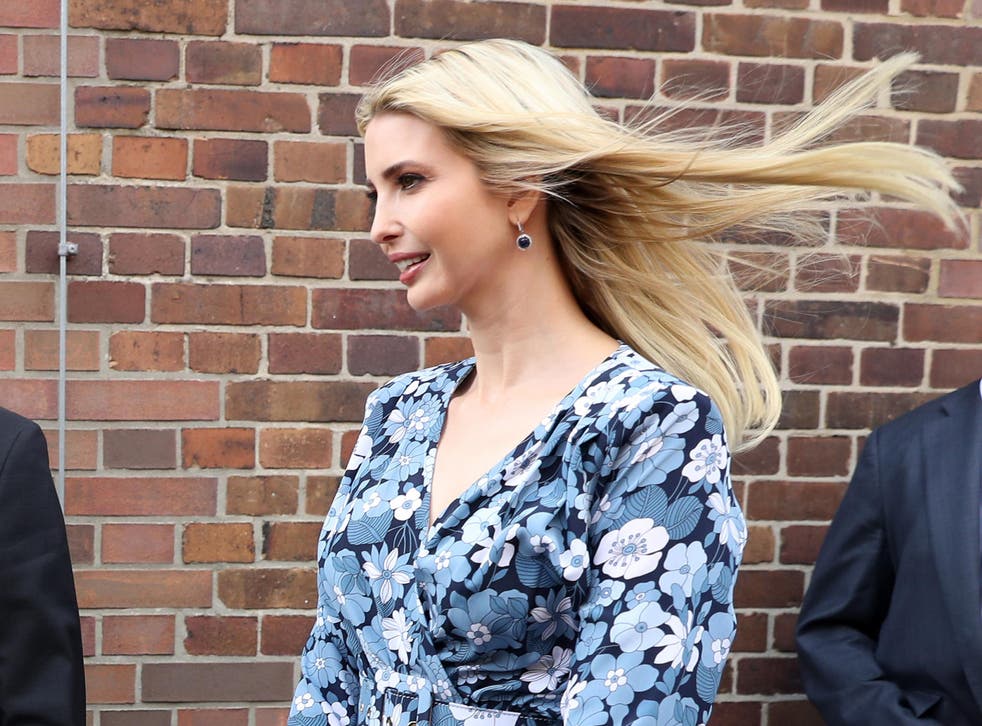 Ivanka Trump's new book quotes more than a dozen Hillary Clinton supporters, including outspoken critics of her father.
The book, released on Tuesday, offers career advice, tips on seeking personal fulfilment, and strategies for juggling work and motherhood.
In addition to passing on Ms Trump's own wisdom, Women Who Work: Rewriting the Rules for Success cites numerous celebrities and entrepreneurs who the president's daughter cites as having inspired her — but it neglects to mention that many of them campaigned against Donald Trump.
Among women leaders included in the book — which has received extremely poor reviews — are Oprah Winfrey, who endorsed Ms Clinton; actors Mindy Kaling — who tweeted support for Ms Clinton — and Cynthia Nixon, who donated to her campaign; Richard Branson, the founder and CEO of Virgin who said a Trump presidency would be "a disaster" during the election campaign; and billionaire investor Warren Buffett who endorsed Ms Clinton.
According to CNNMoney, which analysed the text, Sheryl Sandberg, the chief operating officer of Facebook, is named no less than 11 times in the book. She endorsed Ms Clinton last June.
Jane Goodall, the animal behaviour expert and conservationist, is quoted on 'deciding what kind of difference you make' — she said in an interview with the Atlantic during the campaign: "In many ways the performances of Donald Trump remind me of male chimpanzees and their dominance rituals."
The spiritual author Deepak Chopra is also mentioned, despite writing in a column for the Huffington Post last year that Mr Trump represents an "aspect of the human psyche that we feel embarrassed and ashamed of".
Republican turncoat Colin Powell, the former secretary of state for President George W Bush who said in October he would vote for Ms Clinton, is featured in an anecdote, and Mr Bush's niece Lauren, a businesswoman, is quoted despite instagramming #ImWithHer last year.
Anne-Marie Slaughter, who worked as director of policy planning for Ms Clinton when she was secretary of state is mentioned, as is Nadine Burke Harris, a paediatrician who advised the Clinton Foundation.
Donald Trump's first 100 days: in cartoons

Show all 33
Reshma Saujani, the CEO of Girls Who Code, is also mentioned. She has already demanded Ivanka Trump retract her story from the newly released book unless she stops being "complicit" in her father's harmful policies.
Ms Saujani, the founder of the non-profit organisation which seeks to support and increase the amount of women in computer science, urged the first daughter to remove her story in a tweet.
Ms Trump has also been targeted by protesters, campaigners, and even actress Scarlett Johannson for being "complicit" in the Trump administration, which many argue is actively damaging women's interests globally, not least by restricting access to abortion and contraception.
In a statement to CNNMoney on Tuesday, representatives for Ivanka Trump said the "Women Who Work" manuscript was submitted months before the election. They said it is "not a political book."
"Ivanka has always believed that no one person or party has a monopoly on good ideas," the statement said. "When she was writing this book, she included quotes from many different thought leaders who've inspired Ivanka and helped inform her viewpoints over the years."
Register for free to continue reading
Registration is a free and easy way to support our truly independent journalism
By registering, you will also enjoy limited access to Premium articles, exclusive newsletters, commenting, and virtual events with our leading journalists
Already have an account? sign in
Register for free to continue reading
Registration is a free and easy way to support our truly independent journalism
By registering, you will also enjoy limited access to Premium articles, exclusive newsletters, commenting, and virtual events with our leading journalists
Already have an account? sign in
Join our new commenting forum
Join thought-provoking conversations, follow other Independent readers and see their replies