Ivanka Trump is being sued for exploiting the White House to boost her fashion line
First daughter 'exploiting the power and prestige' of her father's position, claims class action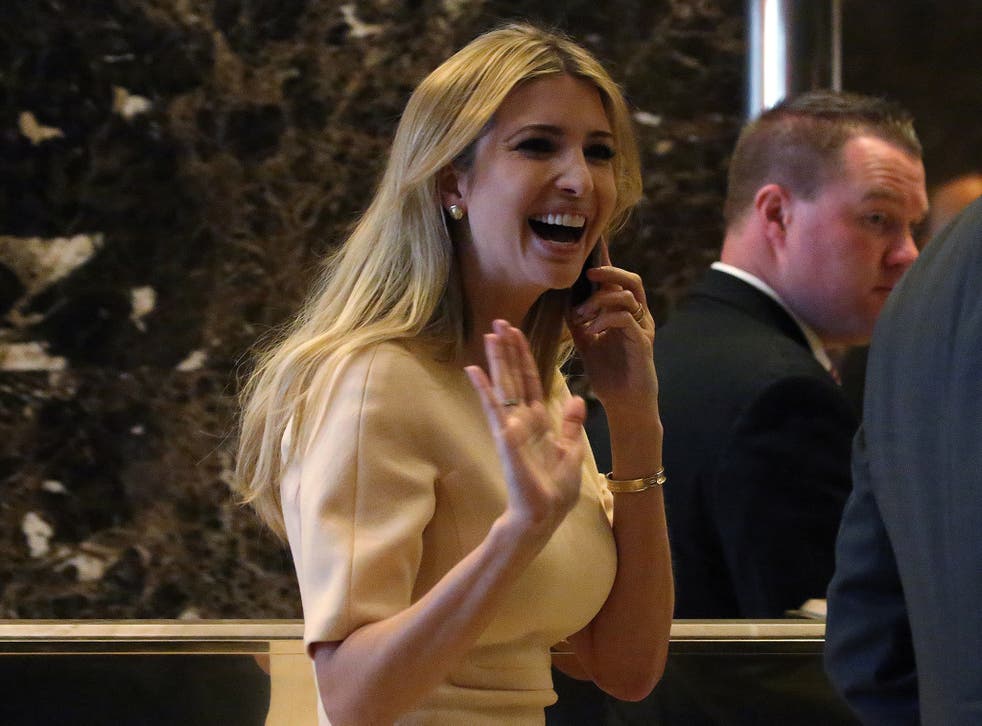 Ivanka Trump has been accused of unfairly profiting from her political connections in a class action lawsuit against her clothing brand.
San Francisco based fashion boutique, Modern Appealing Clothing (MAC), has filed a class action suit on behalf of all women's clothing brands in California.
It claims that sales of Ms Trump's brand have "surged several hundred per cent" since her father was elected as President in November.
It attributed the rise in part to Donald Trump and his employees using their White House platform to promote the 35-year-old's products.
Trevor Noah attacks Ivanka Trump over 'possible conflict of incest'
"President Donald J Trump and his individual and White House employees and agents have, since the elections promoted defendant Ivanka Trump brand by exploiting the power and prestige of the White House," the lawsuit says.
It also accuses them of "piggy-backing promotion" of Ms Trump's products at government events.
MAC is seeking unspecified damages and a restraining order against Ms Trump preventing her from selling her lines in California.
"My clients just want an even playing field," the company's attorney R Michael Lieberman told Courthouse News.
Kellyanne Conway tells Americans to 'go buy Ivanka's stuff'
Ms Trump has been mentioned by both her father and members of his staff since he entered the White House.
The President's senior adviser Kellyanne Conway, triggered an ethics review in February after she endorsed Ms Trump's clothing brand from the White House briefing room.
"I'm going to give a free commercial here," she told Fox & Friends. "Go buy it today, everybody. You can find it online."
Her comments echoed those of the President, who had previously taken to Twitter to condemn clothing retailer Nordstrom after they decided to top stocking Ms Trump's clothing, Marks LLC.
Despite other retailers including Neiman Marcus, Sears and Kmart dropping Ms Trump's brand in the past year, sales of her clothing lines were up by 346 per cent between January and February compared to the same period last year, according to retailing data tracker Lyst.
Ms Trump has nonetheless distanced herself from her business since the November election and it is now run day-to-day by executive Abigal Klem, according to The New York Times.
She has also placed the firm's assets in a trust overseen by relatives of her husband, Jared Kushner, a senior White House adviser.
However, she maintains control of the brand.
President Donald Trump life in pictures

Show all 16
The lawsuit is the latest court challenge to allege that Mr Trump and his associates' businesses have gained an unfair advantage since he entered the White House.
Earlier his month, a wine bar in Washington DC filed a lawsuit claiming it was impossible to compete with a nearby multi-million dollar hotel and restaurant owned by the President.
A spokesperson from Ms Trump's clothing brand has declined to comment on the MAC lawsuit.
Register for free to continue reading
Registration is a free and easy way to support our truly independent journalism
By registering, you will also enjoy limited access to Premium articles, exclusive newsletters, commenting, and virtual events with our leading journalists
Already have an account? sign in
Register for free to continue reading
Registration is a free and easy way to support our truly independent journalism
By registering, you will also enjoy limited access to Premium articles, exclusive newsletters, commenting, and virtual events with our leading journalists
Already have an account? sign in
Join our new commenting forum
Join thought-provoking conversations, follow other Independent readers and see their replies