Ivanka Trump new White House job not nepotism because she isn't being paid, says Donald Trump surrogate
'She's working for free. She's volunteering her time and effort for the good of the country,' says chief spokesperson of Mr Trump's presidential campaign
Maya Oppenheim
Friday 31 March 2017 10:48 Comments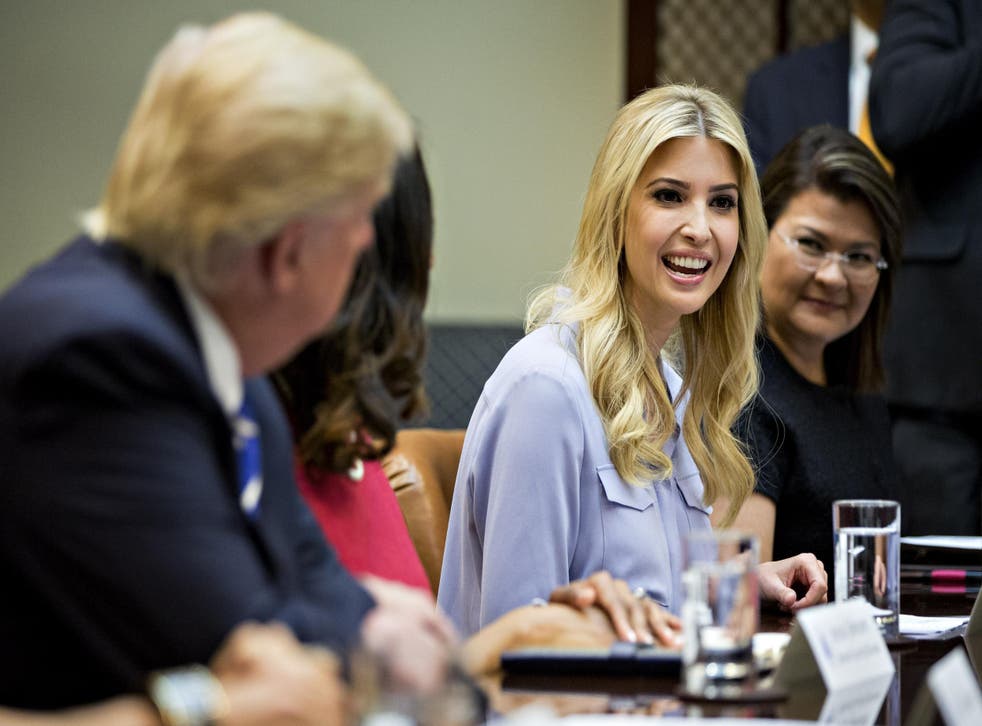 A Trump surrogate has claimed Ivanka Trump's appointment as an advisor to Donald Trump is not nepotism because the president's daughter will work for free.
Ms Trump, the second child of Mr Trump who is said to be his "favourite", has been hired as an official government employee. She will join her husband, Jared Kushner, who also serves as an unpaid adviser to her father in the White House.
Ethics experts have raised alarm bells about the appointment and argue it violates federal nepotism laws. Nepotism is defined as the practice among those with power or influence of favouring relatives or friends, especially by giving them jobs.
Jason Miller, the chief spokesperson for Mr Trump's presidential campaign, has said he does not understand how the hire can be perceived as nepotism.
After a CNN host asked him how it could possibly not be seen to be nepotistic, the former Trump spokesperson said: "Well, I mean, how is it nepotism?"
Alisyn Camerota, the host, responded: "Because she's the daughter of the President, that's how it's nepotism,"
He replied: "She's working for free. She's volunteering her time and effort for the good of the country.
"Everybody from the White House counsel to the (Department of Justice) has said that this doesn't violate any sort of nepotism rules."
Sevnica: Melania Trump's home town

Show all 18
This counters the view of Barack Obama's White House ethics lawyer who has said Mr Trump does not believe nepotism rules apply to his presidency.
Speaking during the same show, Norman Eisen said both the Obama and George W Bush administrations included the White House in its interpretation of the 1967 federal nepotism law that says no public official, from the President stretching down to a low-level manager at a federal agency, may employ or promote someone who is related to them.
However Mr Trump appears to have found a loophole. The law states any appointee found to have violated the law is "not entitled to pay" by the federal government, which appears to provide the opportunity for Mr Trump to employ his daughter and son-in-law, Mr Kushner, who is also an unpaid government employee, to relinquish paychecks while still having a role in the Trump administration.
Mr Eisen said: "For decades the Justice Department held 'yes' the nepotism statue applies to the White House".
"President Trump got an opinion from the Justice Department that the nepotism statute doesn't apply to his White House. We don't agree with that opinion".
After criticism from ethics experts that occupying a voluntary role would allow Ms Trump to eschew some of the usual rules, it was decided she would be appointed as a federal employee instead. Ms Trump, who was regularly brought in during the campaign to make her father more attractive to female voters, already has an office in the West Wing.
"I have heard the concerns some have with my advising the president in my personal capacity while voluntarily complying with all ethics rules, and I will instead serve as an unpaid employee in the White House office, subject to all of the same rules as other federal employees," Ms Trump said in a statement.
"Throughout this process, I have been working closely and in good faith with the White House counsel and my personal counsel to address the unprecedented nature of my role."
Ms Trump will not just be working closely with her father she will also be part of a team in which her husband plays a pivotal role. Mr Kushner, a fellow former property developer like the president himself, has become one of the most trusted members of his father-in-law's White House team. He played a pivotal role in the presidential campaign and was often the last person the Republican consulted before making key decisions.
The developer, whose key contacts include Henry Kissinger and Rupert Murdoch, accompanied Mr Trump on his first visit to the White House after winning the election and helped him secure a meeting with Jeff Bezos, Sheryl Sandberg, and other tech leaders in December. He is also reported to have secured the meeting with Mr Trump and Mr Murdoch, who was formerly an outspoken critic of him.
A spokesperson for the president said: "We are pleased that Ivanka Trump has chosen to take this step in her unprecedented role as First Daughter and in support of the President.
"Ivanka's service as an unpaid employee furthers our commitment to ethics, transparency, and compliance and affords her increased opportunities to lead initiatives driving real policy benefits for the American public that would not have been available to her previously."
Register for free to continue reading
Registration is a free and easy way to support our truly independent journalism
By registering, you will also enjoy limited access to Premium articles, exclusive newsletters, commenting, and virtual events with our leading journalists
Already have an account? sign in
Join our new commenting forum
Join thought-provoking conversations, follow other Independent readers and see their replies