Ivanka Trump's Women's Equality Day tweet sparks backlash
'Tone deafness is a speciality for you, isn't it?' one Twitter user replies
Maya Oppenheim
Tuesday 28 August 2018 15:27 Comments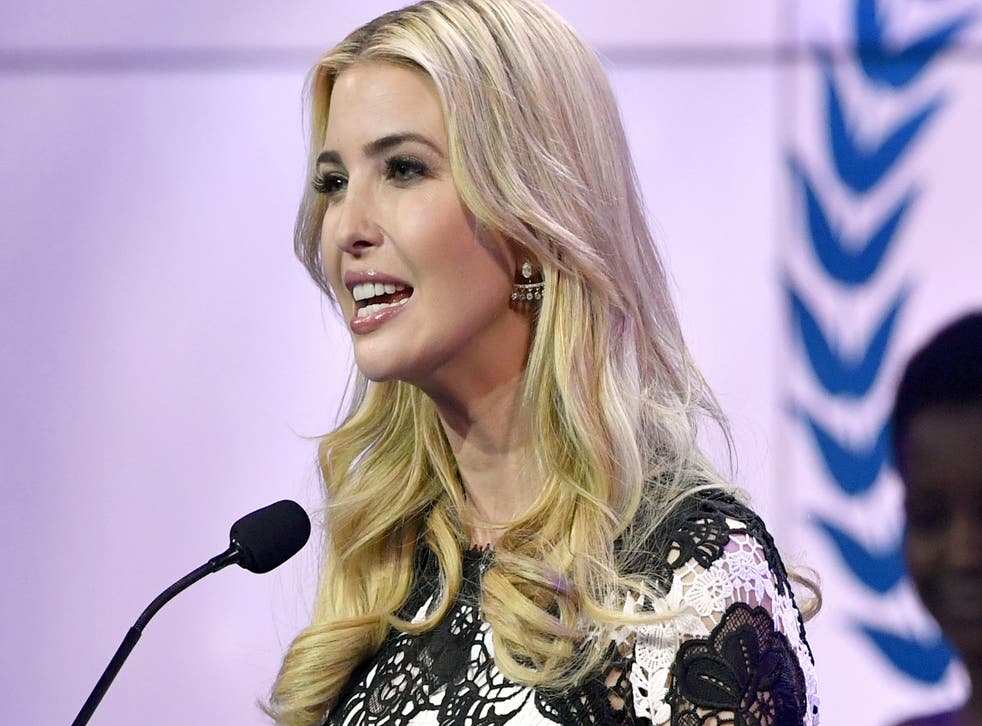 A tweet from Ivanka Trump to commemorate Women's Equality Day was greeted with derision by some quarters on social media.
Celebrated on 26 August in America to mark the 1920 adoption of the 19th Amendment which gave women the right to vote, a point made by the first daughter, she added: "When women around the globe are empowered to fully and freely participate in all aspects of society, the world will be more safe, just and prosperous for all!"
The tweet, which has received more than 2,000 replies, was accompanied by an old black and white photo which appears to date back to the suffragette movement.
Ms Trump has frequently tried to portray herself as a defender of women's equality. Taking the stage at 2016's Republican National Convention in 2016 to speak on behalf of her father then-candidate Donald Trump, she presented herself as the champion of women's rights in her father's future presidency.
She claimed she stood up for working women and mothers, arguing for equal wages, better child care and paid family leave. But last August she backed the scrapping of Obama-era policy that would have required business owners to document how much they pay their workers alongside their gender, race and ethnicity.
Critics were quick to pounce on her latest tweet, pointing out her father's track record of making sexist comments about women and his hostility towards women's rights.
Others questioned her about his administration's immigration policy of separating families at the border, her father's frequent golf trips, and his negative comments about women.
Using stronger language some branded the 36-year-old, who serves as an unpaid senior adviser to her father, "complicit", a "fake feminist", "villain", and "hypocrite".
One replied: "Says the daughter of the world's greatest misogynist, philanderer, narcissist, bully, hate monger and liar. Yet you stand by his side without a single public utterance voicing any displeasure about anything he does, says or tweets. Either speak up or just gothe f**k away!"
Another added: "'Women around the globe' includes those mothers who have had their children taken from them by the Trump mob. Tone deafness is a speciality for you, isn't it?"
Others rounded on Ms Trump after she tweeted a message of condolence relating to the shooting at a video game tournament in the Florida city of Jacksonville which left two dead and 11 injured.
"As we await further details, our hearts are with Jacksonville and all those affected by today's tragic mass shooting," she said alongside a heart emoji.
Some pointed out that her father, who received the most gun lobby funding of any presidential candidate, supported the National Rifle Association (NRS) which champions gun ownership rights.
One wrote: "Your father is in bed with NRA, he has removed barriers to mentally ill people getting weapons, and unless the perpetrator is a person of colour, he will not give a damn. We have all the details we need."
Another pointed out that Mr Trump had not altered American gun laws after the massacre at the Marjory Stoneman Douglas High School in Parkland, Florida, which left 17 people dead. Nikolas Cruz, 19, has been charged with 17 counts of murder.
After several "listening sessions", Mr Trump, who , appeared open to discussions on gun law reforms including strengthening background checks, restricting access to weapons for the mentally ill and raising the age for buying some firearms to 21.
Trump's presidency: US media reacts to Manafort and Cohen convictions

Show all 16
Days later, the NRA said that during private meetings with Mr Trump and Vice President Mike Pence, the president said he does not "want gun control."
"After Parkland you and your father had an opportunity to affect real change in gun reform. Instead, you chose the NRA. Your time in the White House is coming to an end. You'll leave knowing when you had a chance to save children's lives, you took the easy way out and stayed silent," one user tweeted Ms Trump.
Register for free to continue reading
Registration is a free and easy way to support our truly independent journalism
By registering, you will also enjoy limited access to Premium articles, exclusive newsletters, commenting, and virtual events with our leading journalists
Already have an account? sign in
Join our new commenting forum
Join thought-provoking conversations, follow other Independent readers and see their replies