Jair Bolsonaro: Brazil's far-right president-elect accused of campaign funding irregularities
President-elect has been given three days to provide an explanation for the apparent irregularities 
Wednesday 14 November 2018 16:51 Comments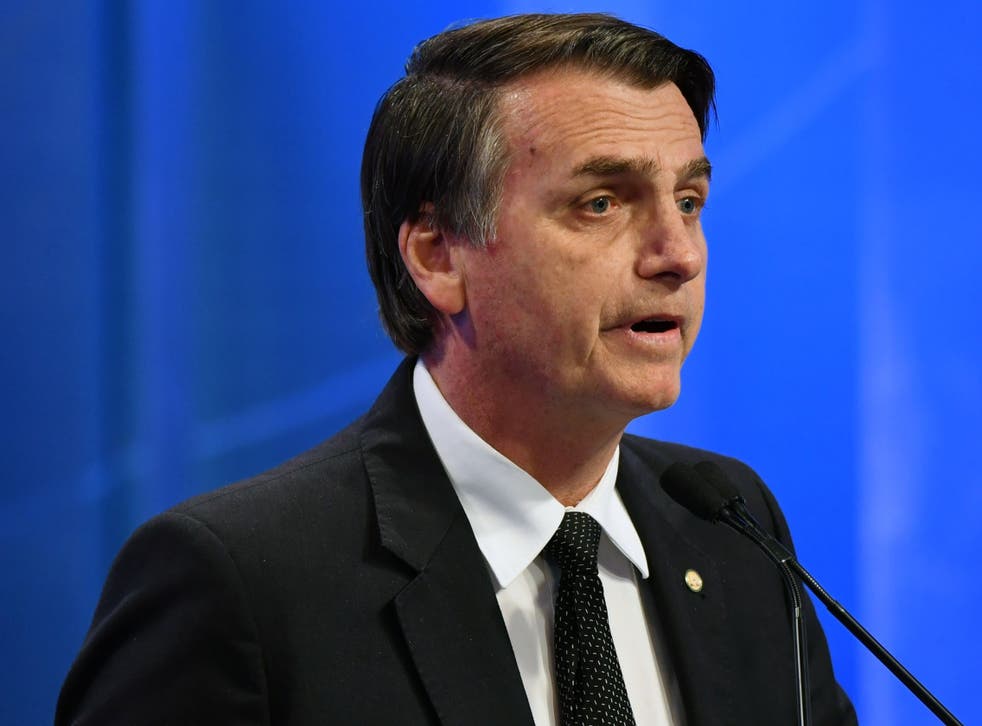 Brazil's new far-right president has been accused of campaign funding irregularities by the country's top electoral authority.
President-elect Jair Bolsonaro has been given three days to explain possible illegal campaign donations – and a lack of information on how campaign funds were spent and unidentified donors.
The allegations have been made by the Superior Electoral Court (TSE) but it is unclear what effect the accusations may have.
"Upon carrying out an examination of the statements and documentation provided by the candidate in accordance with electoral law, some inconsistencies were observed," TSE analysts wrote.
Mr Bolsonaro, a far-right congressman who won Brazil's presidential election in October, is set to take office in the new year.
He has been dubbed "Trump of the Tropics" by the Brazilian media for his outrageous views.
Mr Bolsonaro managed to win support across the country by promising to lock up crooked politicians and make it easier for police to shoot drug traffickers.
John Bolton praises 'like-minded' Bolsonaro
The ex-army captain has expressed his support for torture, spoken fondly of Brazil's past military dictatorship and said socialists would have to go overseas or to jail if he won.
His defence team said that the allegations were not a concern.
"There's nothing that worries us, because the replies ... will demonstrate that (none of the allegations) are grave enough for the campaign's filings to be rejected," said Karina Kufa, a lawyer for Mr Bolsonaro.
World news in pictures

Show all 50
Prior to the election, the left-wing Workers' Party of Mr Bolsonaro's main opponent, Fernando Haddad, filed a complaint with the electoral courts. The party asked for an investigation into allegations of illicit financing of misleading propaganda.
The complaint came after reports that Mr Bolsonaro's supporters had funded mass messaging attacks against Mr Haddad on Whatsapp.
Agencies contributed to this report
Register for free to continue reading
Registration is a free and easy way to support our truly independent journalism
By registering, you will also enjoy limited access to Premium articles, exclusive newsletters, commenting, and virtual events with our leading journalists
Already have an account? sign in
Join our new commenting forum
Join thought-provoking conversations, follow other Independent readers and see their replies