Jair Bolsonaro: Far-right nationalist sworn in as president of Brazil
'I will work tirelessly so that Brazil reaches its destiny', country's new leader says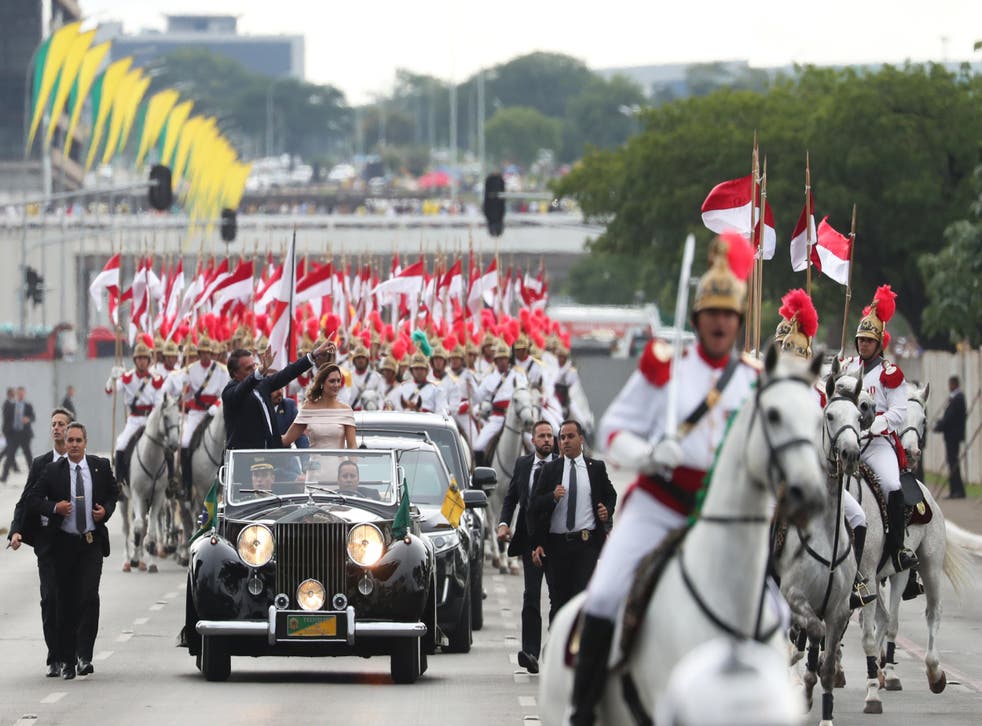 The far-right former Army captain Jair Bolsonaro has been sworn in as Brazil's president, promising to fulfil his campaign commitments to tackle rampant corruption and crime.
His populist rhetoric may have driven him to the presidency, but Mr Bolsonaro is a deeply divisive figure whose racist, homophobic and misogynistic remarks have angered many in the country. Indeed, he has faced charges of inciting rape and for hate crimes in the past.
A fan of US president Donald Trump, the 63-year-old longtime congressman rose from a ridiculed figure to power on an anti-corruption and pro-gun agenda. He has energised conservatives and far-right supporters after four consecutive presidential election wins by the left-leaning Workers' Party.
"I will work tirelessly so that Brazil reaches its destiny," Mr Bolsonaro said.
The US was represented by vice president Mike Pence, with Mr Bolsonaro making clear that he wants to work closely with Mr Trump's administration. He has already followed Mr Trump by pledging to move Brazil's embassy in Israel from Tel Aviv to Jerusalem, and Brazil has also withdrawn an offer to host UN climate talks later this year.
Indeed, Israel's prime minister Benjamin Netanyahu was one of a number of nationalist leaders, including Hungarian prime minister Viktor Orban, to attend the ceremony.
As for Mr Trump, he tweeted his congratulations to Mr Bolsonaro and said the US stood with him.
Like the US president, Mr Bolsonaro has left environmentalists concerned by plans to build hydroelectric dams in the Amazon and open up to mining the reservations of indigenous peoples.
Leftist presidents Nicolas Maduro of Venezuela, Daniel Ortega of Nicaragua and Miguel Diaz-Canel of Cuba, all deemed dictators by Mr Bolsonaro, were uninvited by his team after the foreign ministry sent them invitations. Mr Trump's national security adviser John Bolton has also called the three nations a "troika of tyranny".
Jair Bolsonaro: Brazil's far-right leader inauguration

Show all 20
Mr Bolsonaro is likely to block any moves to legalise abortion beyond the current limited exceptions and remove sex education from public schools. Backed by conservatives and evangelicals he is against what he calls "cultural Marxism" introduced by recent left-leaning governments.
Many of Mr Bolsonaro's critics fear the new administration will mean autocratic rule. Seven of Mr Bolsonaro's 22 cabinet ministers are former military personnel, more than in any administration during Brazil's 1964 to 1985 dictatorship.
The day was full of the pomp you might expect, but security was tight with 3,000 police on duty. Mr Bolsonaro travelled from Brasilia Cathedral to Congress in an open-top Rolls Royce escorted by cavalry on white horses and jogging security guards, as the crowds cheered. The increased security came at Mr Bolsonaro's request after he was stabbed at a campaign rally in September.
"I came here just for the inauguration," supporter Antonio Vendramin told Agence-France Presse.
"I made a lot of money and saved money to buy the ticket, to be able to buy the plane ticket because it's a long way to come by car but we managed to make it all the way to be here on this day for President Bolsonaro's inauguration. We're full of pride."
Addressing a joint session of Congress minutes after taking the oath of office Mr Bolsonaro vowed to adhere to democratic norms. "My vow is to strengthen Brazil's democracy," he said.
Support free-thinking journalism and attend Independent events
On the economic front, the new leader promised to "create a new virtuous cycle to open markets" and "carry out important structural reforms" to shore up a large public deficit.
The key measure for reducing the deficit will be the overhaul of the country's costly social security pension system.
However, despite the supporters lining the streets draped in Brazilian flags for his inauguration, Mr Bolsonaro could find it difficult to force through changes given the major overhaul he wants to spearhead. As well as clashing with the political interests of many politicians, Mr Bolsonaro's Liberal and Social Party will have 52 seats in Brazil's 513-member lower house, only the second largest bloc behind the Workers' Party.
Join our new commenting forum
Join thought-provoking conversations, follow other Independent readers and see their replies