James Welch's 76th Birthday: 5 things you didn't know about the writer who gave voice to Native Americans
'When people say my books are negative and bleak, my traditional answer is: Look what happened to the Indian people'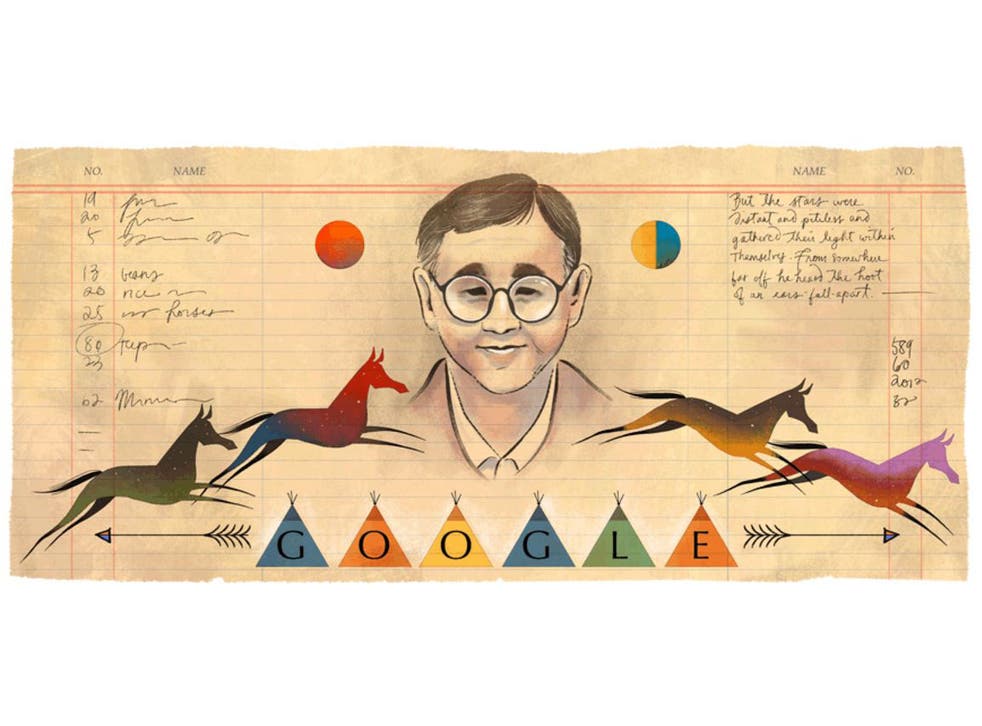 Native American poet and novelist James Welch would have been 76 years old today.
The award-winning writer from Montana is the subject of a Google Doodle in the US as part of a series to celebrate National Native American Heritage Month.
Welch appears on the search engine's front page in an illustration by artist Sophie Diao, set against a faded notepaper background with jumping horses and the letters from the word 'Google' in colourful tipis.
Here are five things you may not know about him.
He grew up among two Native American cultures
Welch's father, a welder and ranch-keeper, was a member of the Blackfeet tribe, who have their tribal headquarters in Browning, Montana, where James was born in 1940.
His mother, a stenographer, was from the central Montana Gros Ventre tribe, also known as the A'ani. He went to school in two Native American reservations, Blackfeet and Fort Belknap.
The writer's great-grandfather was a musician and had played the cornet for John Philip Sousa, a composer known for his patriotic and military marches, but settled in Browning as a reservation agent and married a Native American woman.
Stories told by Welch's grandmother and father as well as listening to elders in the community inspired much of his work, according to a biography of the author.
He wrote about the experiences of Native Americans living on America's Great Plains
After studying English Literature at the University of Montana, Welch wrote a book of poetry about the history, culture and landscape of the area he grew up in.
His first poetry book Riding the Earthboy Forty, published in 1971, was about 40 acres of land in the western US state of Montana that his father leased from a Native American family known as Earthboy on the Gros Ventre reservation.
American critic Sherman Alexie called it "the most important book of poetry in all of Native American literature".
His best-known work, Fools Crow, was published in 1986. It is set in Montana just after the American Civil War and tells the story of a young Blackfeet Native American called White Man's Dog.
He described himself as 'an Indian who writes' as well as an 'Indian writer'
Welch is considered a key member of the Native American Renaissance, a swell in the number of literary works written by Native Americans in the US starting from the late 1960s.
He helped bring attention to Native American authors and the history and complex issues surrounding tribal culture to a mainstream US and international audience.
'Let's put our minds together to see what we can build for our children': Obama's Native American visit

Show all 10
"When people say my books are negative and bleak, my traditional answer is: Look what happened to the Indian people," he told the Washington Post in a 1991 interview.
"Look at conditions on reservations — what life is like there for young people, the suicide rates. In order to write truly about Indian experiences, you have to take these conditions into consideration."
He also told the newspaper he was "identified early on as part of this [Native American] renaissance" and accepted being called an "Indian writer".
He also worked on a documentary
Welch's 1974 novel Winter in the Blood was adapted into a film in 2013, but the author also worked on an award-winning documentary.
He co-wrote the screenplay to Last Stand at Little Bighorn with Paul Stekler in 1991.
The film, which used journals, oral accounts, drawings and archive footage to tell the story of the historic Battle of the Little Bighorn in 1876, was broadcast on the PBS network.
The pair also collaborated on a non-fiction book called Killing Custer: The Battle of Little Big Horn and the Fate of the Plains Indians.
He won a Lifetime Achievement award from the Native Writers' Circle of the Americas
The Native Writers' Circle of the Americas, an organisation of Native American writers, named Welch the winner of their Lifetime Achievement award in 1997.
Welch died from a heart attack in 2003, having been diagnosed ten months earlier with lung cancer.
Join our new commenting forum
Join thought-provoking conversations, follow other Independent readers and see their replies