Donald Trump's son-in-law Jared Kushner and Michael Flynn met Russian ambassador, White House admits
Unelected husband of Ivanka Trump sat down with Sergey Kislyak for '20 minutes'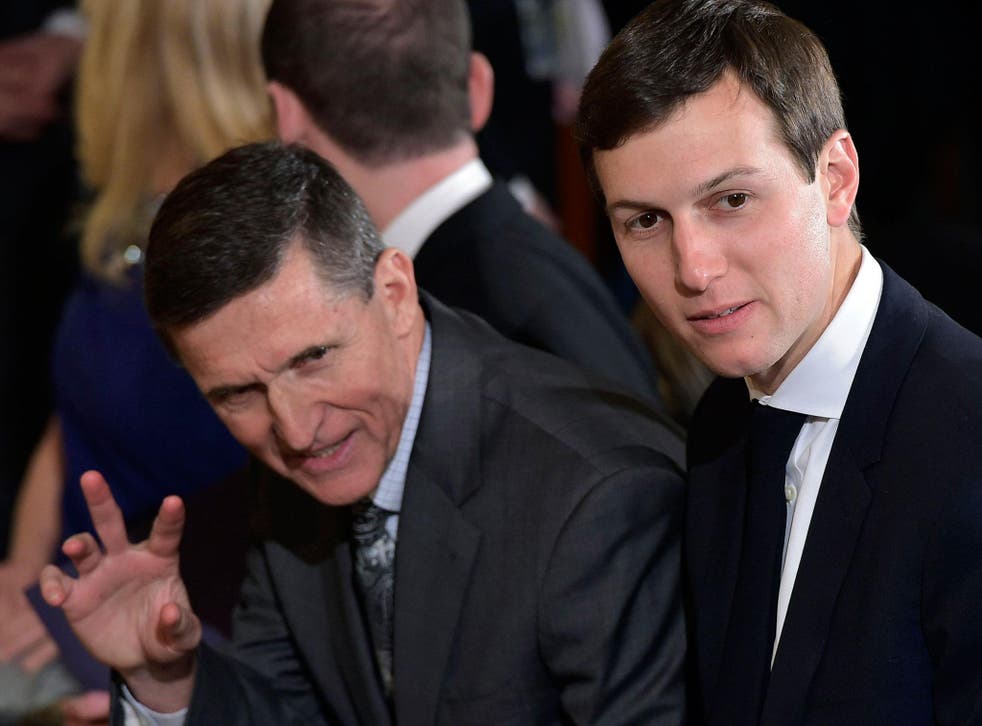 Donald Trump's son-in-law and his former security adviser met the Russian ambassador to "establish a line of communication", the White House has said.
Jared Kushner and Michael Flynn, who resigned last month after his contact with Sergey Kislyak was revealed, sat down with the official in Trump Tower in December.
The New Yorker reported the meeting earlier this week and it has now been confirmed by the White House.
The development comes amid pressure for Attorney General Jeff Sessions to resign over his two conversations with Mr Kislyak during Mr Trump's election campaign.
Six of Mr Trump's team – including Paul Manafort, Carter Page and Michael Cohen – have allegedly had undisclosed contact with Russia officials.
"They generally discussed the relationship and it made sense to establish a line of communication," said White House director of strategic communications Hope Hicks, as reported by the New York Times.
"Jared has had meetings with many other foreign countries and representatives — as many as two dozen other foreign countries' leaders and representatives."
The meeting lasted 20 minutes and that Mr Kushner has not met with Mr Kislyak since, said Ms Hicks.
The brief encounter was held at a time when the US was expelling 35 people suspected of being Russian spies.
When first asked in January, the White House said Mr Flynn only shared a text message and phone call with the Kremlin diplomat.
Mr Flynn resigned, making him the shortest holder of White House office ever, after giving Vice President Mike Pence "incomplete information". Mr Flynn allegedly reassured Mr Kislyak that Russia would be given softer treatment following Mr Trump's inauguration.
Michael Flynn resigns as national security adviser over Russia row
Mr Kislyak, an engineering graduate and previous ambassador to Belgium, is considered to be a spy by US intelligence officials.
The Independent has contacted Ms Hicks for further comment.
Join our new commenting forum
Join thought-provoking conversations, follow other Independent readers and see their replies