'Beauty intoxicates TV executives': Journalist under fire over 'sexist' column begrudging female TV sports presenters' success
Jason Whitlock criticised fellow journalists Maria Taylor and Katie Nolan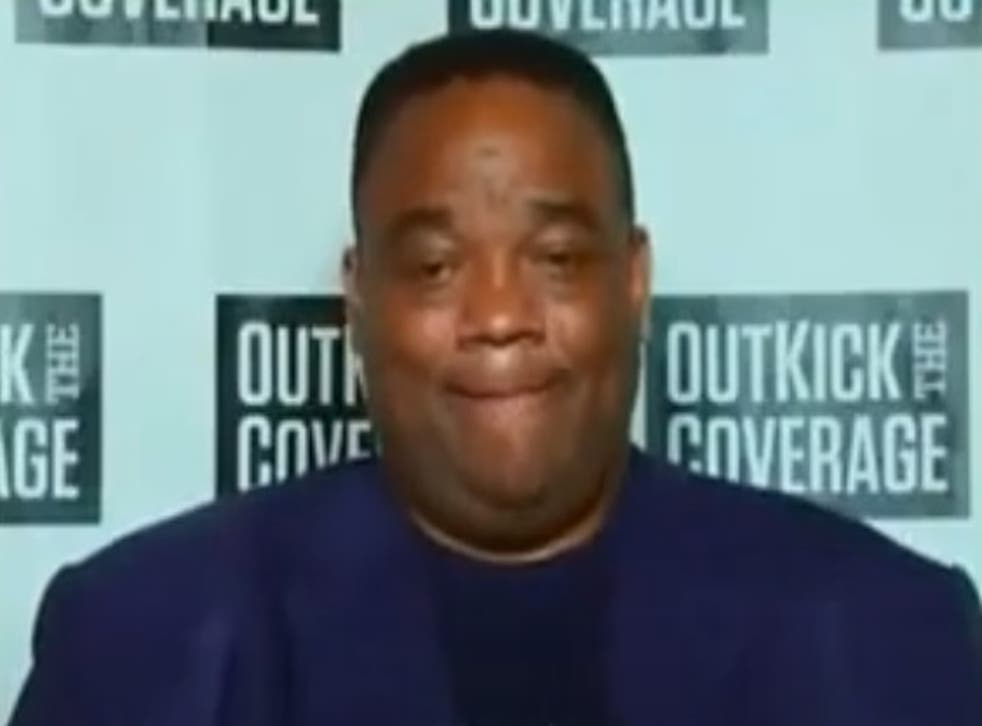 American journalist Jason Whitlock has come under fire for "sexist" comments he made suggesting two female TV sports presenters got their jobs because of their looks.
In a column published on the OutKick website on Sunday, Mr Whitlock, 53, claimed that Maria Taylor, an ESPN sports analyst, would not be successful if she "were short, unattractive and grumpy."
"Beauty, most especially in television, has a privilege that trumps virtually all other privileges," Mr Whitlock added in the piece, which he later shared with his 400,000 Twitter followers.
"Beauty intoxicates TV executives, bloggers and journalists, and it masks a lack of accomplishment, qualifications and skill".
Mr Whitlock, who has previously written for AOL Sports and the Kansas City Star, had been giving his take on a Twitter spat between Ms Taylor, 33, and Fox Sports Radio host Doug Gottlieb, 44.
Mr Gottlieb had questioned why Ms Taylor got to vote on the All-NBA ballot, after she mistakenly forgot to name LA Lakers centre Anthony Davis to the list while covering their game against Denver Nuggets on Saturday.
"Why does Maria Taylor have a vote?" Gottlieb wrote. "Real question. She is a studio host/sideline reporter in her first year covering the NBA. She works a ton, not just on the league. No reason for her to have a vote."
Responding to the criticism in a message posted on Twitter, Ms Taylor said: "Because I PLAYED basketball...I COVER the league. And I DESERVE everything I've worked hard for."
It was the second occasion in the space of a week that Ms Taylor was forced to defend herself against social media critcism. On Monday, Chicago Radio host Dan McNeil made a jibe about her choice of dress during a game between the Giants and Steelers.
"NFL sideline reporter or a host for the AVN (Adult Video News) annual awards presentation?" Mr McNeil wrote in a tweet that was hastily deleted soon after. He was later fired by Entercom.
Despite the criticism, Mr Whitlock in his column accused Ms Taylor of "undermining her meteoric rise by wallowing in victimhood". He also hit out at ESPN executives for giving Ms Taylor her role as NBA Countdown host and criticised the decision to give her voting rights.
"As it relates to NBA voting privileges, Taylor hasn't worked hard for that," Mr Whitlock continued in the column. "The super-woke NBA gifted Taylor the privilege because ESPN fast-tracked Taylor into the job of NBA Countdown host.
"The NBA would rather hand a high-profile female journalist an opportunity rather than have her earn it with several years of credible work. It's a combination of female privilege and beauty privilege in the age of the matriarchy."
Mr Whitlock also used his column to take a pop at Katie Nolan, who also works as a presenter for ESPN sports.
He wrote: "Beauty transformed Katie Nolan from bartender to seven-figure personality, Emmy Award-winner and the darling of aroused bloggers and TV critics willing to ignore her pedestrian humor and inability to execute live television.
"You're *this close* to making an actual point about the expectation of women to not only be good at their job but also beautiful, but actual points don't pay the bills huh," Ms Nolan shot back, before making her Twitter profile private.
"Keep this same energy next time I see you though."
Twitter users were quick to jump to the defence of both women. "Jason Whitlock is trash and will always be trash so if he's writing a hit piece on someone you should just assume he's wrong and move on," one wrote.
Another said: "Jason Whitlock is the worst thing associated with Kansas City, and that's saying a lot, because we've experienced David Cook and the one time Rockfest ruined the Liberty Memorial."
The row has rumbled on into this week, with Mr Whitlock penning a follow-up column on Monday specifically targetting Ms Nolan, accusing her of benefitting from "white privilege".
"Katie Nolan is Karen, the epitome of white privilege masked by woke posturing and protected by the white and black media elites allegedly dedicated to ending white privilege," Mr Whitlock wrote of the 2016 Emmy Award winner.
Register for free to continue reading
Registration is a free and easy way to support our truly independent journalism
By registering, you will also enjoy limited access to Premium articles, exclusive newsletters, commenting, and virtual events with our leading journalists
Already have an account? sign in
Register for free to continue reading
Registration is a free and easy way to support our truly independent journalism
By registering, you will also enjoy limited access to Premium articles, exclusive newsletters, commenting, and virtual events with our leading journalists
Already have an account? sign in
Join our new commenting forum
Join thought-provoking conversations, follow other Independent readers and see their replies