Jeb Bush positions himself as the 'anti-Mitt Romney' with risky plan to release tax returns
The 2016 Republican front-runner's stance is a stark contrast to Mr Romney's reluctance to make his financial affairs public in 2012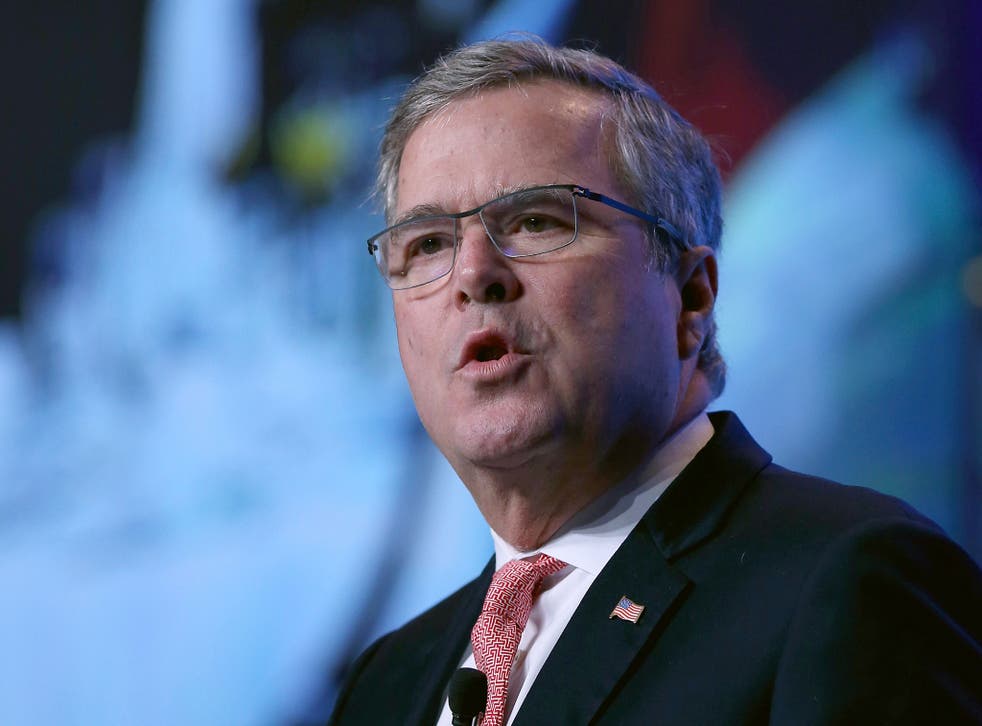 Jeb Bush, the former governor of Florida, may be on a quest to position himself as the Republican establishment candidate in 2016 as Mitt Romney was four years ago, but it is becoming increasingly clear that he also means to distance himself from the 2012 nominee. He may, in fact, be the anti-Mitt.
That Mr Bush, who declared his interest in exploring a presidential run last month, questioned parts of the Romney strategy in 2012 is well known. He has long been on the record arguing that then candidate Romney hurt himself by pandering to the right during the primaries, particularly on immigration policy.
But if Mr Bush has already moved to take a wholly different tack on immigration, notably by arguing for giving those in the country without papers the chance to seek legal status, he may also be preparing to immunise himself against allegations that he is a creature of Wall Street with hidden stashes of cash.
Key to the approach appears to be a decision reported by Politico, the political news site, this week – though not yet confirmed by Mr Bush himself or his aides – that he plans shortly to release all his tax returns for the past 10 years. To give up his records so early (he has not yet declared formally) would be unprecedented.
And the contrast with Mr Romney would be unmistakable, whose reluctance to make his financial affairs public fed into the narrative of his opponents, the camp of President Barack Obama in particular, that he was a member of the one-per-cent elite, out of touch with the common man. Mr Romney did surrender two years of taxes, but only in September of the election year.
The message from Mr Bush, who this week unveiled two political action committees, both named Right to Rise, to help him build momentum and attract dollars for his putative run, and who on Wednesday night attended his first big fund-raising event in Greenwich, Connecticut, is that he will be as transparent as a candidate as Mr Romney was frequently opaque.
Thus he has also announced his intention to release some 250,000 emails sent during his two terms as Florida's governor (he left office in 2007). "People forget that he spent eight years as governor in a state with the most pro-transparency laws in the country," a person close to Mr Bush told Politico. "He is used to living in the sunshine. Most of the other likely candidates aren't."
In pictures: Midterms 2014

Show all 14
A commitment to openness, both on financial history and political beliefs, will carry risks. He has already removed himself from several boards and advisory positions, yet his record as a financial consultant and as head of his own investment firm based in Miami will surely attract intense scrutiny. He is known to have accumulated significant wealth since leaving office, in part as an adviser to the now defunct Lehman Brothers and, subsequently, Barclays. And while he is expected to strike a populist note by emphasising the ever widening income gap, it won't go unnoticed that he chose to hold his first fundraiser in Greenwich, the epicentre of the country's financial elite.
His readiness to take those risks seems clear. On immigration, he believes that only by setting a more compassionate course can the Republicans hope to win a greater share of the Hispanic vote. A candidate, he said last year, must be willing "to lose the primary to win the general without violating your principles". This was taken as a clear reference to Mr Romney and what he did not do.
This week he also set himself apart from many conservatives (and Mr Romney) on gay marriage. While not fully endorsing same-sex marriage, he said in a statement that rulings by court judges allowing it, as has just happened in Florida, should be respected by everyone. "We live in a democracy," he said, "and regardless of our disagreements, we have to respect the rule of law."
Join our new commenting forum
Join thought-provoking conversations, follow other Independent readers and see their replies