Jeb Bush tells crowd of mostly white people that he'll offer blacks 'hope,' not 'free stuff'
The former Florida Governor takes a page from Mitt Romney's playbook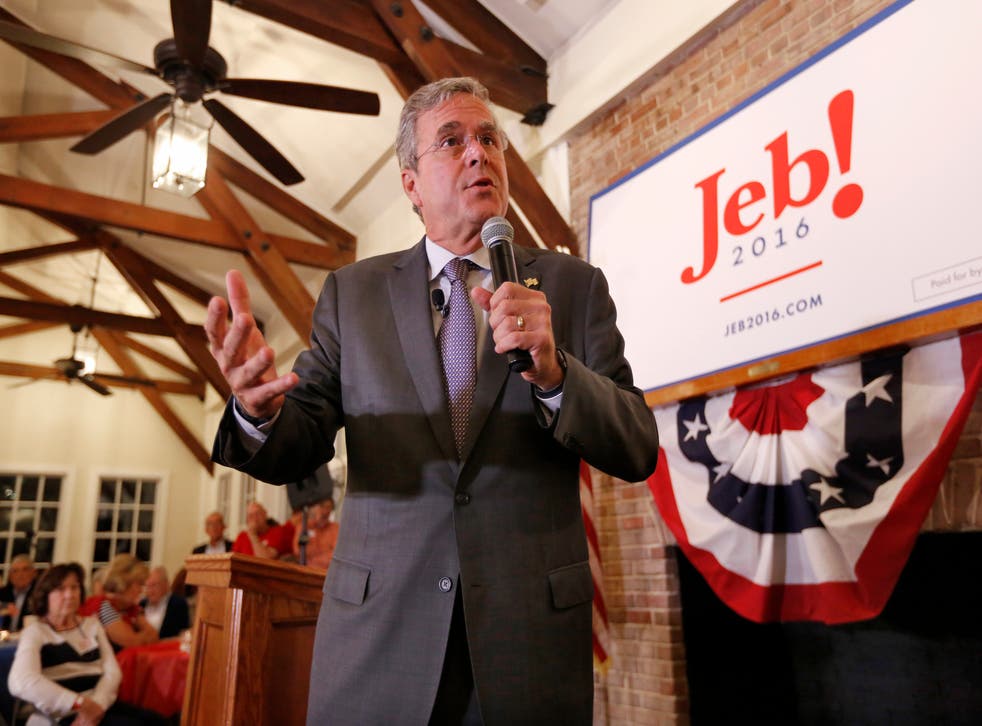 Jeb Bush told a crowd of primarily white voters in South Carolina that he doesn't plan on giving African-Americans 'free stuff' during his race to the White House. He also encouraged white voters to outnumber blacks in the polls, to inevitably ensure his nomination.
"Look around this room. How many black faces do you see? How are you going to include them and get them to vote for you?"
The Washington Post reports that on Thursday the former Governor from Florida "pointed to his record on school choice and said that if Republicans could double their share of the black vote, they would win the swing states of Ohio and Virginia."
"Our message is one of hope and aspiration. It isn't one of division and get in line and we'll take care of you with free stuff. Our message is one that is uplifting — that says you can achieve earned success."
Mr Bush was speaking during the East Cooper Republican Women's Club annual shrimp dinner. The move is certainly puzzling considering it mirrors comments made by Mitt Romney during unsuccessful presidential run in 2012.
Mr Romney was booed by his Montana crowd: "I want people to know what I stand for and if I don't stand for what they want, go vote for someone else, that's just fine. But I hope people understand this, your friends who like Obamacare, you remind them of this, if they want more stuff from government tell them to go vote for the other guy — more free stuff."
Michael Tyler, Democratic National Committee Director of African American Media, responded on Friday by saying that Mr Bush's comments alienates more Americans away from the Republican party.
"Jeb Bush either has no idea what he's talking about or he's a cynical politician appealing to the ugliest elements of the Republican Party. Either way he is unfit to lead this country," he said.
"Sadly, Jeb Bush's comments reflect a Republican Party that, while touting policies that benefit a select few at the very top, is falling over itself to alienate more and more Americans every single day. In just the last few weeks we've witnessed Republican presidential candidates insult African Americans, Muslims, Hispanics, Asian Americans and women.
"It's an odd electoral strategy in a multicultural society."
While Mr Bush might not have been questioned by his crowd of white voters, black writers had a few words in response to the seemingly racist comments.
The Post's Phillip Bump would later debunk the speech, stating it's "off-the-mark" as whites receive more food stamps than blacks and that "black support for Democrats has coincided with civil rights actions" in the states.
Join our new commenting forum
Join thought-provoking conversations, follow other Independent readers and see their replies