Jeb Bush tries out conservative credentials in Iowa
Family connections alone won't win him the nomination
David Usborne
Sunday 08 March 2015 20:58 Comments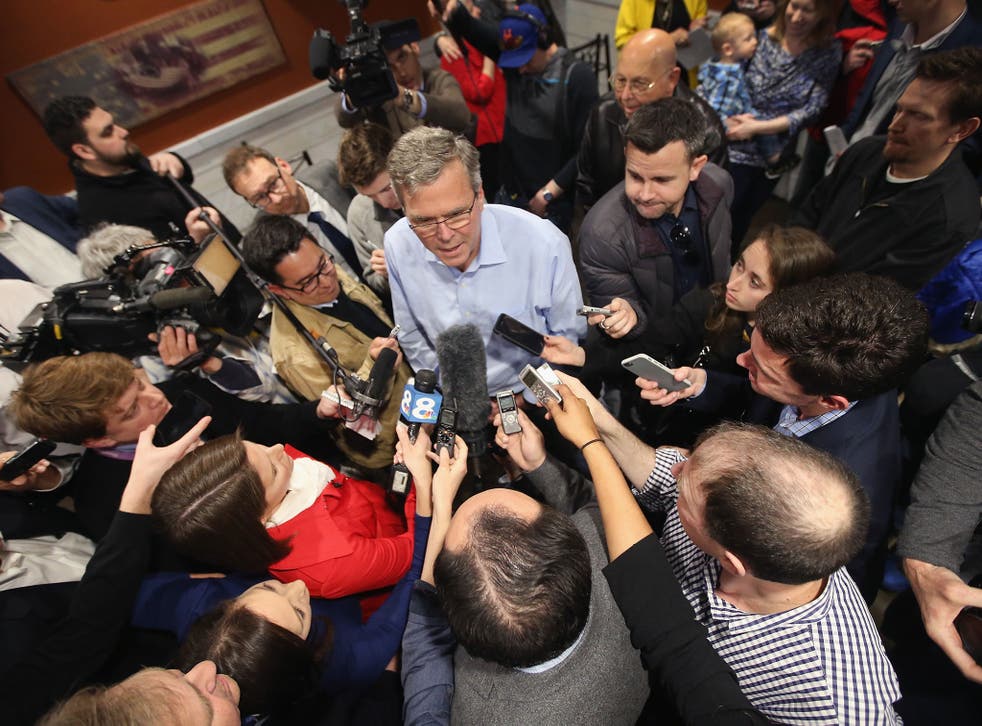 Jeb Bush emerged at the weekend to attend his first public cattle call of potential Republican candidates for president in 2016, answering questions on stage at – appropriately – an agri-business summit in Iowa.
With a gleaming John Deere tractor to his right, Mr Bush took his turn in a parade of likely Republican rivals to introduce himself to a state that will, as ever, play an outsize role in deciding who becomes the nominee. It is also a part of the country where many conservative activists view him, at least for now, with suspicion.
While the Iowa caucuses that will set the nomination ball rolling are 10 months away, Mr Bush had risked standing out as the only presidential aspirant not to have begun wooing the state; he hadn't even set foot in it since 2012. But in a short 24 hours he crammed in four different events, including the farm summit and a stop at a popular pizza joint, as well as a fund-raiser for a local Congressman, David Young.
"I told him, 'You need to get your butt to Iowa and sooner rather than later'," Mr Young said of a phone conversation he had with Mr Bush in January. "The race is heating up."
For Mr Bush, the visit was a test of his ability to reassure grass-roots voters by touting his conservative record as Governor of Florida from 1999 to 2007, while staying true to the positions that caused them to doubt him in the first place. Chief among those are his embrace of standardised school achievement measures, known as Common Core, and his support for giving illegal immigrants a path to legal US residence.
Mr Bush is arguably the frontrunner, if there is such a thing in this crowded field. Moreover, he has spent the weeks since announcing his interest in running – no one has declared fully yet – amassing the money and talent necessary to build a campaign network nationally and state by state. But in Iowa, polls show him slightly behind Scott Walker, the Governor of Wisconsin who has strong conservative backing.
Taking questions from a moderator at the farm summit in Des Moines, Mr Bush insisted again that "immigrants that are here need to have a path to legalised status" even if conditions would be attached including that they learn English, work and don't take welfare assistance. "This is the only serious, thoughtful way to deal with this."
His reception from the nearly 1000-strong audience was mostly warm. Mr Bush drew laughter with his response to a question about country-of-origin labels on food products. Describing what would be "Sunday Funday" back home near Miami, he also managed to flatter his hosts and reference his Latin ties that could help Republicans capture more of the Hispanic vote. His wife, Columba, is Mexican.
"I'll be cooking Iowa beef," he said. "And I'll probably make a really good guacamole and I want to know where that avocado is from, and I want to know where the onion is from and the cilantro and all the secret stuff I put in it, so I like the country of origin labelling." He said "cilantro" (coriander) with a Spanish accent.
Stopping at a pizza restaurant in Cedar Rapids later on Saturday, he also promised to appeal to young voters, another missing constituency for Republicans, saying they felt let down by President Barack Obama. "Young people have had eight years of President Obama," he said. "He turned them on to begin with – the 2008 election was historic and President Obama did spectacularly well… The thrill is gone."
Sue Waderich, 67, who with her husband Dennis had driven to the farm summit from Minneapolis, where they own a plant nursery, was impressed, albeit in a back-handed way. "I was surprised how articulate he was. I thought he would be more like his brother," she offered, referring of course to former President George W. Bush. "He didn't resemble the Bushes at all to me, even in the way he talks." But she and her husband are for now leaning towards the former Arkansas Governor Mike Huckabee, who also spoke.
That Mr Bush did distinguish himself from both former Bush presidents might be key to his campaign, suggested Will Rogers, director of the Iowa Nebraska Farm Equipment Manufacturers Association. "He is very impressive and I really do think that when he comes back to Iowa and gets to know people they are going to see he is not the same person as George Bush senior or George Bush junior. He is his own person."
But Mr Bush's position on immigration – which some see as an "amnesty" for illegal aliens – is a deal-breaker for Dan Beik, 64, a retired farmer and part-owner of a plant that makes ethanol from maize. "If you reward illegal behaviour, you will get more illegal behaviour," he said
Congressman Young doesn't think the Bush name will matter. "I don't care what their name is… I want the most conservative person who can win," he told The Independent.
Convincing Iowa caucus voters that he can win may not be a problem. But convincing them that he is the "most conservative" among all the runners out there may well be.
Register for free to continue reading
Registration is a free and easy way to support our truly independent journalism
By registering, you will also enjoy limited access to Premium articles, exclusive newsletters, commenting, and virtual events with our leading journalists
Already have an account? sign in
Join our new commenting forum
Join thought-provoking conversations, follow other Independent readers and see their replies