Jeff Bezos: Amazon boss says National Enquirer tried to blackmail him over 'intimate photos'
'I don't want personal photos published, but I won't participate in their well-known practice of blackmail'
Andrew Buncombe
Seattle
Thursday 07 February 2019 19:46 Comments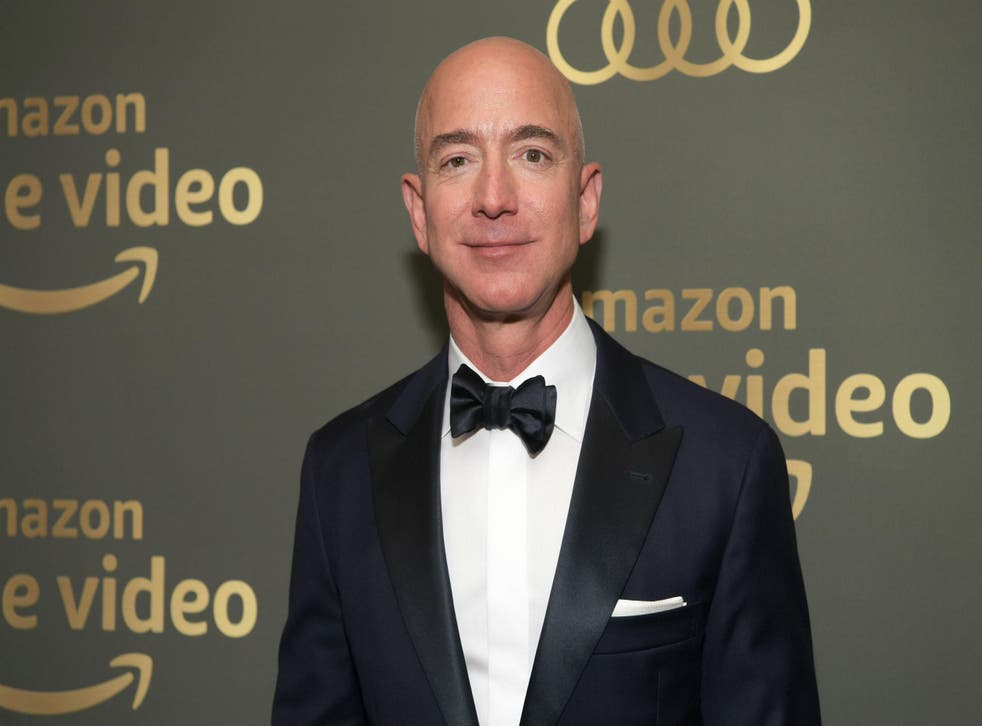 Jeff Bezos - the world's richest man and a frequent target of Donald Trump's criticisms - has claimed the National Enquirer's parent company sought to blackmail him with a threat to publish "intimate photos".
A month after the supermarket tabloid published an article that included lurid texts between Mr Bezos and former Fox TV anchor Lauren Sanchez – something that led the Amazon founder to announce he was getting divorced – he said the magazine was guilty of "extortion and blackmail". The magazine and its owner were not after money, but rather a public statement from Mr Bezos that its reporting on his private life was not politically motivated. If he did not agree, he wrote, it would publish a number of salacious photographs including including a "below-the-belt selfie".
In a post on Medium, Mr Bezos said the parent company of the Enquirer, American Media Inc, which is owned by Donald Trump ally David Pecker, was angry the Amazon boss had launched an inquiry into how the magazine obtained the texts.
"A few days after hearing about Mr Pecker's apoplexy, we were approached, verbally at first, with an offer. They said they had more of my text messages and photos that they would publish if we didn't stop our investigation," wrote Mr Bezos, who is estimated to be valued at $150bn.
"My lawyers argued that AMI has no right to publish photos since any person holds the copyright to their own photos, and since the photos in themselves don't add anything newsworthy."
Inside the Amazon Fulfilment Centres

Show all 15
Mr Bezos and his wife announced last month that they were divorcing after 25 years of marriage, following a period of "loving exploration" and trial separation. That same day, the Enquirer touted that it would publish alleged intimate text messages between Mr Bezos and Ms Sanchez, whom he was said to be dating, the Associated Press said.
As part of the investigation, Mr Bezos turned to Gavin de Becker, a public safety expert and former appointee of Ronald Reagan. Mr De Becker proceeded to tell media that the leak of material against the owner of the Washington Post, was politically motivated. This apparently made the magazine's owner angry.
"In the AMI letters I'm making public, you will see the precise details of their extortionate proposal," Mr Bezos wrote. "They will publish the personal photos unless Gavin de Becker and I make the specific false public statement to the press that we have no knowledge or basis for suggesting that AMI's coverage was politically motivated or influenced by political forces."
Amazon Super Bowl 2019 advert 'Not Everything Makes the Cut'
Mr Bezos said the specific threat of publishing intimate images came after he had ignored a general warning that the magazine would act. Among the images the magazine said it would publish was "a full-length body selfie of Mr Bezos wearing just a pair of tight black boxer-briefs or trunks, with his phone in his left hand – while wearing his wedding ring".
"Well, that got my attention. But not in the way they likely hoped. Any personal embarrassment AMI could cause me takes a back seat because there's a much more important matter involved here," wrote Mr Bezos. "If in my position I can't stand up to this kind of extortion, how many people can?"
Mr Bezos released a letter he said was from American Media Inc's deputy general counsel, Jon Fine, a former Amazon employee, who said he wanted Mr Bezos to say the magazine's pursuit of stories about his private life was not "politically motivated or influenced by political forces".
The Amazon founder has been subjected to repeated attacks from Mr Trump, who recently called him "Jeff Bozo" in one tweet.
"Here's a piece of context: My ownership of the Washington Post is a complexifier for me. It's unavoidable that certain powerful people who experience Washington Post news coverage will wrongly conclude I am their enemy," wrote Mr Bezos.
"President Trump is one of those people, obvious by his many tweets. Also, the Post's essential and unrelenting coverage of the murder of its columnist Jamal Khashoggi is undoubtedly unpopular in certain circles."
Mr Bezos pointed out that last year it was reported Mr Pecker had entered into an immunity deal with the Department of Justice related to his role in the so-called "catch and kill" process on behalf of Mr Trump.
In 2016, the magazine is said to have paid $150,000 to former model Karen McDougal, who said she had an affair with Mr Trump. The magazine also allegedly tipped off Mr Trump's then lawyer, Michael Cohen, that adult actress Stormy Daniels was seeking to sell a similar story; Cohen paid her $130,000 to keep her story quiet on the eve of the election.
In December, Cohen was sentenced to three years in jail for the payments, which he said he made at the behest of Mr Trump and which a court found were a violation of campaign finance laws.
"These communications cement AMI's long-earned reputation for weaponising journalistic privileges, hiding behind important protections, and ignoring the tenets and purpose of true journalism," said Mr Bezos.
"Of course I don't want personal photos published, but I also won't participate in their well-known practice of blackmail, political favours, political attacks, and corruption. I prefer to stand up, roll this log over, and see what crawls out."
Reuters said AMI did not immediately return a request for comment.
Register for free to continue reading
Registration is a free and easy way to support our truly independent journalism
By registering, you will also enjoy limited access to Premium articles, exclusive newsletters, commenting, and virtual events with our leading journalists
Already have an account? sign in
Join our new commenting forum
Join thought-provoking conversations, follow other Independent readers and see their replies