Jeff Sessions tells Senate confirmation hearing: 'I am not racist and will recuse myself from any Hillary Clinton investigation'
The controversial Alabama senator smiled as several protesters were removed from the room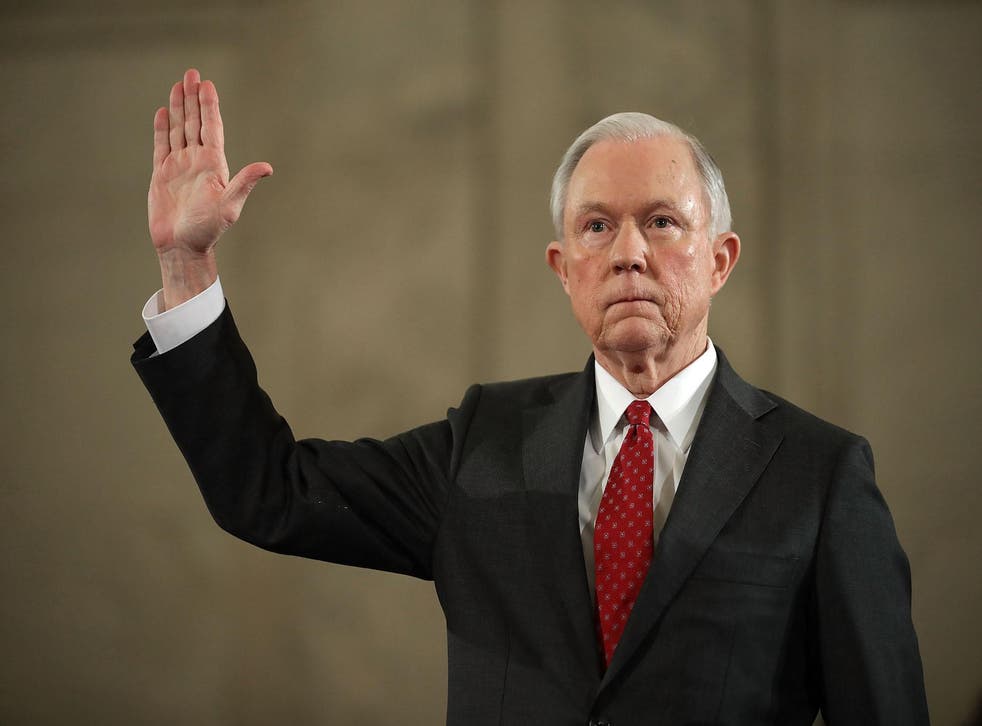 The confirmation hearing of attorney general Jeff Sessions was bound to be a spectacle.
"No KKK, No fascist USA!" calls erupted from the back of the room. Two people stood up, wearing white sheets like the Ku Klux Klan.
Mr Sessions shuffled his papers, took some water and suppressed a smile. At 70 years old, he still looks boyish, with slightly pink cheeks.
He then started his statement. Just a few sentences in, another protester started calling him a "pig". She was removed by police.
"I want to thank Donald Trump," he continued.
"I feel the weight of an honour greater than I aspired to."
Regarding Hillary Clinton and Donald Trump's suggestion to prosecute her, he replied his oversight of any such case would "place [his] objectivity in question".
"I've given that thought and think the proper thing would be to res myself from any of those investigations surrounding secretary Clinton," he said.
The successor to Democrat attorney general Loretta Lynch talked about crime, the heroin epidemic, the "real victims" of "drugs cartels, violence and misery".
He named his priorities as responding to "threats", keeping the country safe and working against cyber threats.
Jeff Sessions holds baby on lap as Senate hearing begins
He occasionally paused, making jokes about football with the chairman of the committee, giving the audience no doubt as to their close relationship.
He then referenced accusations levied against him that he pushed back voting rights of African Americans and sympathised with the KKK in 1986.
"These are false charges," he said.
He was referring to when he appeared before the senate as President Ronald Reagan's nominee for the US District Judge for the Southern District of Alabama. The four-day hearing ended with him unable to overcome allegations of racist remarks and behaviour, accusations of which came from fellow prosecutors and employees in his office.
Donald Trump's controversial cabinet
"I never declared the NAACP was un-American or that a civil rights attorney to be a disgrace to his race," he added. "There is nothing I am more proud of than my 14 years in the Department of Justice."
He insisted he would protect the rights of LGBT people and women.
"I am ready for this job. We will do it right. Your input will be valued. Law enforcement will be our partners."
Mr Sessions was once deemed to be too racist to serve as a federal judge. Mr Sessions has flatly denied any racism and argued that during his career he prosecuted members of the KKK.
The senate confirmation is the last formality before Mr Sessions is appointed to overview the entire justice system in the US.
Mr Session's top aide helped President-elect Donald Trump to communicate his immigration policy, which has been described as bigoted and discriminatory against Hispanics and Muslims.
The senator also chaired Mr Trump's national security advisory committee, which proposed a Muslim "registry" and to build a wall along the Mexico border.
He also advised Mr Trump on choosing Indiana governor Mike Pence as vice president, a man who has consistently fought to reduce women's reproductive rights in his home state.
Join our new commenting forum
Join thought-provoking conversations, follow other Independent readers and see their replies