Jemel Roberson: White police officer who shot dead 'hero' black security guard identified two months after death
26-year-old father was detaining suspected gunman at bar where he worked when he was shot by officer Ian Covey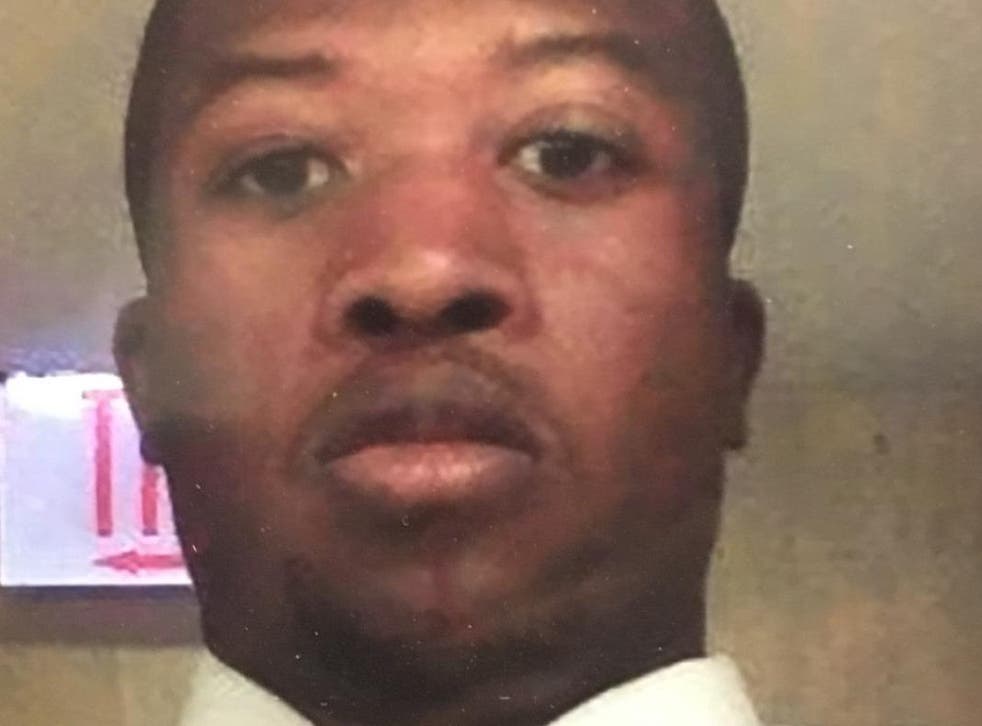 The name of the white police officer who shot and killed a black security guard as he was detaining a suspected gunman has been revealed over two months after his death.
Jemel Roberson was working a shift at Manny's Blue Room, a bar in the southwest Chicago suburb Midlothian, when a gunman started shooting inside the bar.
The 26-year-old father apprehended the shooter and pinned him to the ground. But moments later, a Midlothian police officer approached the scene and shot Mr Roberson.
Over two months after his death on 11 November, Mr Roberson's mother Beatrice Roberson explained on Saturday why she was making her first public statement.
"I was just too messed up. I couldn't talk about it without crying," Ms Roberson said at a news conference amid snow flurries. "The other day, I made up my mind. I said I'm going to fight for my son."
Ms Roberson's declaration came a day after the name of the officer who shot her son was revealed as part of a wrongful-death lawsuit she filed against the officer, Ian Covey of the Midlothian Police Department, and the village of Midlothian.
Hours after the amended complaint was filed on Friday, Chief Daniel Delaney confirmed the officer's name.
Mr Covey, who was placed on administrative leave, is white, and Mr Roberson was black.
"If a young man shot a police officer, that young man's picture would be on the TV tonight," Gregory Kulis, Beatrice Roberson's lawyer, said at the news conference.
"But for two months, we have been looking for the name of the officer that killed Jemel Roberson."
World news in pictures

Show all 50
Witnesses at the incident said they warned officers that Mr Roberson was a security guard and that he was wearing clothes marked "Security." Jemel Roberson, who was licensed to carry a firearm, was holding the man at gunpoint.
"I hear some people say he was shot," Beatrice Roberson said. "My son was not shot. My son was murdered."
An initial report by Illinois State Police contradicted some witness accounts.
The report, which Mr Kulis has criticised, says Mr Roberson was given "multiple verbal commands" to drop his weapon and get on the ground before he was shot by Mr Covey.
It also says Mr Roberson was wearing "plain black clothing with no markings" that would identify him as a security guard, according to witnesses. Mr Kulis told NPR that Roberson was wearing a hat with the word "security" on it.
Midlothian and Illinois state police, who are both investigating the shooting, had declined to name Mr Covey, even as Mr Kulis subpoenaed records of the shooting and Mr Roberson's family pressed for the officer to be identified.
Nick Valadez, a lawyer for Midlothian, told the Chicago Tribune that growing pressure led to the decision to release the officer's name.
"Given that the vitriol has died down slightly and given that the name was being batted around, speculated to, as well as the plaintiff pursuing it and amending the complaint, it just seemed to be time," Mr Valadez said.
Neither Midlothian nor state police responded to requests for comment on Saturday. Neither Mr Covey nor a union representing him could be reached for comment.
"I want justice for my son. I want this officer put away. I want him to lose his job," Beatrice Roberson said as some supporters held T-shirts with the words "Security Guard. Don't Shoot" and a picture of Jemel Roberson's face.
Jemel Roberson had a young son, and his girlfriend was pregnant with their second child.
Beatrice Roberson said her son was a musician who loved playing the organ at church. She did not like that he worked as a security guard or that he wanted to become a police officer.
Two months before his death, Mr Roberson stopped by his mother's office to print out an application for the Chicago Police Department.
Support free-thinking journalism and attend Independent events
"He loved people, and he loved saving lives," Ms Roberson said. "He always had that protective feeling, that he needs to protect somebody."
The amended lawsuit came on the same day that Jason Van Dyke, a former Chicago police officer, was sentenced to nearly seven years in prison for murdering Laquan McDonald, a black teenager. Some have criticised the sentence, calling it too short.
Beatrice Roberson agreed, but said it would not deter her from pushing for Mr Covey to face criminal charges.
"I'm not going to give up," Ms Roberson said, before breaking into a chant of "justice for Jemel".
New York Times
Register for free to continue reading
Registration is a free and easy way to support our truly independent journalism
By registering, you will also enjoy limited access to Premium articles, exclusive newsletters, commenting, and virtual events with our leading journalists
Already have an account? sign in
Register for free to continue reading
Registration is a free and easy way to support our truly independent journalism
By registering, you will also enjoy limited access to Premium articles, exclusive newsletters, commenting, and virtual events with our leading journalists
Already have an account? sign in
Join our new commenting forum
Join thought-provoking conversations, follow other Independent readers and see their replies