Jeremy Meeks pictures posted on 'handsome felon' fundraising page to show 'softer' side
Meeks' photo caused a stir when it was posted by Stockton Police
Heather Saul
Saturday 21 June 2014 16:09 Comments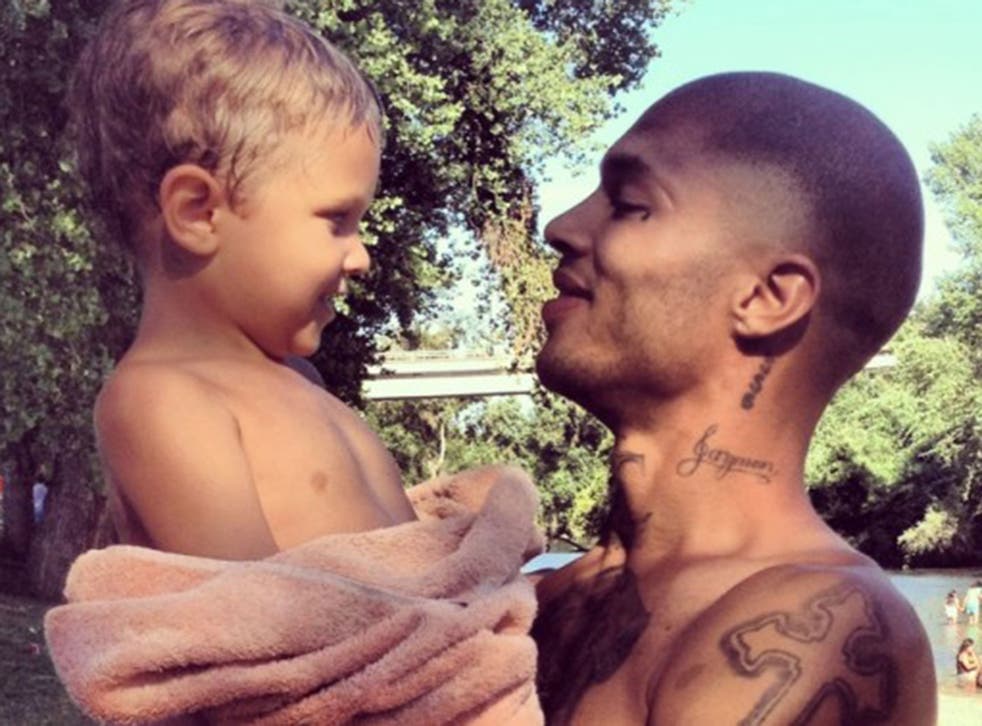 A GoFundMe page has been set up to raise money for Jeremy Meeks, the 'handsome man' whose mugshot recently went viral.
His mother, Katherine Angier, started the page and claims her son is being stereotyped because of his collection of tattoos, including a tear drop on his face.
She alleges her son is a "working man" with "no gang affiliations" and was on his way to work when he was arrested.
"He's my son and he is so sweet," she writes on the gofundme page, which has already been shared 1,500 times. "Please help him to get a fair trial or else he'll be railroaded." Ms Angier also included two pictures of Meeks carrying a young boy who is presumed to be his son.
The page has received over $300 (£176) in donations since it was set up on Thursday and has seen a mixture of supportive and negative comments.
One post by Jazmon Mahan, who is apparently a member of Meeks family, criticises some of the responses, adding: "He changed his life around six years ago. He is a great father, husband, son, brother and uncle".
Jeremy Meeks: 'Handsome felon' in pictures

Show all 10
Meeks, 30, was arrested on five charges of illegal weapon possession and one relating to gangs but that did not stop thousands of women and men swooning at his picture.
The Stockton Police Department posted it alongside other mugshots after the operation was carried out on Wednesday.
No previous arrest photo has garnered so much attention since the Facebook page was set up in March 2012, police said.
Meeks was one of four men taken into custody during Operation Ceasefire, a mission to curb a recent increase in shootings and robberies in Stockton in northern California.
Four firearms were confiscated during a sweep involving the Stockton Police gang unit, the FBI and other agencies.
Mr Silva called Meeks "one of the most violent criminals in the Stockton area," but did not detail crimes that he was believed be involved in.
He was being held after $900,000 (£528,000) bail was not paid and was scheduled to be formally charged on Friday.
Register for free to continue reading
Registration is a free and easy way to support our truly independent journalism
By registering, you will also enjoy limited access to Premium articles, exclusive newsletters, commenting, and virtual events with our leading journalists
Already have an account? sign in
Join our new commenting forum
Join thought-provoking conversations, follow other Independent readers and see their replies