Jewish doctor's story of treating Covid sufferer covered in Nazi tattoos goes viral
'For the first time, I recognise that I hesitated … The pandemic has worn on me,' wrote Dr Taylor Nichols
Oliver O'Connell
New York
Tuesday 01 December 2020 23:43 Comments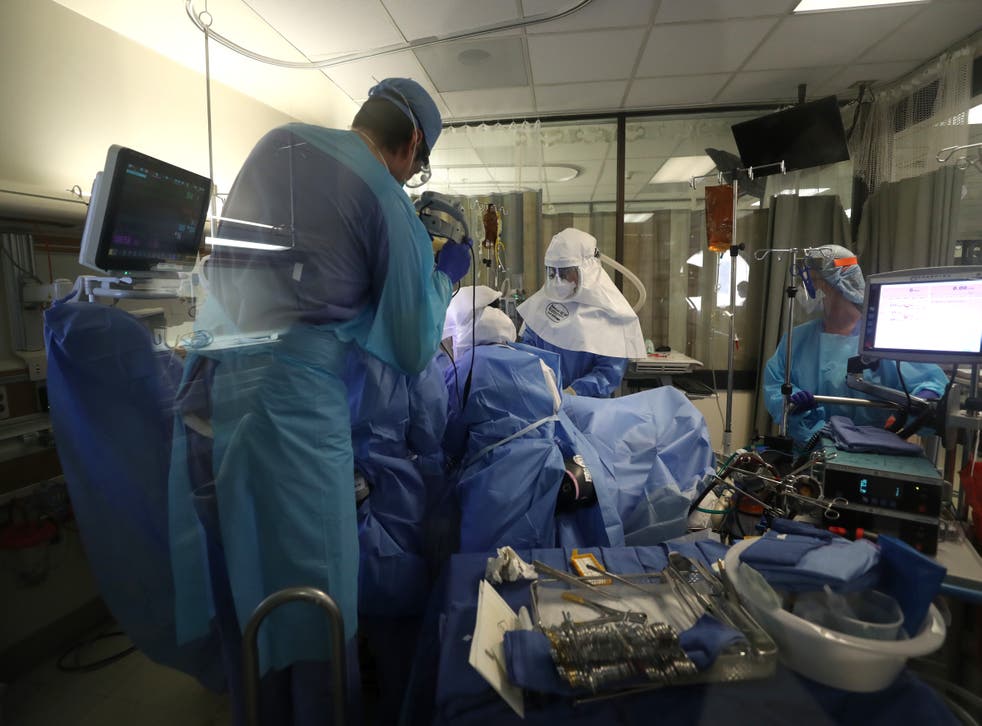 Leer en Español
A Jewish physician in California who posted a story about treating a patient suffering from Covid-19 whose body was covered in Nazi tattoos has spoken of how his compassion was tested.
Dr Taylor Nichols, whose tweets relaying the experience have since gone viral, explained that dealing with the fallout of those who refuse to follow health guidelines to stop the spread of the coronavirus has worn him down, but he and his colleagues have to keep going.
He was confronted with the patient who "looked sick. Uncomfortable. Scared", and once emergency room staff at Mercy San Juan Hospital near Sacramento removed the man's shirt, they all noticed the tattoos across his torso.
"The swastika stood out boldly on his chest. SS tattoos and other insignia that had previously been covered by his shirt were now obvious to the room," Dr Nichols said.
Other staff members present included a Black nurse and an Asian respiratory therapist.
"Don't let me die, doc," the solidly built man said breathlessly as he was switched from a CPAP breathing aid to a hospital mask and ventilator.
The man showed signs of years of methamphetamine use and his teeth were "all but gone".
Dr Nichols reassured the patient that they would take care of him and keep him alive as best they could.
The man continued to struggle to breathe and he asked if he would want to be intubated if necessary. The man replied that he wanted the team to do everything they could.
"We all saw. The symbols of hate on his body outwardly and proudly announced his views. We all knew what he thought of us. How he valued our lives," the doctor wrote. "Yet here we were, working seamlessly as a team to make sure we gave him the best chance to survive that we could. All while wearing masks, gowns, face shields, gloves."
Dr Nichols wrote of the stress, fear, and isolation of those in the medical field that have to deal with the virus non-stop as the coronavirus pandemic accelerates.
Describing how he has dealt with racist patients and swastikas since medical school, Dr Nichols wrote that he has always overcome it with the mantra that the person came to him needing a doctor and that that's what he is.
He admits that he wonders what the man with the Nazi tattoos might think about having a Jewish physician taking care of him, or how much the man would have about his life if the roles were reversed.
"For the first time, I recognise that I hesitated, ambivalent," Dr Nichols wrote. "The pandemic has worn on me, and my mantra isn't having the same impact in the moment … And I realise that maybe I'm not OK."
The story has been retweeted thousands of times and received hundreds of thousands of likes on Twitter.
California has 1.24 million confirmed cases of Covid-19 and has officially recorded 19,212 deaths. The US as a whole is fast approaching 14 million cases and 270,000 deaths.
Register for free to continue reading
Registration is a free and easy way to support our truly independent journalism
By registering, you will also enjoy limited access to Premium articles, exclusive newsletters, commenting, and virtual events with our leading journalists
Already have an account? sign in
Join our new commenting forum
Join thought-provoking conversations, follow other Independent readers and see their replies