JFK assassination: The world remembers the president, 50 years on
Kennedy family members gathered at his grave in Arlington cemetery
Rupert Cornwell
Friday 22 November 2013 20:18 Comments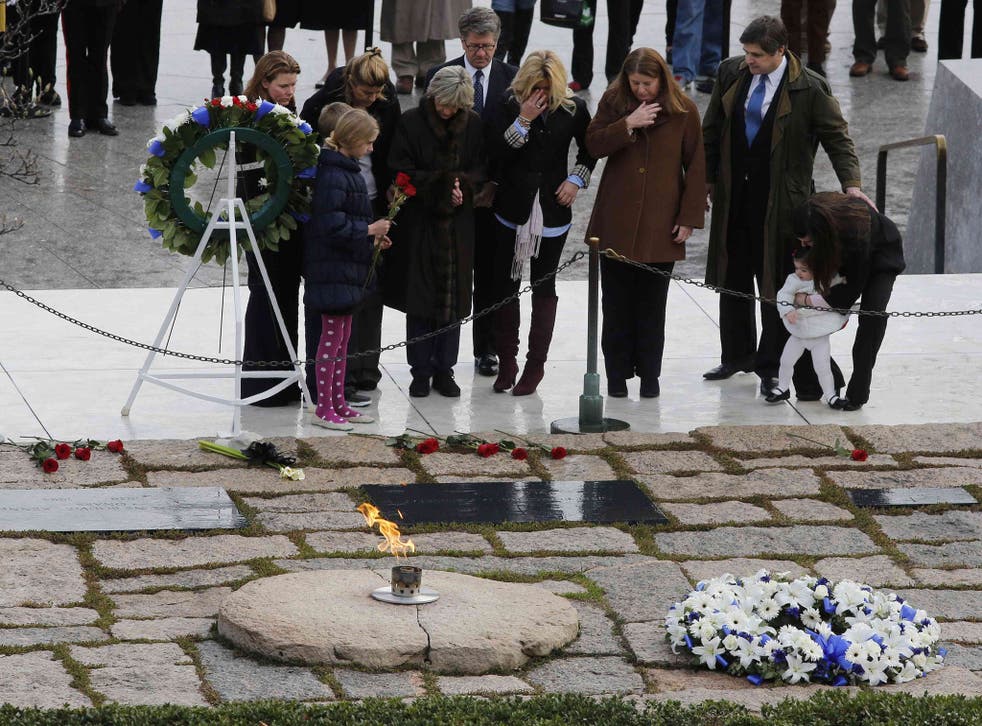 America and the world yesterday remembered John F Kennedy, and the terrible 22 November of exactly 50 years ago – still etched in the mind of anyone old enough to remember – when the life of a young and handsome president was stunningly and senselessly cut short by an assassin's bullets.
In Washington, Kennedy family members gathered at his grave in Arlington cemetery, while President Barack Obama met leaders of the Peace Corps, one of JFK's most enduring legacies. On government buildings across the city and the country, flags were lowered to half mast.
For the first time, the city of Dallas commemorated the event that has made its very name a synonym for the crime. In Dealey Plaza, a sombre ceremony took place in the shadow of the Texas School Book Depository building from where Lee Harvey Oswald fired the fatal shots on the presidential motorcade. At 12.30 pm local time, bells tolled through the city to mark the moment of the assassination.
The tickets-only occasion for 5,000 was intended to focus on the 1,000 days of Kennedy's presidency, rather than the moments in which it ended. It featured a brief speech by the Dallas mayor, Mike Rawlings, and readings by the historian David McCullough of excerpts from some of Kennedy's most famous speeches.
On the "grassy knoll", central to so many conspiracy theories, a monument was unveiled, inscribed with the final paragraph of the speech Kennedy was to have given that day at a luncheon organised by Dallas civic leaders. Its inspirational language, so typical of the speaker, echoes down the decades. Americans, the 35th president planned to say, were "the watchmen on the walls of world freedom". But the cause must be righteous, "for as was written long ago, 'except the Lord keep the city, the watchman waketh but in vain'."
That day in Dallas, no watchman prevented what happened. But the golden glow of the martyred president endures. A CNN poll today showed that, half a century after he died, JFK's approval rating stands at 90 per cent, eclipsing every occupant of the Oval Office since.
Register for free to continue reading
Registration is a free and easy way to support our truly independent journalism
By registering, you will also enjoy limited access to Premium articles, exclusive newsletters, commenting, and virtual events with our leading journalists
Already have an account? sign in
Join our new commenting forum
Join thought-provoking conversations, follow other Independent readers and see their replies