Jill Stein pushes for Pennsylvania vote recount in rally outside Trump Tower
The Green party has filed for recounts in Pennsylvania, Michigan and Wisconsin
Rachael Revesz
New York
Monday 05 December 2016 17:14 Comments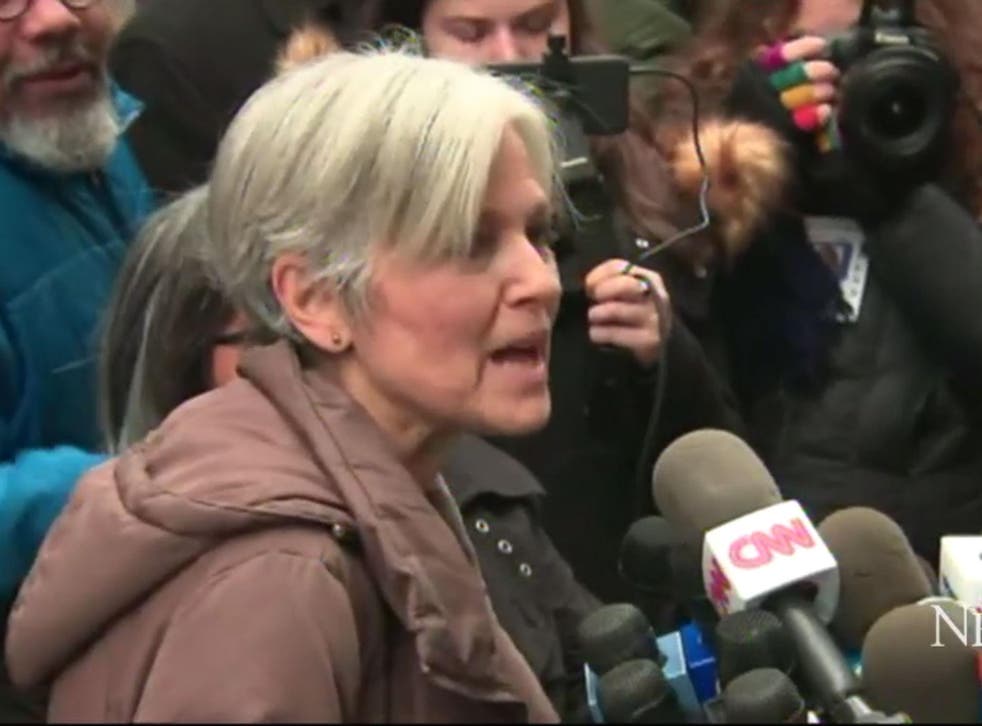 The Jill Stein campaign has upped their fight for a vote recount in Pennsylvania as Donald Trump's team has tried to block the effort and a judge has demanded a $1 million bond.
The Green Party's candidate and her supporters filed for emergency relief in Pennsylvania's federal court to pay the bond. The request followed Mr Trump's representatives filing a lawsuit to stop the recount and demanding a $10 million bond, according to court papers.
Ms Stein's team has already requested recounts in Michigan and Wisconsin. All three states were won by president-elect Donald Trump with a narrow margin, but these critical swing states swept him to victory as they had a relatively high number of electoral college votes.
At a rally outside of Trump Tower in Manhattan on Monday, Ms Stein and her team called for a national system of paper ballots to ensure there was no possibility of hacking or manipulation of the voter results. They pointed to outdated voting machines and what the FBI called an "unprecedented" level of cyber attacks during the campaign as potential evidence of voter fraud.
"We affirm that they [votes from people of colour] are not once again being tossed in the dustpan here and are disrespected. So we are standing firm for the hard fought and hard won right to vote, particularly for people of colour in this country," said Ms Stein.
In Michigan, judge Mark Goldsmith ruled they had their team had the right to request a recount as it "advanced" people's fundamental right to vote.
Ms Stein told the crowd on Fifth Avenue that there were 75,000 "blank votes" in Michigan, which means that communities of colour were possibly "disenfranchised by an erroneous counting of the vote". The paper ballots are currently being recounted, as of noon on Monday.
"The blank votes vastly exceed the margin between the two leading candidates," she said, referring to Mr Trump and Ms Clinton.
But in Pennsylvania, Mr Trump's campaign has moved to stop the effort, requesting 27,000 affidavits and demanding their rivals lay down a $10 million bond - moves which Ms Stein called "ridiculous bureaucracy".
Jonathan Abady, lead counsel to the Stein recount efforts, said the voting system in Pennsylvania was a "disgrace and a disaster", with no paper trail and "antiquated" voting machines.
"We are taking that action in Pennsylvania because it has become clear to us over the past several days that the level of obstruction, the barriers to this effort, are so extreme and radical and the state system is so ill-equipped to deal with that, that we have no choice [but to request a] federal interjection there, just as we have done in Michigan and just as we are doing in Wisconsin," he said.
Mike Pence struggles to defend Trump's comments about voter fraud
"Donald Trump has attempted to influence and obstruct the democratic process," he added.
Mark Crispin Miller, professor of media, culture and communication at New York University, added at the rally that there were "stark discrepancies between exit poll results and official numbers".
The recount effort comes as Hillary Clinton's lead in the popular count has reached 2.6 million and continues to rise.
Mr Miller disputed speculation, however, that Ms Stein's movement was a "covert effort" to reinstate Ms Clinton.
"I have to give Donald Trump some credit. He said the vote could be rigged. He was absolutely right," he said.
Ms Stein has raised more than $7 million from nearly 150,000 individual donors. Mr Trump accused the vote recount effort as a "scam" to raise money for the Green Party. Ms Stein said every penny was going into a segregated, dedicated account to pay for the requests.
She added there would unlikely be any money left over as the court kept raising the price of the request.
"They are raising the price of democracy," she said.
Register for free to continue reading
Registration is a free and easy way to support our truly independent journalism
By registering, you will also enjoy limited access to Premium articles, exclusive newsletters, commenting, and virtual events with our leading journalists
Already have an account? sign in
Join our new commenting forum
Join thought-provoking conversations, follow other Independent readers and see their replies