Jimmy Carter undergoes emergency hip surgery after fall
The 94-year-old former president's chief concern was missing hunting season's limit
David I. Klein
New York Comments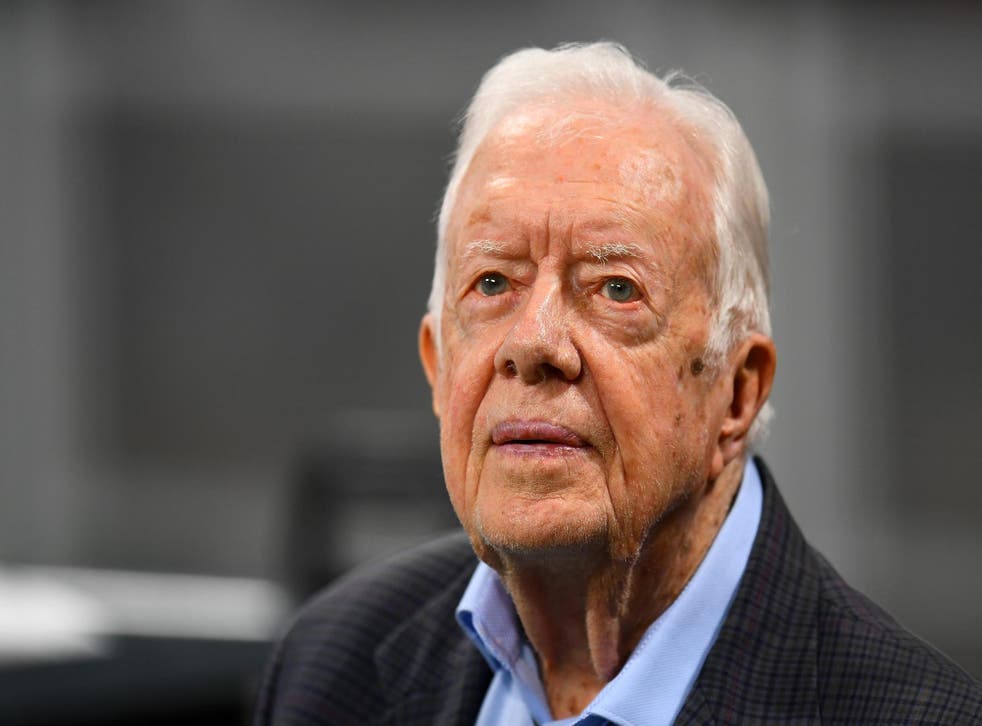 Former president Jimmy Carter has undergone surgery for a broken hip. However, the 94-year-old's chief concern wasn't with his health, but with his game.
According to a statement released by the Carter Centre, the former president fell while heading out to go turkey hunting. "President Carter said his main concern is that turkey season ends this week, and he has not reached his limit," it said. "He hopes the state of Georgia will allow him to rollover the unused limit to next year."
Unlike many other states which have turkey hunting seasons in the spring and fall, Georgia only has a spring turkey hunting season and allots hunters a limit of three 'gobblers', or male turkeys, per season. The Carter Centre's statement did not specify how close Mr Carter was to the state limit for this season, which began on March 23. The Atlanta Journal-Constitution reported that he had bagged at least one wild turkey back in April.
The statement also said the former president was recovering comfortably and was accompanied by his wife at Phoebe Sumter Medical Centre in Americus, Georgia.
Mr Carter is now the oldest living president in US history, having surpassed George HW Bush in March.
Mr Carter has long been an avid outdoorsman and, in 2016, was inducted into the Georgia Hunting and Fishing Hall of Fame.
Among his 29 published books are Sharing The Good Times and Outdoor Journal, which discuss the president's love of the outdoors and the effect it has had on his life.
Support free-thinking journalism and attend Independent events
Register for free to continue reading
Registration is a free and easy way to support our truly independent journalism
By registering, you will also enjoy limited access to Premium articles, exclusive newsletters, commenting, and virtual events with our leading journalists
Already have an account? sign in
Join our new commenting forum
Join thought-provoking conversations, follow other Independent readers and see their replies