JK Rowling mocks defeated Roy Moore: 'God is a black woman'
'We know God is always in control,' says Republican Senate candidate
Harriet Agerholm
Thursday 14 December 2017 16:07 Comments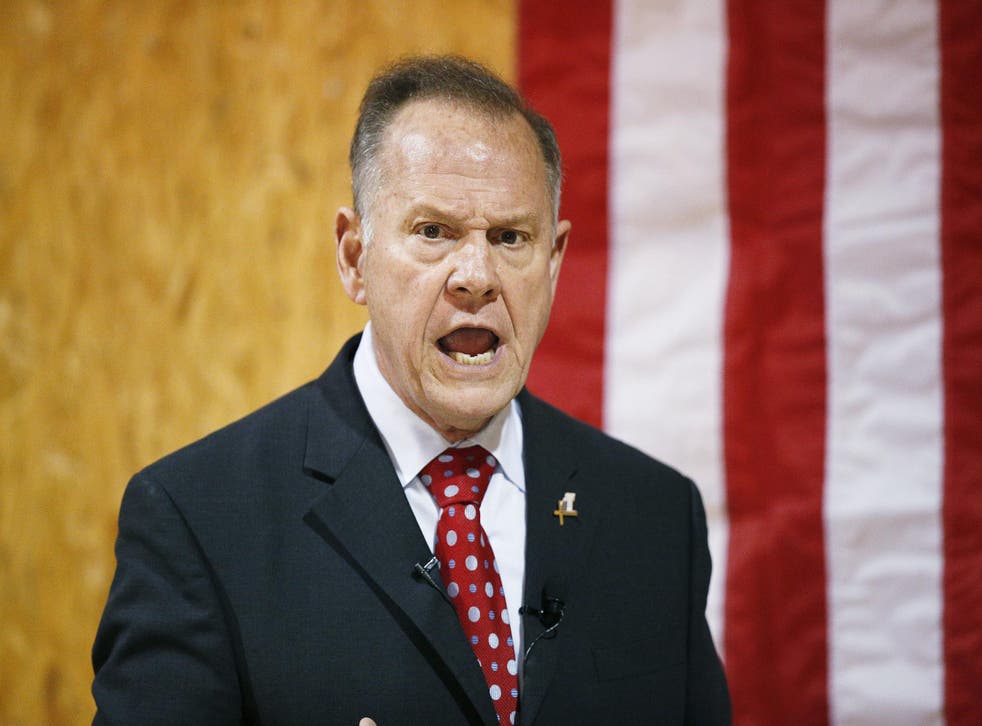 JK Rowling has ridiculed Alabama Senate candidate Roy Moore by suggesting he lost Tuesday's election because he was being punished by a black, female God.
Mr Moore – a former state judge with strong support among evangelical conservatives – lost the Alabama special election by only a narrow margin, despite allegations of racism and sexual harassment levelled at him.
Democrat Doug Jones claimed victory on Tuesday, meaning the conservative stronghold has its first Democratic senator since 1992.
But despite preliminary results showing Mr Jones led by more than 21,000 votes, Mr Moore still refused to accept defeat on Tuesday evening.
"When the vote is this close, it is not over," he told a crowd of supporters. "But we also know that God is always in control. Part of the thing, part of the problem with this campaign is we've been painted in an unfavourable and unfaithful light.
"We've been put in a hole, if you will, and it reminds me of a passage in Psalm 40: 'I waited patiently for the Lord,' that's what we've got to do."
Sharing a link to footage of Mr Moore's speech on Twitter, Rowling wrote: "Narrator's voice: Roy was right. God was in control. What he didn't realise was, She's black."
Some Twitter users criticised the the Harry Potter author, pointing out black characters did not take primary importance in Ms Rowling's novels.
Mr Moore, who was backed by Donald Trump during his election campaign, came under fire when he seemed to express nostalgia for America during slavery at a September rally.
When a black man in the crowd asked what Mr Trump meant by his slogan "make America great again," Mr Moore said: "I think it was great at the time when families were united — even though we had slavery.
"They cared for one another. People were strong in the families. Our families were strong. Our country had a direction."
Introducing her husband at a rally on the eve of the 12 December vote, Kayla Moore defended her husband against the racism allegations, saying: "We have many friends that are black and we also fellowship with them in church and in our home."
World news in pictures

Show all 50
The Democrat win in Alabama has nationwide consequences, since it narrows the slim Republican majority in the Senate to 51-49.
Democrats are seeking to build on anti-Trump sentiment to mount a challenge next year to Republican control of Congress.
Register for free to continue reading
Registration is a free and easy way to support our truly independent journalism
By registering, you will also enjoy limited access to Premium articles, exclusive newsletters, commenting, and virtual events with our leading journalists
Already have an account? sign in
Join our new commenting forum
Join thought-provoking conversations, follow other Independent readers and see their replies