Phoenix sheriff insists president Obama's birth certificate is 'fake' after five-year 'investigation'
County sheriff Joe Arpaio no longer openly disputes the president's birth country - but now he says his birth certificate is a fake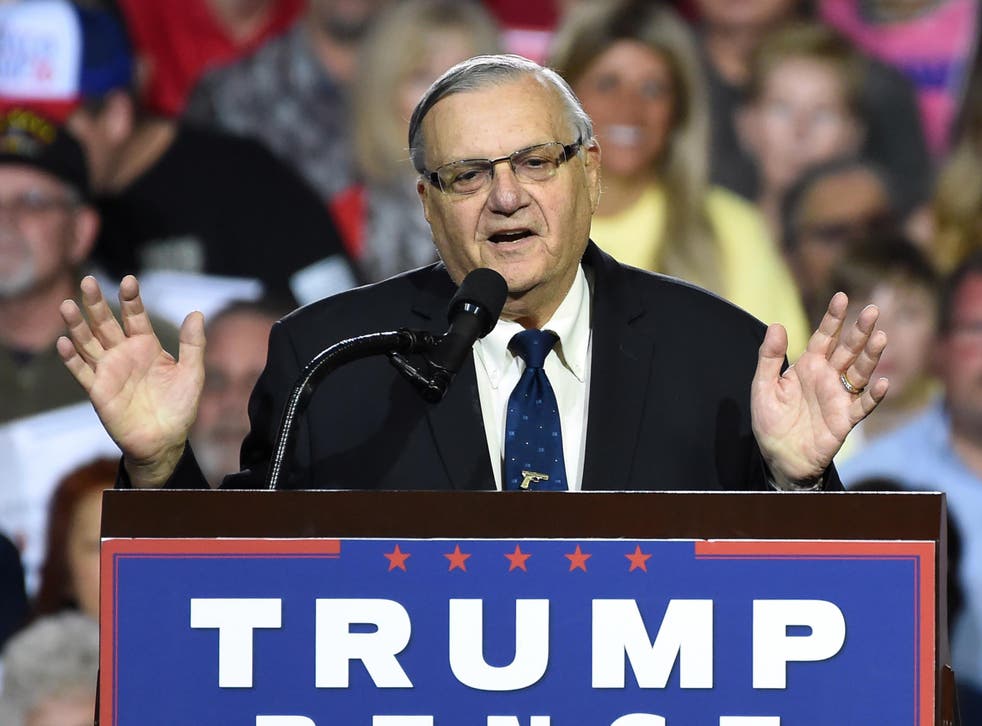 "I hope we enlighten you of what the real story and evidence is all about regarding this fake, fake birth certificate."
In Phoenix, Maricopa country sheriff Joe Arpaio gathered around 40 journalists and members of the public to make his big announcement.
President Barack Obama's birth certificate was a forged document, he said, and his five years' investigation would be turned over to congress and federal government so they could take action.
On a powerpoint, accompanied by Mike Zullo, a member of the nonprofit arm of the sheriff office full of volunteers, he spent 50 minutes outlining nine points of "forgery" that the document was a fake.
Mr Zullo added the evidence was "clear and convincing proof" that the certification was a "fraudulently manufactured document".
The repeat performance was relived twice in 2012 at similar press conference events.
It was posted by Mr Obama on whitehouse.gov on 27 April 2011 in a bid to quell the conspiracy theory that the president was not a natural-born US citizen.
His critics insisted he was an Arab-American and not African-American, a rumour started online in 2008, and that he was only using his status as an African-American to call his critics "racist".
According to Mr Arpaio and Mr Zullo, sections of a woman's birth certificate in Hawaii were copied and pasted onto the president's. A fake news reporter located a 95-year-old woman during a 10-day trip to Hawaii, who might have written coding on the copy of the president's birth certificate, they said. She allegedly told the "reporter" that the numbers on the birth certificate were inconsistent with the time and place of Mr Obama's birth, as reported by USA Today.
The shifting but consistently racist debate around the first black president's birth has evolved from disputing the fact that he was born in Hawaii to disputing the authenticity of his birth certificate.
Mr Zullo said he just wanted to "clear" the president.
"It didn't work out that way," he said.
The results of the "investigation" come three months after Mr Trump first formally denounced the birther theory, telling a rally: "President Obama was born in the United States. Period."
Mr Trump himself had previously pushed the conspiracy theory, but then blamed the theory on Hillary Clinton two months before he was elected president.
Mr Obama told the Congressional Black Caucus Foundation: "I don't know about you guys, but I am so relieved that the whole birther thing is over. I mean, ISIL, North Korea, poverty, climate change — none of those things weighed on my mind like the validity of my birth certificate."
Although Mr Arpaio and his team may be among the last public servants to espouse the birther theory, there are others coming into Mr Trump's cabinet who believed in it and may do so still.
One example is Monica Crowley, a Fox News host and Mr Trump's national security security pick, serving under retired general Michael Flynn, who told a 2008 radio show that Mr Obama lied about his race and it was "the biggest con [she] had ever seen."
Join our new commenting forum
Join thought-provoking conversations, follow other Independent readers and see their replies