Biden makes risqué joke about sleeping with his wife on Jimmy Kimmel Live
'If I weren't into the Phillies I'd be out of luck man'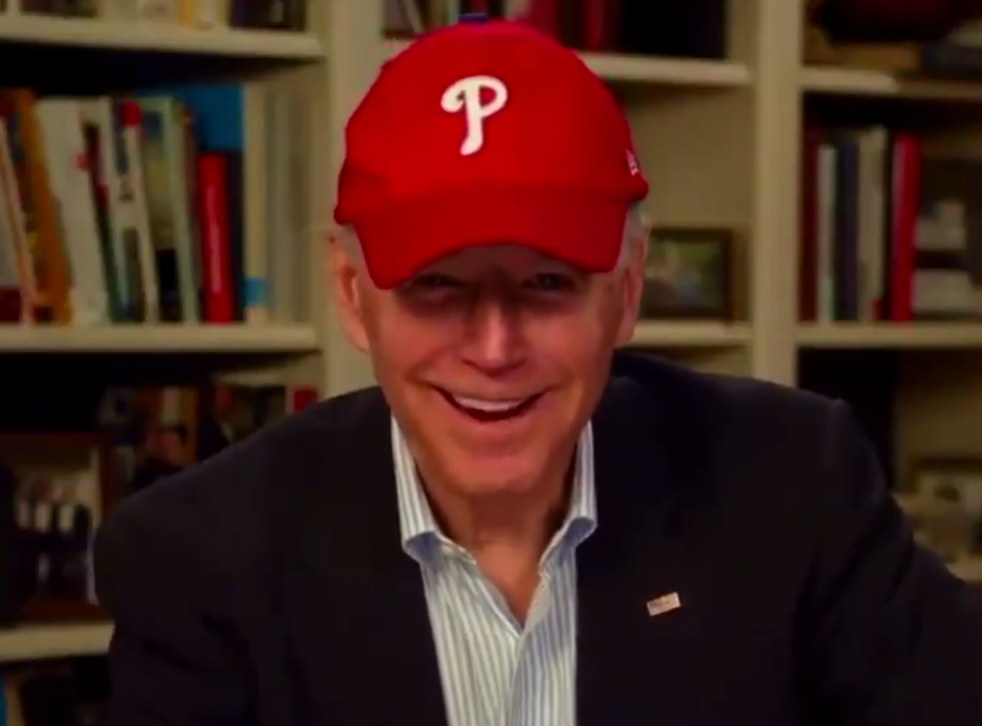 Democratic frontrunner Joe Biden made a risque joke about sleeping with his wife, Jill Biden, on Jimmy Kimmel Live.
The former vice president was talking to host Jimmy Kimmel on a video call in their respective homes on Thursday, amid the coronavirus pandemic.
After Mr Biden saw that Mr Kimmel was wearing a New York Mets baseball team branded hat, he put on a Philadelphia Phillies one.
"This is not the way to win voters, Mr. Vice President," the host joked.
"But it's the way to be able to sleep with my wife," Mr Biden said. "She's a Philly girl. If I weren't into the Phillies I'd be out of luck, man."
Both men were wearing the hats on Thursday to celebrate the opening day of the new Major League Baseball (MLB) season, which was postponed due to the coronavirus outbreak
Robert Manfred, the league's commissioner, posted a statement on social media, explaining why opening day is important to so many fans.
"Opening day holds an important place in our hearts. It signifies the arrival of spring, the promise of new beginnings, the return of following your favourite team on a long journey filled with twists and turns, and the hope that your team will put together a magical season you will remember forever," the statement read.
Mr Biden recently attacked president Donald Trump for his suggestion that the shutdown could end as early as Easter Sunday, 12 April, in order to minimise damage to the economy.
"He should stop talking and start listening to the medical experts," he said on CNN.
"You talk about having an economic crisis. You want an economic crisis? Watch the number of dead go up. We all want the economy to open up as rapidly as impossible, the way to do that is to take care of the medical side of this immediately," he added.
Register for free to continue reading
Registration is a free and easy way to support our truly independent journalism
By registering, you will also enjoy limited access to Premium articles, exclusive newsletters, commenting, and virtual events with our leading journalists
Already have an account? sign in
Register for free to continue reading
Registration is a free and easy way to support our truly independent journalism
By registering, you will also enjoy limited access to Premium articles, exclusive newsletters, commenting, and virtual events with our leading journalists
Already have an account? sign in
Join our new commenting forum
Join thought-provoking conversations, follow other Independent readers and see their replies