Joe Biden: We need to stop this culture of rape jokes and 'locker room banter'
The US vice president said men who felt uncomfortable or were silent when their peers joked about rape were also 'accomplices' if they did not confront the misogyny
Rachael Revesz
New York
Tuesday 14 June 2016 16:24 Comments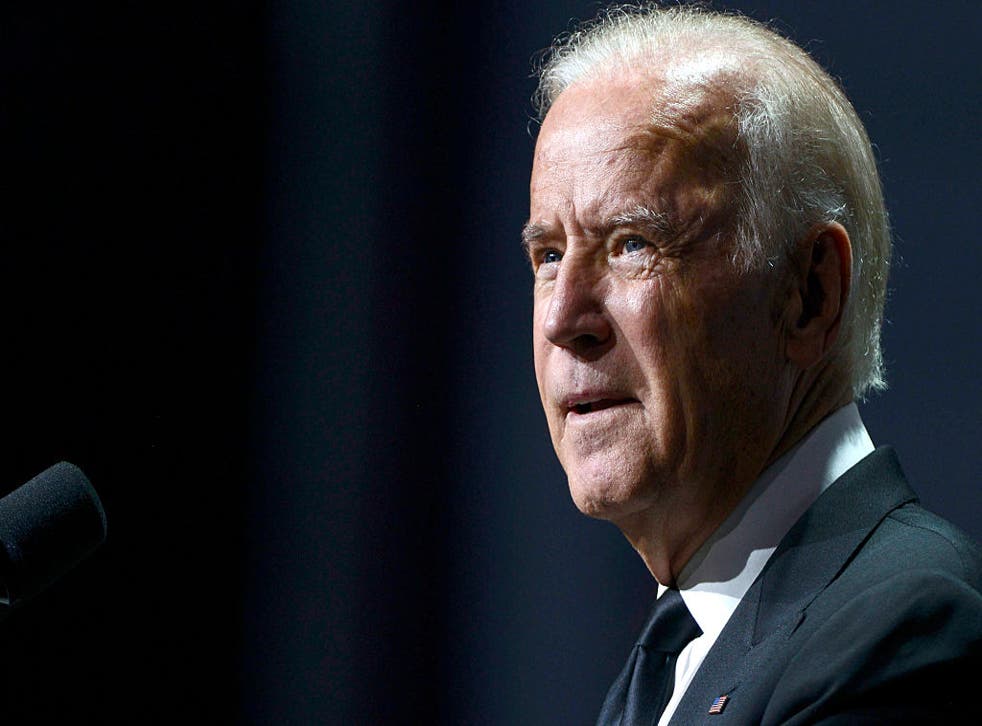 The phrase "rule of thumb" comes from the 1300s, when courts ruled that men could no longer beat their wives with a rod of a larger circumference than their thumb.
It was a powerful metaphor from US vice president Joe Biden to illustrate the gender inequality that continues today.
"It's no longer socially acceptable for a man to grab his wife at a dinner party. It doesn't mean it still doesn't happen," he said.
"We have to change a culture which too often promotes a culture of violence against women. We have to take away the social blinders that make us overlook violence rather than confront it."
Mr Biden, who passed the Violence Against Women Act in 1990, talked against victim blaming and a culture of misogyny among "locker room talk, bar banter and rape jokes" where men, even if they were silent or uncomfortable when they heard this talk, became "accomplices".
Mr Biden has been a strong voice behind the "It's On Us" campaign, which has shone a spotlight on the epidemic of sexual assault on student campuses.
He penned an open letter last week about the case of Brock Turner, the Stanford student who sexually assaulted an intoxicated and unconscious woman behind a garbage bin. He was given just a few months in jail and denied assault.
The countries with anti-women laws

Show all 5
Mr Biden did not mention Turner's name at the summit, but alluded to the case when he said: "Sex without consent is rape. And if you can't consent because you're unconscious, it is rape. It is rape. Period."
The survivor's statement, which was read out in court and went viral online, spurred Mr Biden to write: "I am in awe of your courage for speaking out - for so clearly naming the wrongs that were done to you and so passionately asserting your equal claim to human dignity.
"And I am filled with furious anger. Both that this happened to you and that our culture is still so broken that you were ever put in the position of defending your own worth."
Meghan Yap, a Champion of Change from the It's On Us Campaign who introduced Mr Biden to the stage, said that she developed post-traumatic stress disorder after she was raped and her "world fell apart".
"I am not powerless in ending rape culture. I realized that I can do something about it and to prevent it from happening to other people," she said.
Research from Nielsen, Consumer Insights, mentioned at the summit, showed that less than half of women believe there will be less protection against violence for the next generation of women.
One in five women and one in 16 men will be raped or assaulted during their time on campus in the US, prompting Valerie Jarrett, a senior adviser to president Obama, to call it an "epidemic".
Instances of rape on campus, as well as the rate of violence against women between 14 and 24 years old has not decreased, said Mr Biden, figures which were the "most disappointing" of his career.
Mariska Hargitay, founder and president of the Joyful Heart Foundation, said at the summit that there is a backlog of "hundreds of thousands" of untested rape kits, "representing all the women that deserve justice".
Mr Biden said he remained an optimist, and thanked social media for bringing certain abuses to light, whether it was an "NFL player [Ray Rice] dragging his wife out of the elevator by her hair, or a celebrated - I say "celebrated" in the worst way - rape, that everyone in the country knows about," alluding to Turner at Stanford.
Mr Biden has traveled to colleges and universities across the US, asking men and women to take the "pledge" to confront misogyny and to not look the other way when they see something wrong.
"We will succeed when not a single man raises a hand or takes violence against a woman and says that she deserved it," he added.
Register for free to continue reading
Registration is a free and easy way to support our truly independent journalism
By registering, you will also enjoy limited access to Premium articles, exclusive newsletters, commenting, and virtual events with our leading journalists
Already have an account? sign in
Join our new commenting forum
Join thought-provoking conversations, follow other Independent readers and see their replies